The Vortex, London
20 October 2011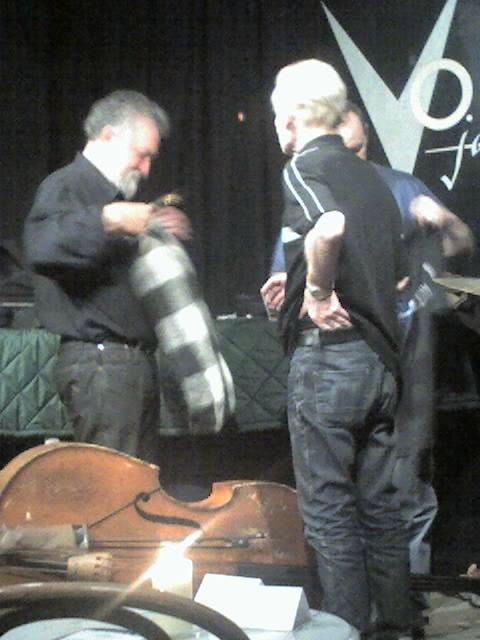 "Sorry we're a little late in starting, we were meant to start at nine. I looked at my watch and it said ten to nine, then suddenly it said quarter past. That's what happens when you stand at the bar talking shit."
Evan Parker takes to the stage at The Vortex with this typically low-key opening gambit, a self-effacing remark which serves to both put the audience at its ease, and set the backdrop for the evening's free improvisation. If the man that John Zorn described as "single-handedly [changing] the face of saxophone technique and saxophone music" wants to talk shit at the bar, then it perhaps behoves the rest of us to listen.
Tonight's gig is another instalment of Parker's monthly free improv residency at the venerable London institution, and here he's in the company of bassist
John Edwards
and drummer
Tony Marsh
, both themselves stalwarts of the scene. With
Barry Guy
now decamped to Switzerland, Edwards is the bass stringsman of choice for everyone from
Peter Brötzmann
to
Charles Hayward
. And having done a stint in
GOD
, you know he's up to the challenge. Tony Marsh has similarly bashed the skins for all the key figures on the European improvisation circuit, and his on-going partnership with Edwards will tonight be in evidence right from the get-go.
It is Parker though, that represents the nucleus around which the electrons of Edwards and Marsh will orbit. Dressed all in black, his hair and beard now a distinguished grey, Parker thankfully looks the picture of robust health. Thankfully because Parker and his peer group, the 'first wave' of Europe's improv elite are now, quite frankly, shocking on a bit: Brötzmann is 70, Eddie Prévost and Keith Rowe are 69 and 71 respectively, Tony Oxley is 73. Without wishing any of them into a premature grave, all these incredible musicians, who represent such a grid of connection between the American and the European, between the legends of free jazz and the modern wave of experimenters, won't be around forever, and they should be caught whilst they are still alive and skronking.
Having contributed guest performances with everyone from
Scott Walker
to
David Sylvian
to
Robert Wyatt
, and having strongly influenced the peerless
This Heat
, and even playing on the B-Side of
Vic Reeves
' unlikely 1991 Number One hit, "Dizzy," Parker's far-reaching influence and incursions into mainstream music belie the ferocious, take-no-prisoners sonic attach of his near fifty year career at the saxface.
To sit in a small club and hear Evan Parker play the saxophone at full blast is akin to standing a little too close to the platform on the London tube and being hit full force by the wall of air movement and sound that accompanies the arrival of a train
.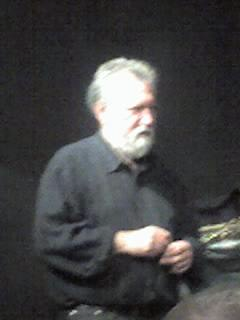 Tonight's set comprises two 45 minute improvisations, built around a quick 20 minute beer break, with Parker in a more relaxed mood, his sax lines racing around giddily from the gentle fluttering of a butterfly's wings to the fierce roaring of Asiatic Lion. Parker's famed passages of circular breathing – non-stop virtuoso 20 minute sections that interweave harmonic layers into a contrapuntal web so dense that the ear can scarcely keep up – are absent tonight, replaced by short, staccato notes, some played in rapid fusillades, some left to hang along like a star in the night sky. At one point, though, Parker is using the sax as a percussion instrument, banging on it with his fist in a way that would have had Adolphe Sax pulling his hair out in despair.
Free improvisation is music that is often so acutely aware of modulation, the rise and fall in pitch, tempo, energy and aggression, and the three masterful performers playing together here move from whisper to scream and back again, letting each other lead and take the limelight when appropriate, working together as a unit at others. Marsh seemingly plays the entire set with his eyes closed, yet never misses a beat, his playing so fluid and expert that just for a minute more than one person in the audience is transported away on a flight of fancy that they too can play like this, suddenly catching their own hands frantically playing air drums, an involuntary gesture that, once perceived, prompts a slight reddening of the cheeks. Edwards takes two jaw-dropping solos, his face a mask of taught concentration and his hands a hummingbird blur along the string of the bass. The only slight concern for the evening is that I'm damned nearly the youngest person in the room. At 43, with a divorce and worsening eyesight behind me, it's really pushing it for me to be considered young in any sense.
It seems worrying that there aren't more young people – musicians or non-musicians alike – here to drink a little from an ur-source whilst we are lucky enough for it to still be flowing
. The notable and honourable exception is a nearby table of young Spaniards who are obviously in their twenties (and replete with black polo-necks). With the staggering gentrification of Dalston, it's sad to feel as though all the youth of the area are mere commodity market segmentation targets, listening to 20th-generation Xerox Indie copies and staggering around pissed on the pavements full of pose and sway and borrowed threat. A few more of them need to stumble into this place and have their heads blown off by Parker's uncompromising music.
Derek Bailey
died for your sins.
At the set's conclusion I linger for a last drink, unwilling to leave the warm and uplifting slipstream of the trio's sonic explorations. "Great set Mr Parker" I say as we finally exit (always the formal mode of address to an improv legend I feel). "Thanks very much for coming. Hope to see you again" replies Evan, swigging down a cold one at the bar. 'You will indeed' I say to myself as the cool night air of Gillett Square hits my face.
-David Solomons-