Norton Records 25th Anniversary All Star Spectacular,
The Bell House,
New York
11-13 November 2011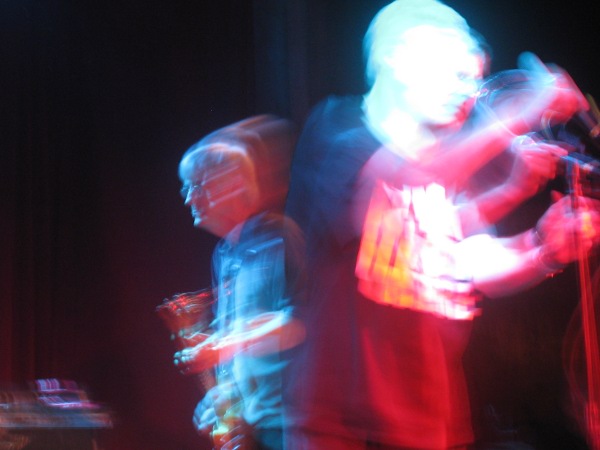 New York punk, we all know the story, right? It starts in the late Sixties when The Velvet Underground redefine popular music by deciding not to take the A Train, instead heading up to Lexington 125 in search of some serious narcotics and a life on the wild side; it continues in 1973 when the New York Dolls finish posing on the cold sidewalk outside the Gem Spa and start to mix androgynous clothing and trashy, thrashy guitar riffs, thus helping to lay down a major part of the blueprint for what will follow over the course of the coming five years; and it finally reaches critical mass at Hilly Kristal's gaff at 315 Bowery when the Uplifting Gormandizers descend en masse to get involved in the scene that's happening there. But between late 1970, just after Lou storms out of the Underground before the release of Loaded, and 1973, when The Dolls' debut waxing hits the shelves, there's nothing, right? Right?
Wrong.
A tiny guttering flame was in fact burning, practically unseen at the time, and almost lost forever afterwards, and the keepers of that flame were
Figures of Light
. Formed in 1970 by two proto-punk mainstream refuseniks,
Wheeler Winston Dixon
and
Michael Downey
, Figures of Light spent the early 1970s destroying televisions at gigs, assaulting audiences with feedback and generally fighting government war-mongering, media complicity and hippy complacency any which way they could. And of course the world didn't thank them for it. It was both the Figures' glory and tragedy to be ploughing a very lonely furrow indeed around New York and New Jersey at a time when few understood what they were doing and the winds of change were not yet blowing that way. Before they hit the end of the road though, in the spring of 1972 the band went into a small studio at the Art Department Audio Lab at Livingstone College in New Jersey (where Dixon was teaching film), and recorded two tracks that would constitute their only recording, the single "It's Lame." As Dixon recalls, "
Why it took so long to get into the studio? Because we were never a studio band. It seemed arduous and we were playing very edgy, outré music, and music studios were not inclined to record like that. I felt that recordings were so conventional that they wouldn't get it across
."
The failure of the single, pressed in only 100 copies, to make any kind of impression and the sheer implacable hostility of the music establishment to their music eventually began to take a heavy toll on the resolution of the band. "At that point we pretty much said, that's it. We've done a lot of gigs, we know we're good, but no-one's going to put us out." And so, quietly and unnoticed, Figures of Light ceased to be.
Fortunately though,
no matter how scarce a recording may be, there will always be the odd soul who gets lucky.
More fortunately still, in the case of one of the 100 original copies of "It's Lame," that soul was
Miriam Linna
. Linna herself is a woman boasting impeccable rock & roll credentials, having been the original first drummer of
The Cramps
, a part of the Cleveland 'scene' and whose current outfit,
The A-Bones
, have performed with such luminaries as
Little Richard
and
Andre Williams
. Linna, along with her husband
Billy Miller
, had also founded the Brooklyn-based independent label
Norton Records
in 1986. One day in 2006 Linna and Miller chanced across an original copy of "It's Lame" and were instantly blown away by its undiminished power. 1972? Holy shit!
Thus began a working relationship between Norton Records and Figures of Light that has recently blossomed with the release of a new album, Drop Dea', and sees the latter performing at the former's 25th Anniversary weekender at the über-hip Bell House venue on 7th Street in Brooklyn. Packed to the gunnels with all the faces of the NYC scene, Figures of Light are on the bill between the outrageous Bob-Log-with-Tourette's brilliance of Montreal's Bloodshot Bill – just one man, a guitar, his quiff and vocals that careen between Elvis and The Exorcist and back again in a split second – and the Garage majesty of headliners The Sonics.
And so, Figures of Light take to the stage for only the second time since the early 1970s, Dixon and Downey, older and greyer but with their punk spirit burning brighter than men half their age, ably assisted by a solid gold back line of Miriam Linna herself on drums, Detroit legend
Mick Collins
of
The Gories
and
The Dirtbombs
on guitar and
Marcus 'The Carcass' Natale
of The A-Bones on bass. Kicking off with the brilliant "Gimme, Gimme, Gimme" ("
Gimme, gimme, gimme, gimme, gimme cash, all of the rest of life is trash, love and honour, hope and truth, these are just dreams that you have in your youth…"
), it's apparent that, though they may be a little rusty and lacking in rehearsal time,
these are still the same men that were spitting out punk rock two years before The Ramones had even formed and when CBGB's was still a dingy country music club
. Next up is "Black Plague Blues," a track off the new album and a joyfully twisted ode to contracting
Yersinia pestis
, which, although recorded this summer, actually dates from a time when
Richard Nixo
n was President of the USA and the Apollo moonshots were only half way through. Incredible.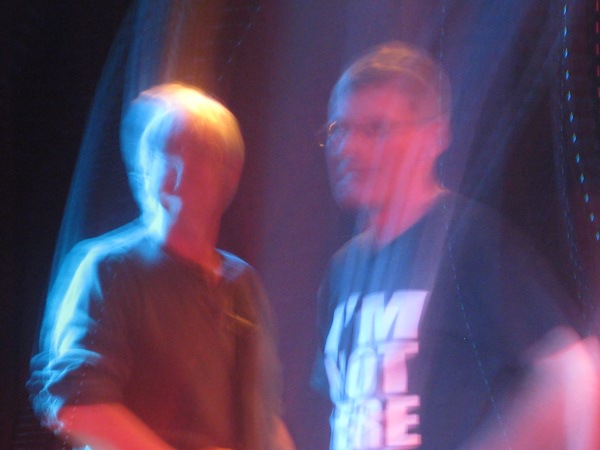 With dancing and pointing and shouting breaking out sporadically in the audience, the band rip through other cuts from the new album: "World of Pain," "My Box Rocks" and the superb "15 Minutes of Fame," a cautionary tale of a celebrity-hungry nonentity, whose handmaiden was Andy Warhol yet whose relevance is, sadly, greater than ever in the hegemonic era of brain-rotting, soul-eating reality TV. Sadly, it's only a six song deal tonight, limited by time as the programme is, but that's not a cause for sadness when the final one is "It's Lame," now chromium polished and with a fucking great tank of nitrous oxide under the hood. Dixon splits it out with venom, as Downey is all over his guitar like a spider, and the band pump out some serious attitude.
By the time the band walk off stage, sweating and delighted, the audience are cheering "One more!", it seems like a vindication of all those years ago when Figures of Light fought so valiantly in the punk trenches but, in the end, had to reconcile themselves to seeing the medals given out to those who came considerably later. It's been a strange journey over many decades for Figures of Light to get here from there, but tonight anyone who's anyone in New York in 2011 knows exactly who was keeping the punk spirit alive in the city in the early 1970s.
Right?
-David Solomons-