O2 Academy, London
23 May 2012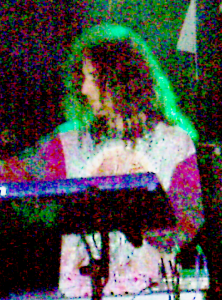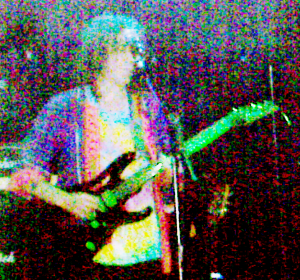 Ah, the British summertime, the time for festivals, too much sport on the TV, beer gardens and BBQs. But not this year, for the past month it had rained everyday, festivals would have been mud baths, sporting events cancelled and beer gardens and BBQs were just a faint and distant memory as rivers of water run through the streets. Then the Ozrics came and so did the sun…..
Due to delays on our wonderful transport system I arrived at the venue to catch only the last few minutes of Champignon. What I did see was perfectly wonderful and had the ethereal sound of summers past. Jon Le Champignon was his usual mercurial self and it made me want to try and catch him again live and see his full set.
Then came two hours of Ozrics magic. The back projections began to stammer on and the sight of spiralling colours and forms kicked in as the swirling of synthesizers began to take you on the long trip out into space. Then the whole band kicks in and we are at lift off and there would be no coming down again for another couple of hours.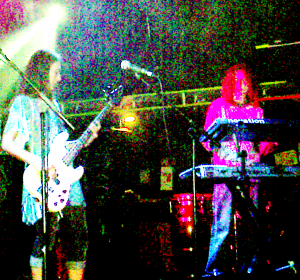 Ed Wynne played snake-like licks on the guitar, bringing to mind You-era Gong at times. At some moments you could almost imagine him playing atop some ancient Tor while the stars were spinning overhead. Every now and then he would join in on keyboards that would give an eastern-influenced sound to proceedings. Brandy Wynne was steady on the bass and really came to the fore when it called for her to get all dubby; here her bass lines were deep and solid and got the audience moving in a kind of trance. Silas Wynne gave an excellent spacey performance behind his synths and added breadth and beauty with the keyboard lines. The set was made up of old classics plus a large lump of the new album Paper Monkeys.
But for me the highlight of the show was when Jon Le Champignon joined the band on stage for a couple of tracks after not playing with them for a few years. Here people in the audience turned to each other and smiled as Jon's flute gave the music that extra-special something. Suddenly we were in sun-drenched fields of free festivals of old and the multi-coloured vibe of times past and Jon's flute was soothing us as the golden orb was beginning to set.
Ozric Tentacles always put on a good performance, I have seen them many times and they always come up with goods live. So next time the sun is beating down and the sounds of lazy summer are all around, do yourself a favour and go and see the Ozrics if they are in town and let them transport you to the ancient meadows of the cosmos.
-Gary Parsons-