The Garage, London
11 September 2010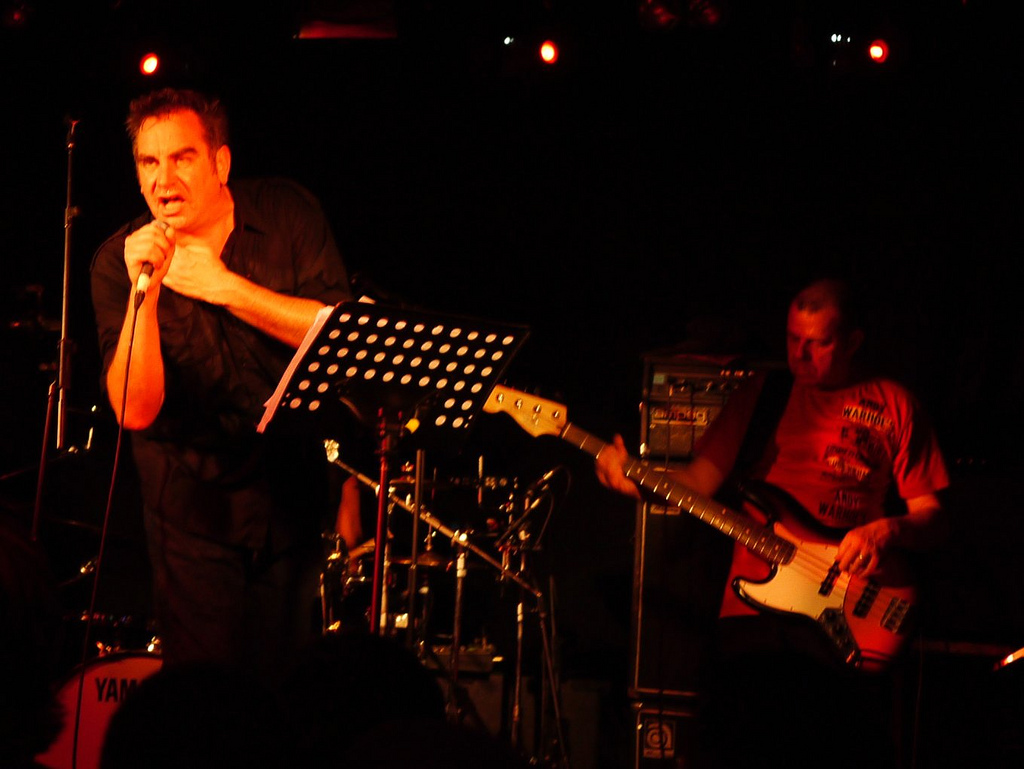 Reanimated musical corpses aren't much of a news story these days – after The Velvet Underground and Throbbing Gristle reformations, nothing comes as a surprise. I was shocked then to realise just how stunned I felt to hear that The Pop Group had got back together to allegedly "blow the dust off the old songs and pick up where we left off…" or might it be perhaps to benefit from some of that old "consumer fascism" they railed so strongly against back in the day?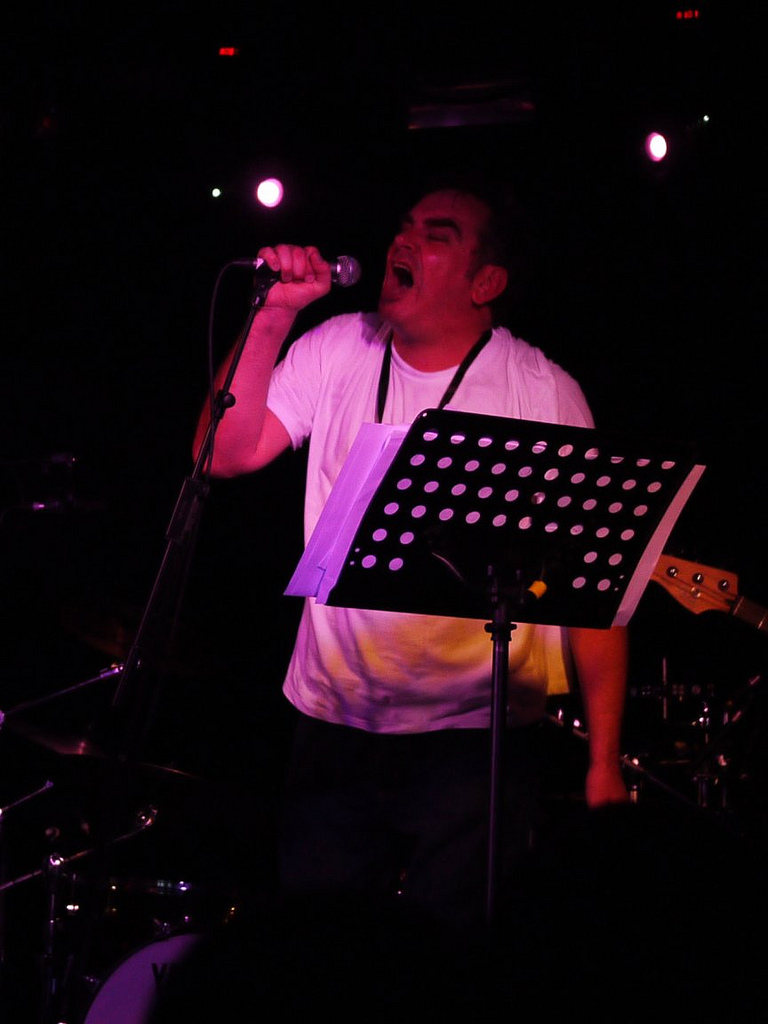 After three decades of informing people that they were the greatest artistic entity I'd ever encountered, it had never occurred to me that I would ever see The Pop Group again. The announcement instilled an queasy mixture of excitement and panic – of course I had to go and yes, of course they were going to ruin my treasured memories… how couldn't they? In Liverpool's famous Eric's club back in 1979 they completely changed my life – my friend Gary and I formed our first real group the following day as a result… and now the bastards were going to invalidate the past 30 years of my life in one cruel blow.
Back in the 70s, the clash of genres initiated by The Pop Group was highly radical, both musically and politically – today it is a commonplace symptom of our mix 'n' match lifestyle culture. Surely the group was doomed to suffer from being snatched from their own time and cruelly jettisoned in the glare of the 21st Century? How would their radicalism translate to the modern world? – would Ian Tomlinson, Al-Quaeda and Afghanistan replace Blair Peach, the PLO and Cambodia? How would the group mark the gig's auspicious date? Would they incorporate the sampling technology Mark Stewart has built his solo career from? Would they even play at the correct volume?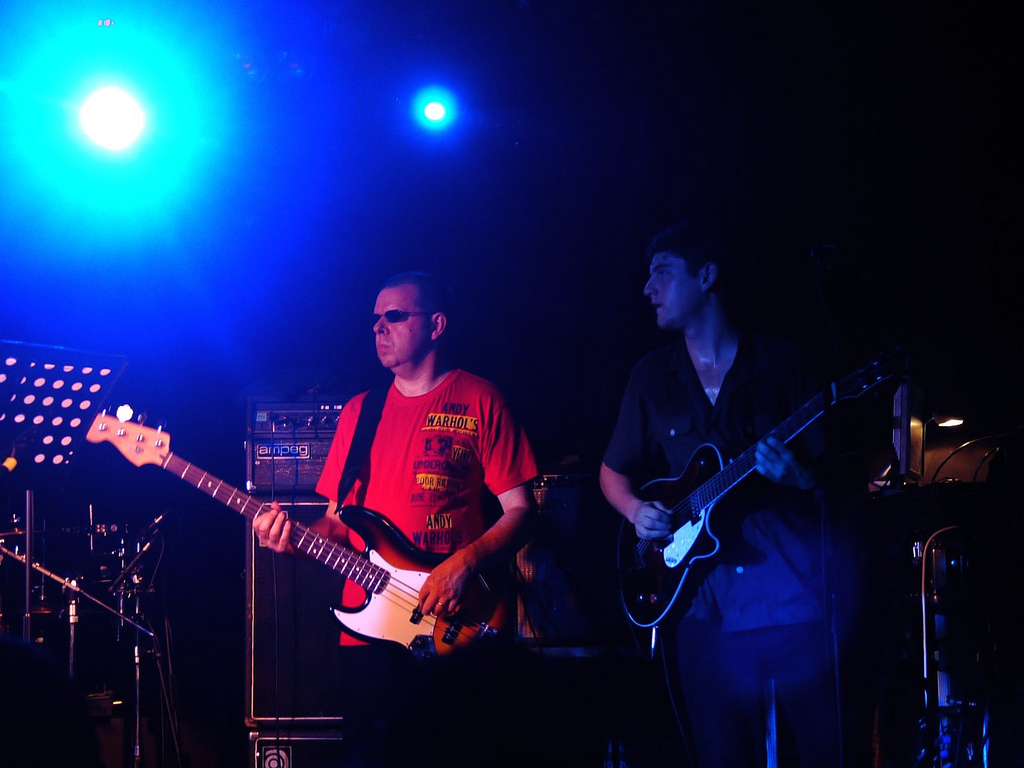 The group arrives on stage – singer Mark Stewart looking slightly awkward in that way that big people do and apparently experiencing trouser problems (he spends much of the set adjusting them). Oddly his presence, to say nothing of quiff and eyebrow combination, has something of a parallel-universe Morrissey about him. Just don't tell him I said so. The last to appear is Gareth Sager, ever the showman, theatrically striding across the stage to ram his fists onto a waiting keyboard before throwing on his guitar as the band explode into "We Are All Prostitutes" – a song nominated by Nick Cave as the greatest of the last millennium. Within the first one and a quarter seconds, any doubts are obliterated… my ageing memory really hadn't been exaggerating the power of this group. An inspired choice for an opener, the song serves to dismiss any debate on motives while evaporating any worries as to whether they are up to the task in hand. Following it up with "Words Disobey Me" from debut album Y, we are reminded that Stewart is one of that rare breed of vocalists – as opposed to 'singers' – alongside Mark E Smith and David Thomas, who is instantly identified by a single syllable, and happily his voice has lost none of its caustic power with age.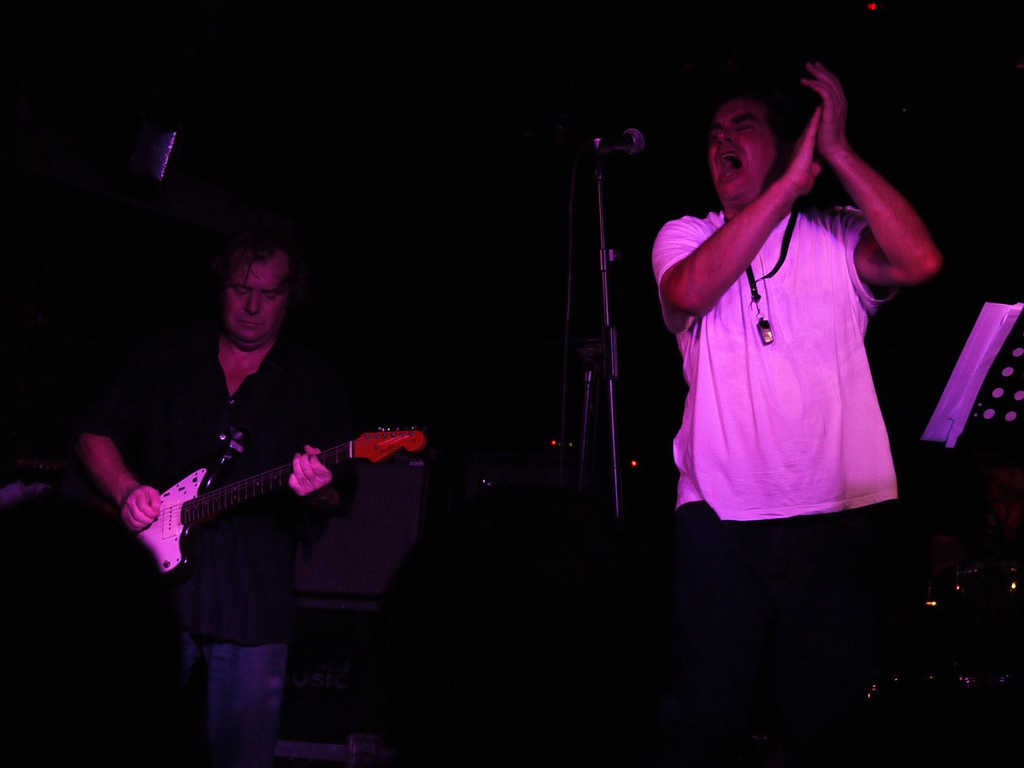 The sound is ferocious, angular and very loud – not the endurance testing volume of Sunn 0))) or My Bloody Valentine, but the ringing tinnitus rush that was common in the days before health 'n' safety fascists. Bruce Smith is an extraordinary drummer, clearly enjoying the freedom to stretch out after his recent tours with PiL, ironically a group that sourced much of their classic-era sound from The Pop Group. Smith and bassist Dan Castis coalesce into a gravitational groove of sufficient density to keep the orbiting sonic shrapnel from completely flying off into outer space. Only second original guitarist John Waddington (last seen playing with Lily Allen!) is absent, his place taken by a most capable but unnamed young stand-in.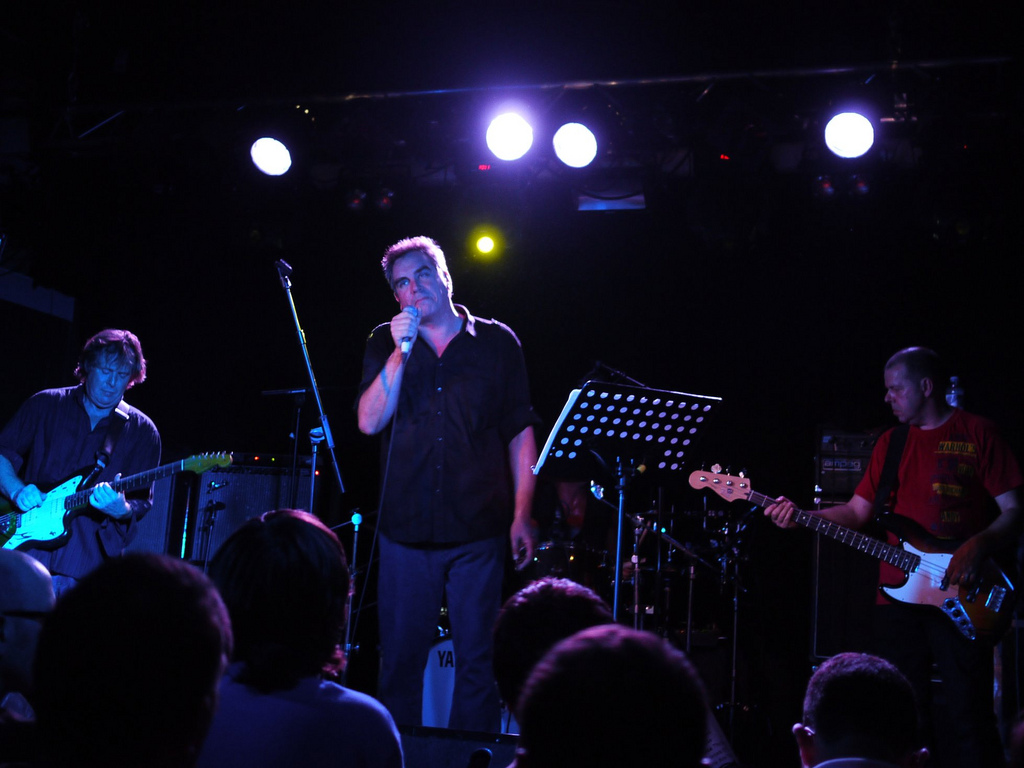 In a recent interview, Stewart put the group's uniqueness down to arrogance – the arrogance of 14 year olds choosing to read French poetry and listen to free jazz rather than fighting at football matches, and the third song "Colour Blind" (dating from the group's schooldays) illustrates the point. Even its rather silly hook line "Only the intense can dance without moving" makes sense when surrounded by an ecstatic but largely stationary audience. Sager lacerates the song's jugular with the most deranged and uncontrolled razor guitar solo heard for many a year. The fact that a song written by precocious 14 year olds can still convince when played by the same 50 year olds is nothing short of astonishing.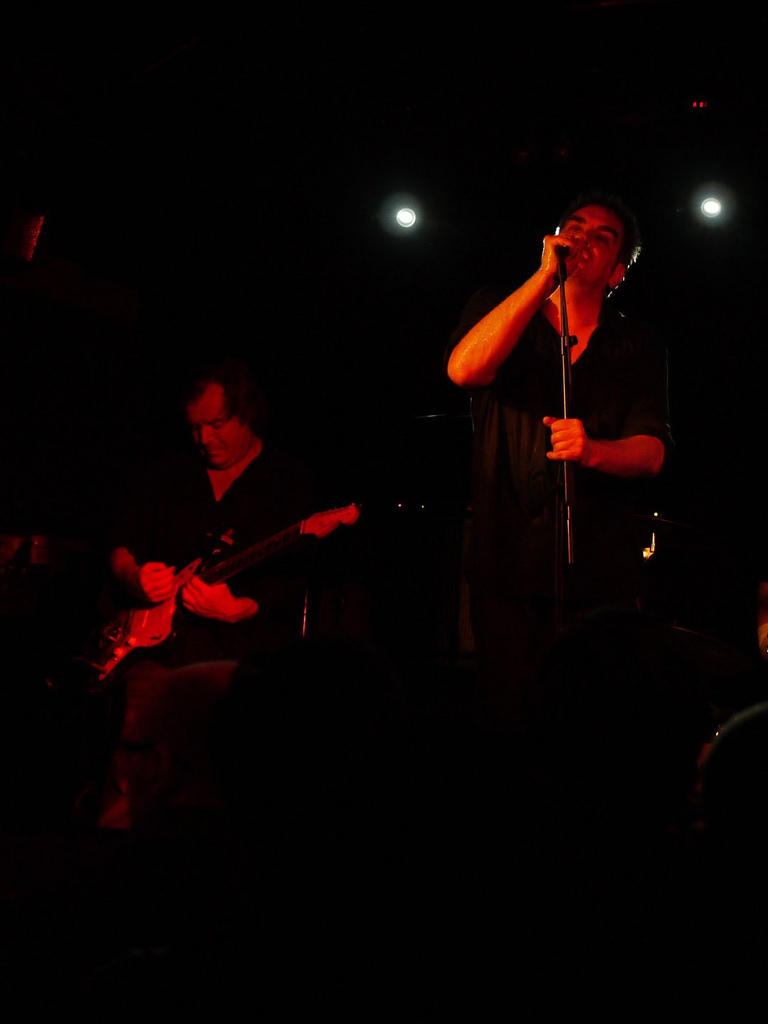 Début single "She Is Beyond Good and Evil" ricochets around the room courtesy of inspired live dub mixing before incendiary takes on early gems "Trap", "Kiss the Book" and "Sense of Purpose" leave you reeling as to how on earth the group could leave such songs off their debut album – any other group would eat their own babies for such material. The attrition escalates as the group ignite "Thief of Fire;" as Stewart shrieks "I admit my crime… I'm a thief of fire!" it's evident that his offence must have been of epic proportions for him to still have so much of the plunder left 30 years later. His introduction of the song as 'a dance number' reminds much of the audience that they perhaps aren't quite intense enough to dance without moving.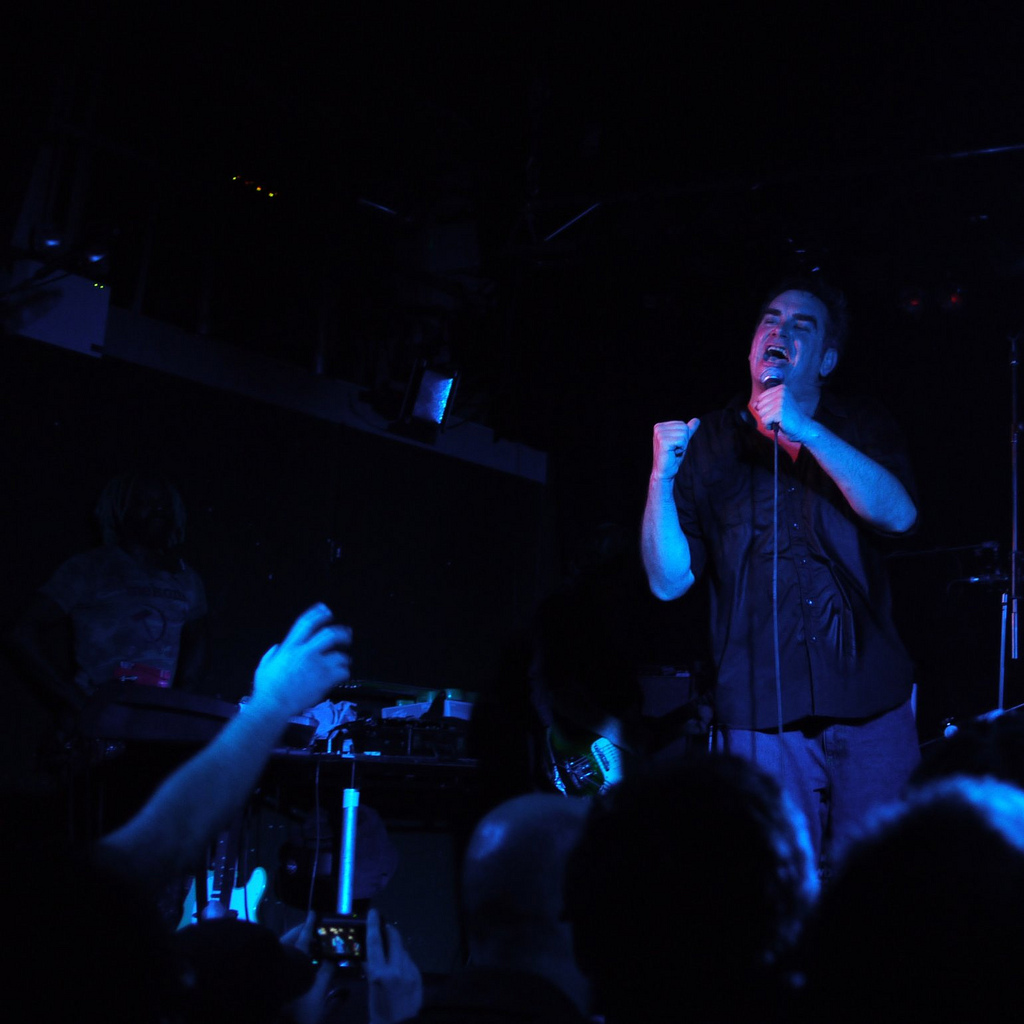 The set is heavily weighted to early (first album and earlier) material, with only "Forces of Oppression" representing their final album and none of the unreleased material from their later 1980 gigs which eventually got reworked into Stewart's solo début. The lyrical swing to more direct polemic in their later days always made them seem a bit one-dimensional – songs like "Feed the Hungry" would sound trite and obvious in a post-Live Aid world. It always made more sense when Stewart's lyrics clashed Marxist theory against Comte de Lautréamont, Friedrich Nietzsche and Gérard de Nerval in parallel to the music's clash of Ornette Coleman, King Tubby and Captain Beefheart. The set closes with "We Are Time," one of their greatest songs, but one that perhaps doesn't quite hit the heights it's capable of tonight, at least by the standards of the rest of the set. Maybe fatigue is setting in… being of similar age to the group, I would have collapsed far earlier from that level of intensity. Anyway, the audience is in no mood to leave without an encore and is prepared to wait. Acknowledging their side of the Faustian pact, the group dutifully return for an encore of… "We are all Prostitutes" – talk about ramming a point home. This second reading of the song is looser and more overtly funky, and this time, when Stewart declares "…everyone has their price!" we just feel grateful that the promoters were prepared to pay that price.
In fact the group are not picking up where they left off at all, but rewinding back to their earliest days to perhaps find an alternative path into the future, one that bypasses the cul-de-sac they hit last time around. I look forward to hearing where their new route takes them with genuine excitement. Stewart has recently expressed a fondness for both doom metal and dubstep. I for one can't wait to hear the modern world being mashed into a new Pop Group, and I leave the venue with memories miraculously unsullied as I eagerly await the promised new material.
In that paradoxical kind of Dr Who logic, this may not have been the best gig I've ever seen but it was even better than that 1979 gig in Eric's that remains the defining moment of my life – mathematical/physical/artistic laws clearly still fall short of a complete explanation of the universe, despite Prof. Hawking's recent revelations… Thirty-one years ago, emerging lean teen combo The Pop Group were arguably the best group in the world; this week a bunch of portly middle-aged men seem to have claimed that title. I don't know whether to laugh or cry over the fact that the two groups are one and the same.
-Alan Holmes-