Meltdown
The Queen Elizabeth Hall, London
17 June 2011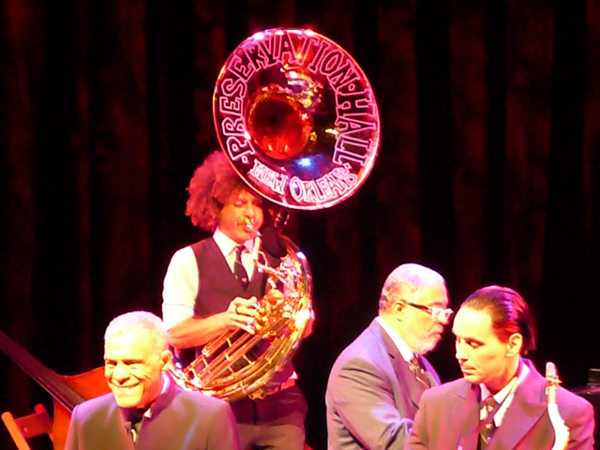 A soaking rain in London tonight makes it thinkable to skip out on a trip to the South Bank Centre and opt for home movies instead.  In New Orleans it can rain much harder and you'd never think of staying home when there's good music to be heard, so I try to take on that spirit and trudge on.  There are so many differences between achieving this in London versus New Orleans, mainly being that New Orleans rain would be warm and sexy and  in New Orleans going out is easy.  As easy as a quick walk through some pretty little streets with people you know giving you a nod and a smile. In London it's cold, it takes an hour long smelly bus ride and the only nod you might get is a tip-off you will want to ignore.  Nevertheless, The Preservation Hall Jazz Band is playing and for the small chance of refueling on a little New Orleans magic I will suffer a lot.  It's been a while.
In New Orleans The Preservation Hall is a shabby clapboard sided parlour on St.Peter's Street in the French Quarter which nightly hosts to tourists coming to hear some real jazz.  Anyone who knows, knows that the real heart of NO jazz/blues scene is a bit further off the quarter in Frenchman Street and I suspect those who really know, know that it's even  deeper  in than that.  When I've been there the place always looks a bit abandoned, a bit run down.  I think this is to let you know that good music don't need no fancy trappings.  I think as well that
musicians in New Orleans either grow up in Preservation Hall or work up to it
, but this might be my mistaken impression.  Anyhow, I've been told by those in the know that there are always a finite amount of musicians in New Orleans (as a constant and not counting passers-through) while there are an infinite number of bands with many cross-over collaborations and all depending on a mystical system understood only by the ones who work the circuits.  The point is, when you're nowhere near NoLa, and PHJB is playing in your town, it's a good bit of luck you should not miss.
The fabulous Charlie Gabriel (vocals/clarinet) gave a little history lesson to the docile crowd of the Queen Elizabeth Hall.  Unfortunately as good as the sound system is there Mr. Gabriel was a bit hard to hear but the gist was to inform us that their music was coming from ragtime which had it's beginnings in the late 1800s following a strange wrongness on from classical marches. Jigs they were called, at least up until Scott Joplin got a hold of the idea and so ragtime was emancipated into the realm of popular music.  Later it became Jazz and who knows where evolution will take it now.  Wonderful to think that a single type of music can enjoy such longevity.
And so it is with these old timers playing with PHJB.  Ben Jaffe (tuba/double bass) introduces the members tonight and each man has a story for him to tell.  Generations of generations of jazz greats who've played with everybody and been everybody of the last 80-90 years, or the sons and grandsons of the greats; it is astonishing.  Ben Jaffe himself is no old timer but does claim to have spent his entire life round St. Peter's street and has now progressed to being quite a marketing-PR boost to the PHJB.  I like it that he assures us of Preservation Hall's endeavors to keep jazz going for the generations to come as well through educating the very young and passing on their knowledge and know how.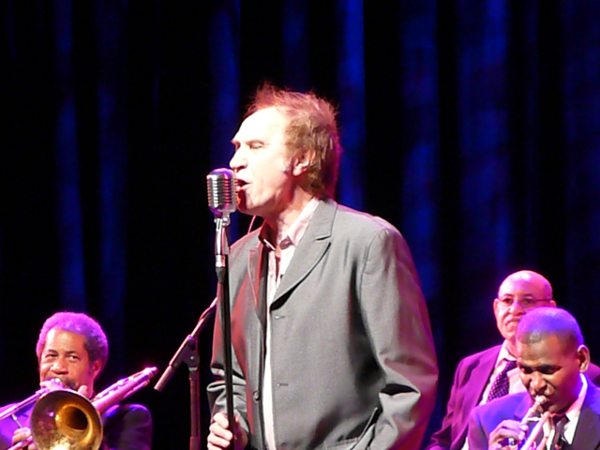 Another "youngster" in the fold is the dashing
Clint Maedgen
, on tenor sax and searing vocals. 
His charm is ten-fold, good looking and with a voice of pure swoon which reaches right up and down the spine, roguish and full of vitality; he seems at once the leader and the devout disciple
.  Clint features in PHJB's cover of
Ray Davies
' "Complicated Life" which is in itself a huge feature of tonight's performance.  Much is made of the mutual appreciation between Davies and PHJB as it is after all the Ray Davies
Meltdown
which has made it possible for PHJB to be here in London performing.  Ray Davies is on stage a time or two to join into the joyful melee and does his turn in telling stories and being told stories about to do with New Orleans and The preservation hall Jazz Band, but ultimately is is actually Clint Maedgen who vocally carries the night. Another highlight for me is the demonstration on piano by
Rickie Monie
of how exactly ragtime or jazz morphed between African beats and European classical music into jigs, rags and jazz as we know it now.  Mr. Monie was the maestro with a coy humour on his side.  I was carried right away and amazed at his tactile dexterity and fleetness of hands. Eventually the band came offstage to gather up the now less than docile audience, bringing them up on stage via a more crowd-pleasing funky march for a rousing sing-a-long.  With a "last chance to dance" called out, everyone was on their feet, onstage and off and a formulaic celebration wound up then down.  In fact this evening there were many moments of obvious practised formula and I suppose that's only natural for a band who have been performing so long and so well.  They know what works and being one of the premier tourist attractions for New Orleans, they've got to be on it. 
The impressive part was stepping back and watching their faces, their little private interchanges, only to realize that though they were performing a well-oiled routine, nothing was lost in their own love of their music
. The joy they were creating was as effective on themselves as anyone else.  Which is quite impressive considering how long some of them have been doing it.  I was reminded very deeply of seeing
The Firecracker Jazz Band
of Asheville, North Carolina years ago and the charm I fell under whilst seeing a very youthful group of young men become very self-surprised at how exciting and jubulant playing this historical style of music could be.
Tonight made me long for the sultry streets of New Orleans, for this pure music hybrid at once arousing and made for carousing and after all, this is the job of Preservation Hall and all the greats of New Orleans.  It is a proud place and people there are always equally proud of those smart enough to visit them.  There has possibly never been a community of people so talented at shameless self promotion and so able to make their survival so connected with authentic entertainment.  Yours, and their own.  I gotta go get me some New Orleans y'all…
-M Fontenoy-