Viktor Wynd Fine Art, London
22 & 29 January 2010
Strange Attractor Journal, now in its third edition of writings promoting unpopular culture, has long been intertwined with the visual, musical and performing arts. For January 2010, the Strange Attractor machine has moved into exhibitionist mode, taking over the Last Tuesday Society's art space above their very curious basement shoppe of horrors on Mare Street in Hackney located just near the canalside where the well-to-do Victoria Park Road meets the unprepossessing tool hire shops and local council tenants shopping in their night attire along the lower reaches of Hackney's main thoroughfare .
Entering the gallery is an adventure in itself, and past the stuffed crows, unusually-shaped rocks, cryptozoological specimens and the stock of two-headed teddy bears on sale lies the exhibition of artwork which has appeared in the Journal. Accompanying the exhibition are a series of talks, discussions and performances, and the last two nights in January are reported on below.

Friday 22 January is dedicated to words and music, with English Heretic reading his recent work Tales Of The New Isis Lodge, self described as "Probably the first musical inspired by the creative occultism of Kenneth Grant." His milieu is one of darkly satanic hidden London, where eccentric covens gather in eldritch parts of town to perform unwholesome rites and make disturbing grand gestures. So far so Lovecraft, but while the setting is made well, the initial musical accompaniment to the storytelling is a fairly bland set of laptop beats and not especially unsettling rhythms. However, as the tale runs on, the glitches interject their own particular sort of disturbance, and the mood becomes increasingly avant, fitting the subject matter far better, despite the unusual decision to repeat one spoken section towards the end.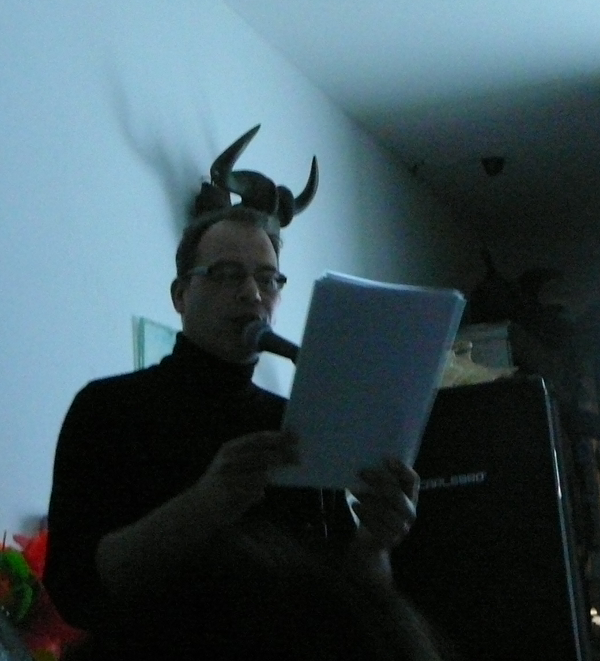 The main act tonight though is far more accomplished. Ken Hollings has been bending words and cultural history into as many connected dimensions as possible, with recent live actions with Oort expanding on his almost obsessive knowledge of Gojira/Godzilla (see also his highly tripped-out novel Destroy All Monsters for further evidence of how to retell modern mythologies to gob-smackingly outré effect). Here he presents a condensed version of his most recent book Welcome To Mars, a history of the American creation the modern technological world in the late Nineteen-forties and early Fifties so alternate that it weaves in UFOs, the plethora of science-fiction films which burgeoned onto cinema screens , LSD's central influence on both the CIA and the recording industry, and the expansion of US suburbia into a global phenomenon so significant that washing machine expos acted as a weapon in the Cold War of as much significance as the atom bombs which were the madness at the heart of the mutually assured destruction which underpinned the space race.
Hollings is a persuasive speaker, standing tall at an ill-lit lectern delivering the story of how America set about beginning its plan to conquer the world by the simple method of making it want to buy, buy, buy into the idea of progress. The Simonsound's CD soundtrack of analogue synthesis which accompanies the Strange Attractor Press volume is augmented by guest Moog and Thereminics from Bruce Woolley (formerly of The Camera Club and The Buggles) and SA's founder and head honcho Mark Pilkington, who serves up a selection of wibbles generated by his rugfull of electronic devices. Together, they whoosh, twiddle and glide as a backdrop of archive footage of the gleaming wonders of half a century and more past scrolls past, provoking as much amazement as humour among the attentive audience at the spectacle of a world in huge change which is at once highly familiar and by now estranged beyond almost any hope of understanding.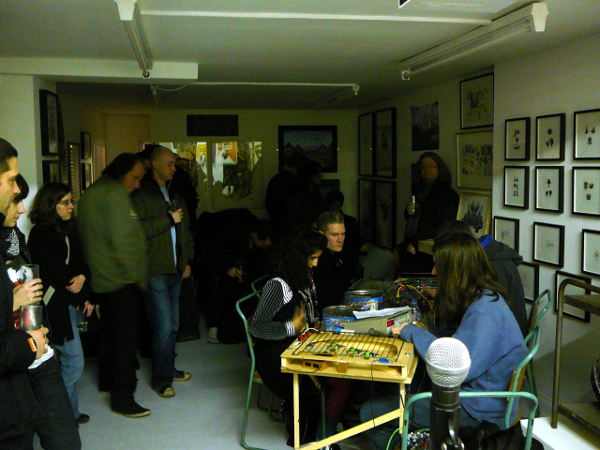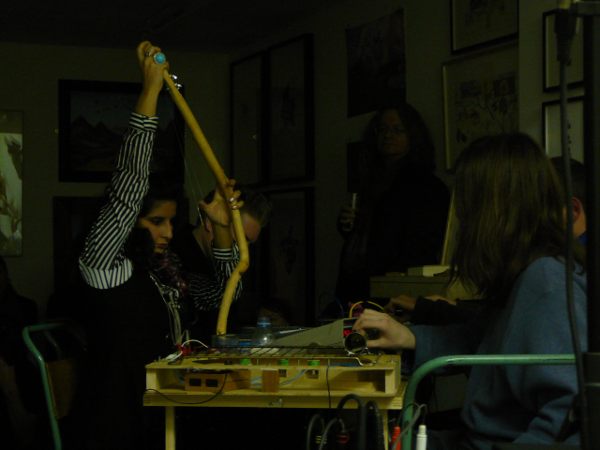 The final night of audio exploration occurs a week later on 29 January, as the penultimate act of the Salon and a somewhat more experimental proposition. One of the more unpopular ways of entertaining this particular culture is to set loose a selection of otherwise mundane objects for the purposes of sonic endeavour, also know as getting the kids round a table with a set of contact mics and some contraptions made from what looks like grill pans wired up for sound and played with an array of bows and bones. It's good to know that the Twentifirst Century generation of noisemakers, here represented by Oscillatorial Binnage, have grasped the joys of making funny noises on strange implements with not just enthusiasm, but aplomb, and they certainly make an interesting racket, the grilles in particular delivering a neatly rippling sound. Equally importantly, the group also know when enough is enough, and they come to a well-timed half with a satisfyingly accomplished finale after the drones have run their course into the void.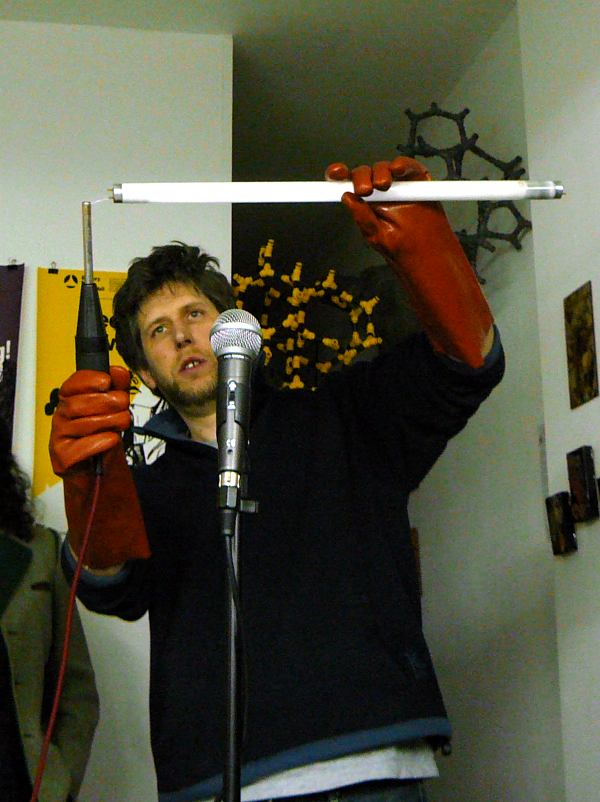 Disinformation vs Usurp are here to demonstrate how to make electricity more directly into volume than by the more usual method of converting it into sound by means of pickups, synthesisers and suchlike. Instead, Joe Banks and Poulomi Desai (sporting suitable safety wear in the form of impressively thick red rubber gloves) brandish a couple of high voltage, purple discharge-emitting electrical massagers and apply them to neon tubes, volunteers from the audience and a couple of keyboards with differing results. The people report the sensation is stimulating; the keyboard utter a few more tortured sounds, and as Banks explains, where others bend the circuits of electronic instruments, he and Poulomi are more interested in circuit blasting.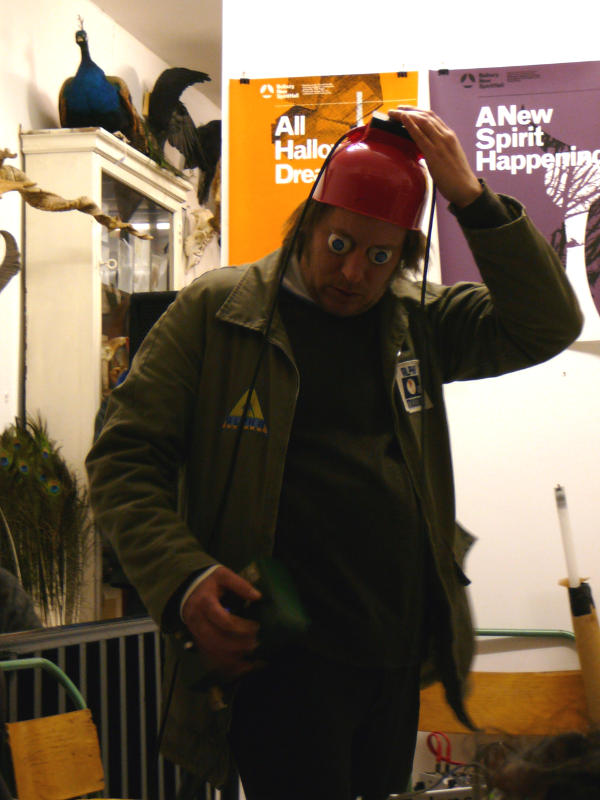 The finale comes in the shambling shape of The Man From Uranus,  who starts fiddling with his electronic devices before anyone (possibly including himself) quite realises that he's playing his set. It's not a long performance, but as Phil Uranus dons a red plastic helmet with false staring googly eyes, set in deranged motion by a box of knobbly controls at his waist and a big button sprung with wires protruding from the top of his helmet, he surges into the drifting blobs of electronic alienation which forms "Death Dreams of Orpheus," soon turning into a sprightly Forbidden Planet-style chug of what he explains could be a car or perfume commercial that is all that remains after an aeon of the empty heat death of the universe.
As ever, TMFU provides a glimpse of a world at a tangent from the current one, seemingly adrift in a raft of cross-hatched realities where multiverses meet – more than eminently suitable for the Strange Attractor mission, and doubly so in this ever so strange little shoppe of weirdness in a psychogeographical sector of Hackney which now seems changed forever.
-Linus Tossio-