O2 British Music Experience
25 October 2011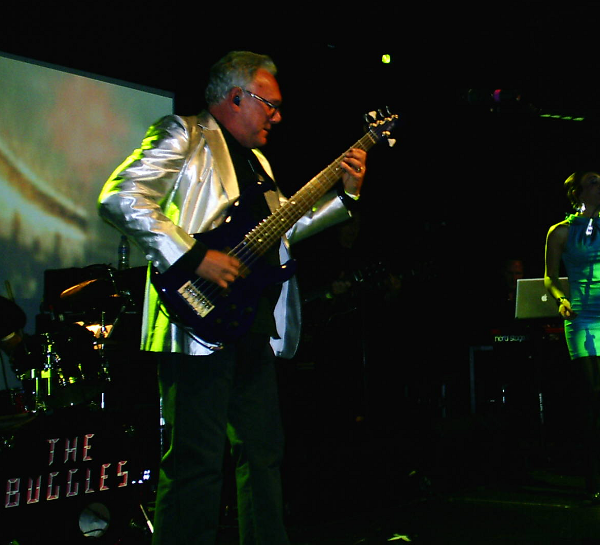 I had never been to the O2 before, but had heard lots of horror stories about it. Apparently it had poor sound, bad visuals, over priced drinks, and terrible for people with vertigo. Luckily enough I was not headed for the main arena – that joy was to be for Cliff Richard's blue rinse brigade – I was going to the smaller British Music Experience. As I wandered around the giant dome in search of the venue I was suddenly reminded of the domed city in Logan's Run and half expected to see Sandmen running around. Somehow this futuristic setting seemed quite apt to see one of The Buggles' very rare live performances as their music always had a sense of Sci-Fi about it.
Before the performance Geoffrey Downes and Trevor Horn did a Q&A, fielding a few questions from the audience. This added to a relaxed atmosphere of the event and that both men seemed pleased to finally give some of these songs a live airing after the album being released more than 30 years ago. A break and then finally the moment the fans had waited along time to see, clad in silver jackets to give that sense of 70s Sci-Fi futurism, The Buggles began to "Fly from here."
The songs performed this evening were a mix of tracks from
The Age of Plastic
album with a few covers thrown in. The opening notes of "Into The Lens" (or "I Am A Camera") from the
Yes
album
Drama
seemed almost a melancholy set opener, but its lyrics about memories seemed poignant for tonight's performance. The band then slid into an instrumental version of
Frankie Goes To Hollywood
's "Two Tribes" that powered up the audience and where, already, the drummer was beginning to shine by keeping the beat hard and steady. Next of course had to be "Video Killed The Radio Star," and the audience began to sing along transported back in time to 1979 and their youth and how amazing and fresh this song was. The band was joined by three female backing singers who added the lushness of otherworld vocal harmonies not unlike those used in the
Star Trek
theme.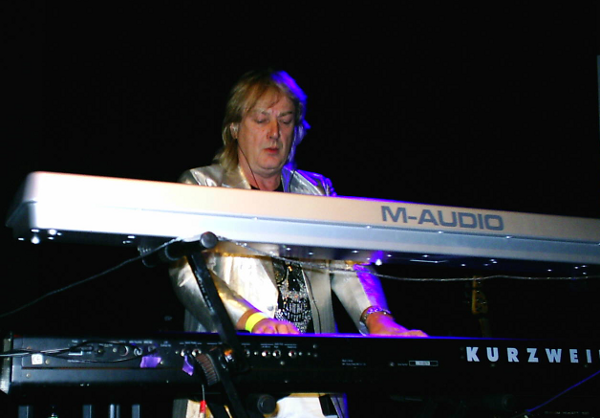 "The Age of Plastic" is one of the numbers that sounded amazing performed live. Geoff Downes' playing was nothing short of astounding during the number, I've always thought he was an amazing keyboard player but to finally see him perform this live was a treat. My only criticism was that Geoff only had two synths unlike the 13 or so he used to use with Asia, so as a synth spotter it was a bit of a let down – but I think maybe I was one of the few that concerned about it. For a cover version of "Slave to the Rhythm," the band were joined by Alison Moyet, who sounded magnificent. Playing guitar with the band was 10cc's Lol Creme, who did a performance of "Rubber Bullets." This all helped to jolly the evening along but it was The Buggles originals that most of the audience were there to hear and get them moving, as in the case of a great rendition of "Elstree."
Trevor's voice throughout the evening sounded excellent and reminded me what a great vocalist he is. His bass playing was almost
Brontosaurian
at times and reminded me of his old band mate
Chris Squire
at points. A cover of
Bowie
's "Space Oddity" added to the galactic flavour to the evening, even if I did find it a bit strange that Geoff Downes was having to recreate a
Rick Wakeman
keyboard parts just as he had to in Yes all those years ago. Finally though, the set was drawing to a close with a powerhouse version of "Johnny on the Monorail." This was always one of my personal favourite songs on the album, a mixture of prog and pop that seemed to be a soundtrack to a vision of the future that could be found in
William Gibson
books.
This was how music was going to sound in the 21st century, where robots would bring you your breakfast and you went to work on your jetpack
. Well, those things never materialised (well not yet), but as I made my way back through the domed city towards the silver Jubilee Line maybe we aren't that far away from it and the music to rightfully echo around these modern vistas should be that of The Buggles.
-Gary Parsons-