Luca D'Alberto – Endless
by Freq | 2017-07-30T17:08:51+00:000000005131201707 17:08
7K!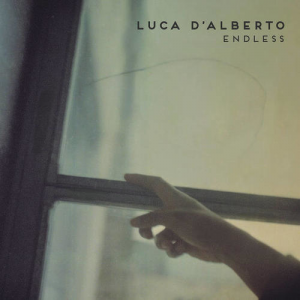 !K7 have been issuing releases which trade on an intelligent dance tip for the best part of twenty years now with the likes of Kruder & Dorfmeister and all those DJ-Kicks selections. Head honcho Horst Weidenmüller has chosen to set up a sub-label , 7K!, which is more in a neo-classical vein, but he feels will appeal to fans of the original label. Luca D'Alberto's Endless is the label's first release and it is an absolute gem of a starting point.

On it, Luca plays everything with most attention being given to piano and violin, but over the course of the nine tracks and thirty-eight minutes we are seduced into a world of stunning, empty vistas and wind-strewn drama, arpeggios tugging at our hair and our heartstrings. Opener "Wait For Me" starts with a three-note call and response between piano and violin, the two entwined in a romantic dance. The drama gradually builds and moments of reflective splendour lead to a headlong rush through tree-filled valleys as still but vibrant pools stand out like flashes of silver in a wooded valley, and it all swells and aches as wind rushes through your hair at every turn.
Thankfully, it isn't all breathless drama. The simplicity of the solo piano in "Blessed Messenger" is full of heartache and the spaces of semi-silence in between when the notes die is so compelling; like watching your breath gradually disappear on a frosty morning. It is real outdoor music, it
evokes imagery that takes you out of yourself and loses you in the grandeur and stimulation of the outside world
. Imagine an eighteenth century rural landscape, the gold of the wheat, the heat of the sun, the laborious but satisfying job well done in the most idyllic of unspoilt surroundings; the break for a simple lunch in the shade of a tree, watching the sun set and cast golden shadows as a day starts to fall, the perfection of that moment soundtracked by the most luscious violin. It is incredible to think that all this has been accomplished by one person. Luca plays violin, viola, violectra, cello and piano on the album, and you would easily be forgiven for assuming that there is at least a trio working here. The instruments merge seamlessly, and
he is clearly adept in the studio
.
The track "Endless" opens with some backwards tape experimentation before breaking into an almost folk-like violin piece. It feels distant and salt-caked, worn by the rush of the tides and aching for the chance to set foot on land again. It is proud and thought-provoking and ends far too soon. A nod to Erik Satie on "Her Dreams" finds the piano sleepy and glistening. It evokes a blue dawn, and as the violin enters, the first rays of morning sun cast some splendid light on the start of another day.
The cello based tragi-drama of "My Way", all mournful reverie, is offset by the drifting ambience of "Everywhere You Are" and by the time the doomy, pregnant closer "Screaming Silence" arrives, it feels as though you have had some
whistle-stop tour of the most glorious of vistas, just you alone with a soundtrack
so evocative that it will stay with you and accompany those imaginary landscapes in the future. This is a fantastic first album and hopefully 7K! can keep up the good work.
-Mr Olivetti-
Source URL: http://freq.org.uk/reviews/luca-dalberto-endless/
---