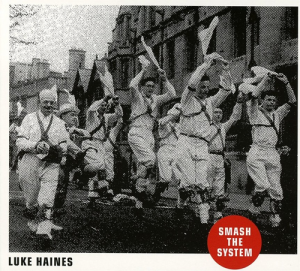 I must admit to having come late to Luke Haines. I managed to avoid Britpop almost entirely for reasons largely connected to booze, drugs and industrial rock, but my vague memory of the whole era is one of a terrible national mistake from which only Haines and Jarvis Cocker appear to have emerged with any semblance of dignity. Recent years have seen me falling in love with Black Box Recorder's almost-Ballardian dreampop perfection, so it's with genuine curiosity that I approached his latest solo effort, Smash The System.
It's an eclectic and constantly engaging set, which pays for this with something of a lack of consistency, but how much of a problem you find that depends on how much that kind of thing tends to cause you a problem.
It's tempting to put Haines in a very weird bracket with
Julian Cope
, albeit it a Julian Cope whose wide-eyed but knowing enthusiasm has been replaced with Haines' much-vaunted cynicism. Which, to be honest, only really counts as PROPER cynicism if you're not familiar with the later works of
Half Man Half Biscuit
. But this is beside the point. Both share a fascination with the
Baader-Meinhof Group
(I do have to suspect that Cope must have cursed himself for missing a trick when Haines named an earlier musical project thus) and
a view of life regarded through a lens of rock and pop history
. Take the first two tracks, for example — "Ulrike Meinhof's Brain Is Missing", a thrilling tale of medical science gone beautifully wrong, body-swapping and "
a hullabaloo in the Stasi HQ
"; and "Black Bunny (I'm Not Vince Taylor)", in which
Suicide
synth pulses and what appear to be references to
Nurse With Wound
's masterful interpretation of
Jac Berrocal
's "Rock And Roll Station". And later, of course, there's the wonderful "
The Incredible String Band
", a paean to the titular awesome psych-folk weirdigans which can only really be filed alongside Cope's "Robert Mitchum".
As I say, it's tempting, and that's kind of why I just did it, for I am nothing if not weak of resolve, but there's plenty of other stuff going on here. "Cosmic Man" and "Are You Mad" are both Bowie-esque slices of dark whimsy, while "Marc Bolan Blues" does a very passable T. Rex before sidling off into Manics-esque anthemic rock territory for a quick smoke.
How much you will enjoy all this, of course, depends on your tolerance for
nose-tapping, winking and general archness
. I'm on occasion a huge fan of that kind of shit, so I loved it.
Such system.
So smashing.
Wow.
-Justin Farrington-