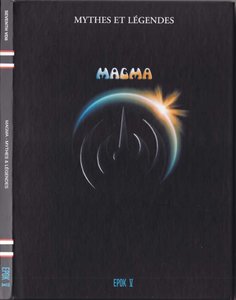 Five DVDs into Magma's series of live sessions at Le Triton,we find the pioneers of Zeuhl way out there beyond the Theusz Hamtaahk trilogy and exploring some of the stranger byways of their œuvre along with some dazzling new material. The entire programme runs to about two hours. There are a few interludes during which audience members, including Steve Davis, are interviewed about their relationship to the Magma legend, but mostly what you get is an all you can eat feast of pitch-perfect Magma.
There are two numbers from 1978's
Attahk
album, "Dondai" and Maahnt," as well as an opener entitled "Attahk (Retrovision)" which was not actually part of that album but is a composition from the same period. Digging further back there is "Rïah Sahïltaahk" from the
1001° Centigrade
album from 1971, and perhaps most significantly there are also two newer compositions: "Félicité Thosz" from last year's
album of the same name
and "Slag Tanz," a track which
Christian Vander
has stated that he may record as the next Magma album. Starting with "Attahk (Retrovision)" for the first twenty minutes of the show, we are thrown straight into the onslaught. "Attahk" feels like a summary of certain aspects of the Kobaïa legend. It has a bright jazzy feeling about it with some of the colouring of Motown, especially in
Isabelle Feuillebois
and
Stella Vander
's twin vocal lines which stop just short of
melisma
. On the male voice
Hervé Aknin
fills the shoes of
Klaus Blasquiz
more than adequately. In this younger band, who are mostly veterans of many campaigns, the Vanders are the only remnants of the original line-up.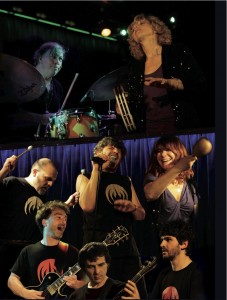 The instrumentation is unusual for Magma. Using a Fender Rhodes and vibraphone for the keys and eschewing the colourful synthesizer textures of the late '70s, Bruno Ruder and Benoit Alziary act as a unit across these two instruments. The other key relationship is between Philippe Bussonnet on bass and James MacGaw on guitar. It seems unusual that the current Magma is so guitar-heavy; the line-ups from both Attahk and 1001º Centigrade significantly lacked six-string guitar, but were carried by the bass. MacGaw is something of a virtuoso but his playing never oversteps the boundaries of the composition. The other key player on this album is Bruno Ruder, whose Rhodes continuos are often given extended unaccompanied solos.
After the opening twenty minutes and some interviews we are thrown into another long piece: "Rïah Sahïltaahk" is a more fiery aspect, not unlike the classic riff of Kobaïa – rocky but with aspects of Carl Orff and a swinging bottom end. The footage of the concert is all-encompassing with multiple angles of attack, although some of the split screen shots seem to be somewhat gratuitous or ill-conceived. We are also treated to McGaw pulling what may be the only example of punch-drunk village idiot face in the history of guitarist facial expressions – this is the bonus that you get when you can both hear and see Magma in action. As for Vander: well, you know what sort of constant gurning you'd expect from him.
"Dondaï" is one of the most beautiful pieces in the Magma repertoire.
Attahk
is not universally rated by Magma aficionados, perhaps because it lacks the
sturm und drang
of the
Theusz Hamtaahk
trilogy. It is what appears to be a Kobaïan
Song of Solomon
owing as much to madrigal as Tamla Motown, complete with "Ooh baby" crooning, and should be acknowledged as one of the high points of Vander's career.
The shimmering vibes and Rhodes come into their own
on this number, and Bussonnet shows himself to be a bassist of great tact and precision.
The next three quarters of an hour are given over to new material. "Félicité Thosz" live is a revelation. Played here largely by the same band as on last year's recording, we see a compulsive vision of where Vander feels that Magma is heading. All of the cornerstones are in place: Carl Orff vocal arrangements, Motown curlicues and John Coltrane's free jazz – although during Ruder's extended Rhodes solo we are as often reminded as much of Alice Coltrane as her husband. Christian Vander takes his only vocal line in this number and he's still well worth listening to, and even better to watch. He comes over as some sort of furious half-orc paladin with a nice falsetto. "Félicité Thosz" is followed by the unfortunately titled "Slag Tanz" in which the band knock us sideways into Pythagorean rituals of antiquity. The vocal section here are at the very top of their game; primal and charismatic. This is vintage stuff.
After this
tour de force
the concert closes with what is on the face of it a strange choice: "Maahnt" from
Attahk
. Even by Magma standards "Maahnt" is a weird piece of music. It funks right enough and the band are obviously having a right old time romping it up. Hervé Aknin uses two microphones here, just like in the original where there is a second male voice pitch-shifted and twisted beyond recognition. It is as if there is a Jekyll and Hyde combo fighting for the dominance of the middle of this song, like some strange psychodrama from the more distorted realms of
Philippe Druillet
. Again, it makes strong claims for the importance of
Attahk
to the Magma canon.
Is this a hardcore fans only release? Hard to say, because in a way all Magma product is that. What is exciting is seeing Magma in the 21st century on top form, without playing it safe with the Theusz Hamtaahk greatest hits set. This is live, vital and occasionally somewhat gut-wrenching, but I'm pretty convinced that if you consider Magma essential then this is also essential.
-Iotar-