London
8 May 2015
I remember quite a few years back after a Magma show, a friend of mine turning to me and saying, "That was like being on another planet for two hours". And he was right, very few bands make you transcend to another realm but Magma has the capacity to do this.
Maybe it's because the songs are sung Kobaïan, a language invented by band leader
Christian Vander
, that gives the songs an off-world feel. Or maybe it's the majestic music filled with grandeur that feels like the aural equivalent of
The Lord of the Rings
meets
Frank Herbert
's
Dune
. It's probably a combination of the two, but one thing's for certain:
nothing is quite like experiencing Magma live
.
According to Stella Vander it had been six years since Magma last performed in the UK and it is a real shame that they don't come to these shores more often to perform, especially as this looks like it is a sold out performance. I had never been to the Cadogan Hall before and I have to say it's a rather beautiful venue and absolutely perfect for Magma's music.
A massive cheer erupted as the band took to the stage; after a few moments of silence they launched into an epic version of
Köhntarkösz
. Within minutes of the opening chords, you suddenly felt as if
you're not in a venue in London, but traversing some type of alien landscape
.
Hervé Aknin
's voice called out pure and strong as he sang the songs of Kobaïa.
Isabelle Feuillebois
's voice soared alongside Hervé's whilst Stella Vander's voice was hauntingly beautiful, filled with passion and with an amazing ethereal quality to it.
As the song made its way through its various movements, it began to defy all logic and became both trance-like and progressive at the same time. Köhntarkösz hints at jazz, hints at progressive rock, but is neither of these things; it is an entity all of its own. When it finished, the band (rightfully) got a standing ovation. Stella said that the track was original when it was written in 1974 and still sounds like nothing else today — and who can argue with her.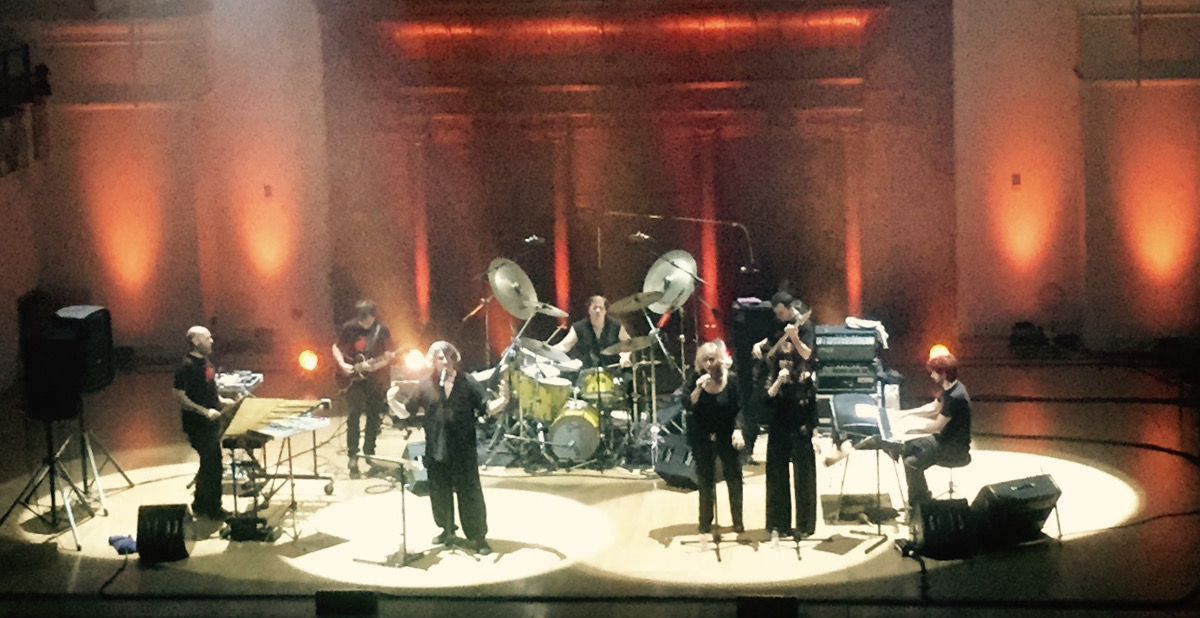 Zeuhl music is primarily percussion based, with the use of drums, piano and bass being mainly forward in the arrangements of most of the songs. This was especially true of tonight's performance of
Mëkanïk Dëstruktïẁ Kömmandöh
. Christian Vander's percussion work is always marvellous; his drumming can either hold back or punch holes in the sky all at the right moments. This track tonight also belonged to the stunning keyboard work of
Jérémie Ternoy
, who managed to add
both menace and beauty at the same time
, but whose rhythmic work was also exemplary.
It was here that Philippe Bussonet confounded everyone with his stunning bass playing — he was a marvel to behold and certainly joins the ranks of Magma's finest bassists alongside Jannick Top and Bernard Paganotti. He created liquid flowing lines of bass that gave power and urgency to the track. James MacGraw's guitar built up tension then let it all dissipate with a startling solo. But it was the Batterie that astounded and made sure of yet another standing ovation as the track ended.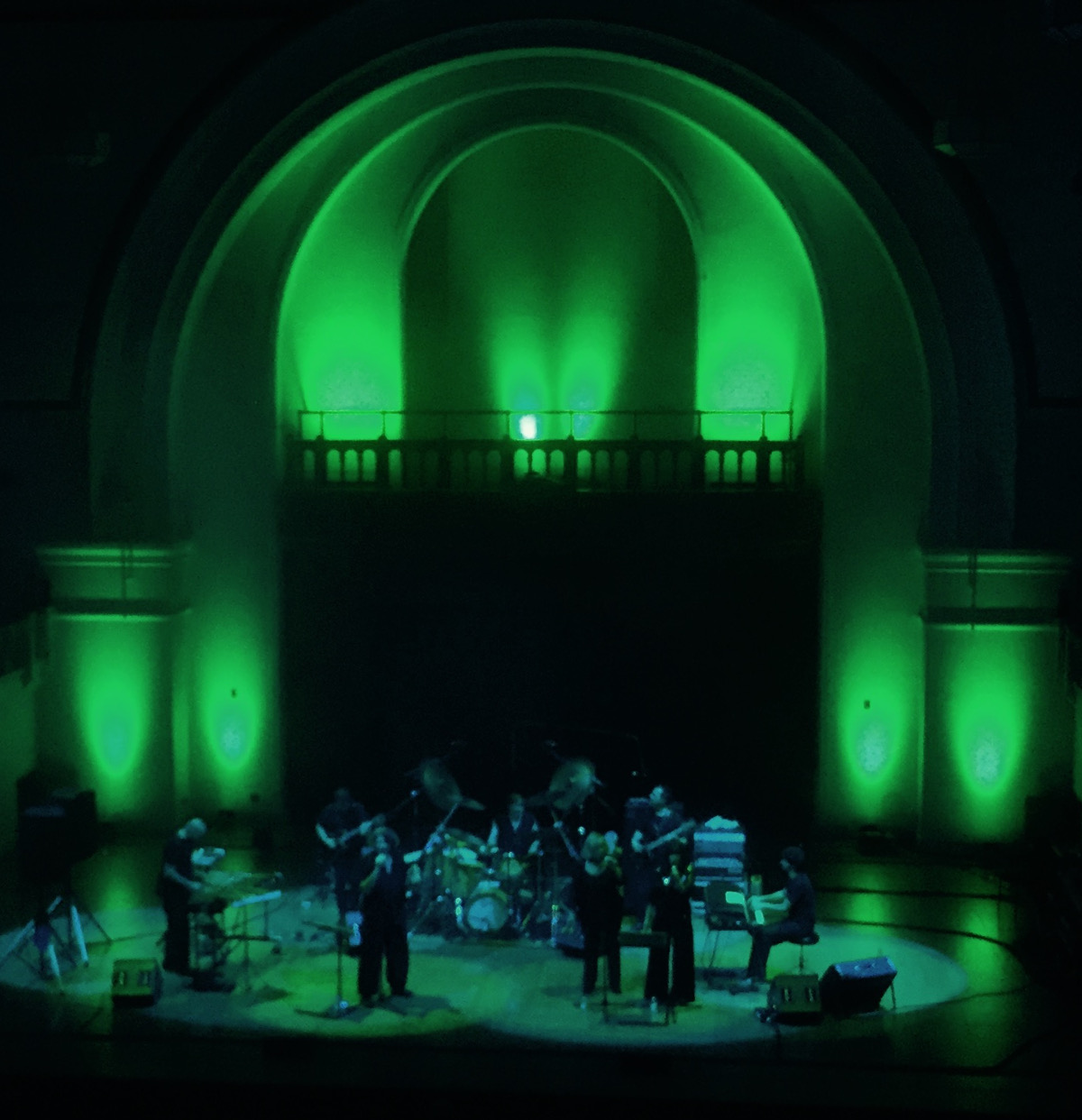 The final track for the evening was the band's most recent album
Šlag Tanz
. As it's a new release (even though it's been played live in various forms for a while) its the piece I don't know as well as the others. I felt therefore that I wanted to immerse myself into the sound of it and let it wash over me and take me somewhere else. As with all things Magma,
Šlag Tanz
is full of surprises, even if it does still have the Zeuhl sound. At points it almost sounded quite funky, with
Benoit Alziary
's vibraphone work going into overtime as he helped ground and add melody to some of the more complex sections.
This is Magma still constructing new worlds but also adding to the one they have already created. It builds upon the older monuments but doesn't destroy them; instead it adds a different, complementary wing to Magma's massive temple. At times,  Šlag Tanz put me in awe of the music being performed in front of me. It made me question how all the component parts fitted together without ever distracting me from its unearthly beauty, and another standing ovation followed as the song ended.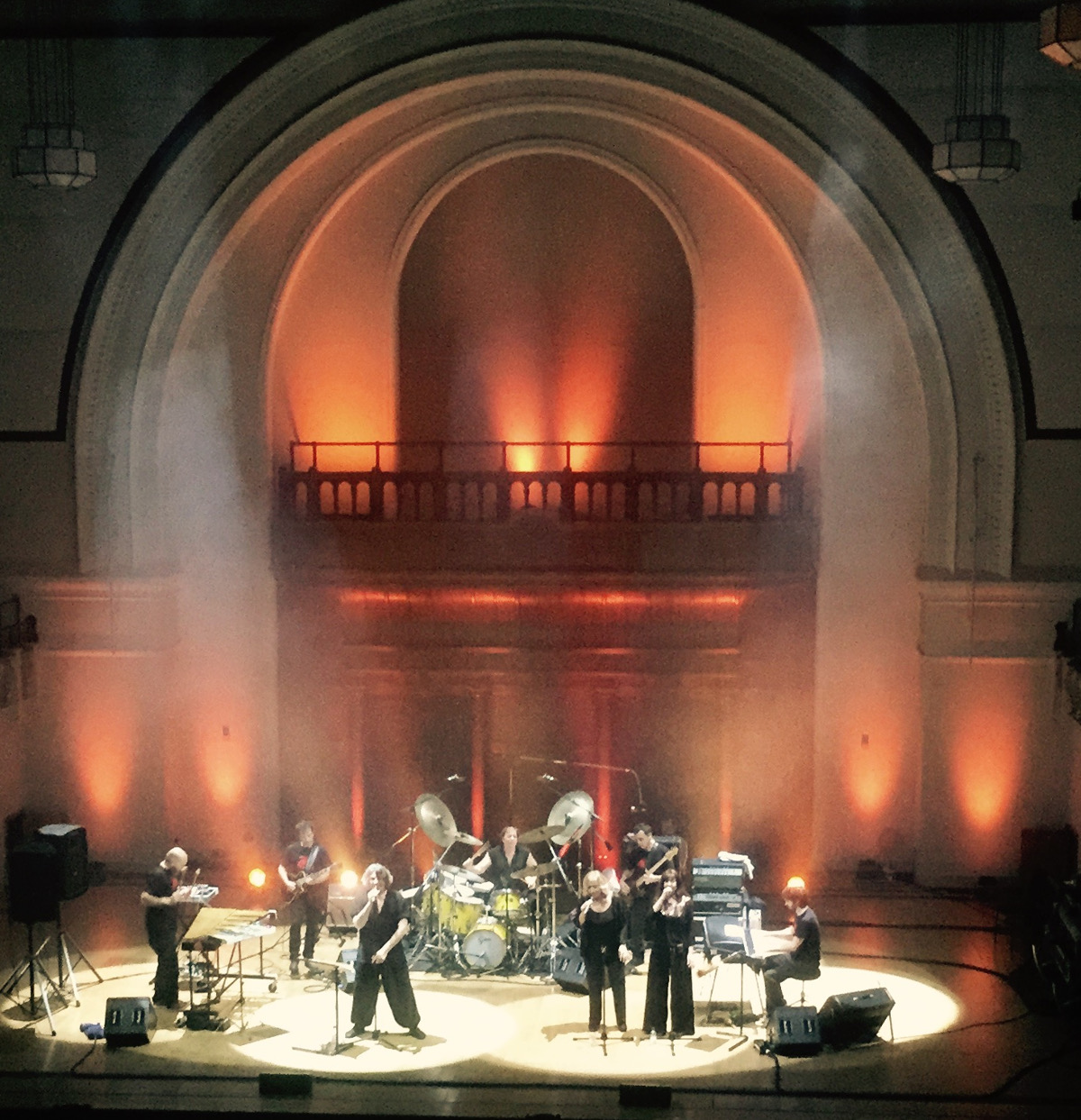 Magma's music stirs different feelings and emotions; at it progresses, it conjures wonders and visions within your mind's eye. It's not just about the complexity of the music, and outstanding as each performer is, it's also about a gut feeling that the music gives you. It's an almost unexplainable something. So like my friend said,
it kind of is like being on another planet for a couple of hours
; and hopefully the UK won't have to wait another six years to return there.
-Words: Gary Parsons-
-Pictures: Alex Pym-