Magma – Retrospektïẁ Volume I + II and III
by Freq | 2017-12-15T19:01:26+00:000000002631201712 19:01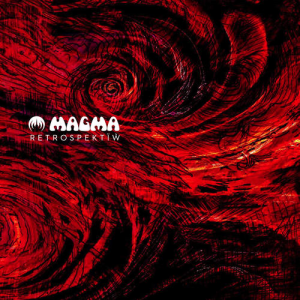 Retrospektïẁ I, II and III are the crown jewels of the Magma empire. You'll get told elsewhere that those jewels are located in the 1970s studio albums by Magma. You will get told that by people who cannot tell you why Christian Vander waited until 1980 to bring the key players of Magma back together at Olympia to record "Theusz Hamthaak".
If you don't understand why "Theusz Hamthaak", and a full-spectrum revitalised version of "Mekanik Destruktiw Kommandoh" on Retrospektïẁ I & II, is not the most fundamental set that Magma can play in 1980, you need to go back and immerse yourself in the Magma canon and then come back to this review. It's okay, it'll be worth it. I'll wait.
For the rest of you, we'll move onto what happens in
III
. Yeah, that's important too: "Retrovision", which is often described as the epic that was absent from
Attahk
, along with "Hhai", the keynote of the 1975
Live/Hhai
album, gives us
a panoramic sweep of what it means to be Magma
. Not only that, but these dynamic, colourful performances are accessible to such a degree that this is also an ideal starting point to hear Magma for the first time.
All of you who went away to immerse yourselves in the canon and then thought better of it: welcome back.
Magma are a beast live. Magma are this enormous, absurd but deeply controlled monster. The reason that these recordings from the Olympia theatre in Paris in 1980 are so powerful is that Christian Vander's vision as a composer holds the whole together. Their US/UK counterparts, and indeed their counterparts from Germany, had spun out of control years ago and at best were reconstructing themselves as slick pop machines. Slick pop machines are a good thing in their own way, but compared with oversized compositional visions, they are scuttling crabs that strut with cocaine-addled alimonies and big shoulder pads.
More than all of this:
Retrospektïẁ
 allows Vander to correct the error of too many of the previous iterations of these definitive compositions. As I have observed elsewhere: the Zeuhl bassist is unlike any other sort of bassist. Perhaps it is their relationship as the other half of the rhythm section to Vander's drumming. They are more important than the guitarist or the organist. Those come and go.
The error that is corrected in these recordings is that Jannick Top is replaced in most cases by Bernard Paganotti. Sure, Top has a kind of orcish massiveness about him that those who mistake Magma for a metal band might admire, but listening to these performances one cannot help but admire the élan, the sheer joi de vivre of Paganotti's playing. Because that's how these recording trump their 1970s predecessors: they are intensely vibrant and full of colour.
So what does the
Southern Lord
triple vinyl bring to this that the
Seventh Records
CD won't give you? You'll get vinyl. If you like that sort of thing. You get an old three page comic by
Gotlib
from
Fluide Glacial
in 1978. Maybe
Metal Hurlant
and
Moebius
are more immediately relevant to how Magma felt about themselves but it's kinda funny for five minutes.
You get fresh artwork from Eva Nahon, which resembles the sort of thing that we saw on the Köhntarkösz sleeve in 1974. It's magma, isn't it? It's not terribly imaginative and it doesn't really capture what is fundamental about these recordings: how colourful, full of life and un-doomy they are. They'd work for some generic greatest hits sleeve, but for the 1980s Olympia shows they are really not suitable. Even the original cheesy RCA sleeves feel far more relevant and really no better that the Seventh Records minimal version of the covers, which is merely functional. But that's just packaging. Who cares about that, right?
Brad Boatright
's remastering job is an improvement,however. It's punchy and gives some real dynamic depth, particularly to Vander's drums, but also
as the various voices and keys play out over the performance everything is given the space it needs to breathe
.
When considering whether to purchase a copy of this limited edition, one should however compare it closely with the Seventh edition. Sure, you'll get a punchier surface but in the middle of both "Theusz Hamthaak" and "Mekanik Destruktiw Kommandoh" the music fades out and you'll need to turn over the vinyl. This is the same as the original RCA LP and brutalises the unity of Vander's composition to the same extent, whereas the Seventh CD version maintains the integrity of the pieces.
And so we might wonder what this Southern Lord remastering is for. There will only be 1,500 copies of this set, so if that is the case, it is not to maintain the integrity of the Magma legacy: it is really just for a few vinyl fetishists to acquire an investment for the future. Whether Seventh Records eventually put out Boatright's remastering in a form that does not molest the completeness of the pieces on
I
and
II
is a matter for them to decide.
These are the crown jewels of the Magma empire. If you want a relatively compact set of recordings that showcases what this band and this composer were capable of at the height of their powers — with Paganotti and Vander in their key positions to hold these powerful compositions together and a vibrant supporting cast of the best of what French jazz fusion had to offer during this period — you can't do much better.
-Iotar-
Source URL: http://freq.org.uk/reviews/magma-retrospekti%e1%ba%81-volume-i-ii-and-iii/
---