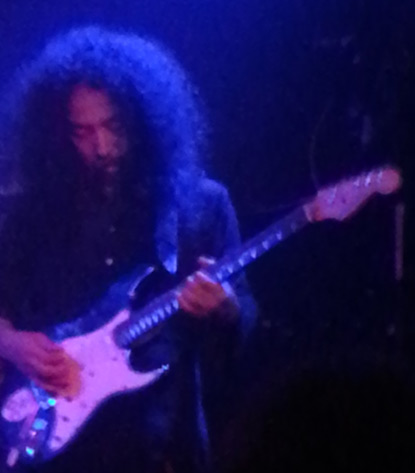 Bristol
27 September 2013
This trio were incredible! The noise flowing from them was full on, bouncing with a rip cord of incentive and bold colour. A lock-horned, tri-cornered combo of gristly riffs going off into wah-wah Hendrix hedonism. Drums becoming bass, guitar chiselling percussion; a bewildering soup of pure energy, blissfully heavy in the repetition department, spurring off into delicious landslides of angles and tempos.
Just as you thought you had a handle on Mainliner, they'd slip out that frame completely and dose you from a different perspective. Cutting back into a plodding mellow gothicness, the drums peppering the swinging forecourt of bassy flesh and Kawabata Makoto tang with a doomic expectant heart. A lush sensibility swaayyyyyying like a python round a half bottle of milk, then flying out of that cage on a white hot roar, a Fushitsusha-ised flower whose wooshy talons slanted on fisty low ends and excitable pummels from Shimura Koji.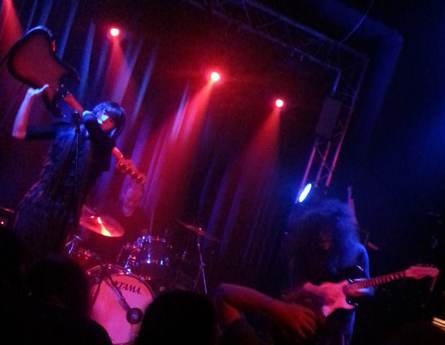 Didn't expect them to get sidetracked into abstractions though, and there they were, car crashing their wares, loosening their grip in a twisted demolition of steel-cored concrete, each filling the hole left by the other in a no wave mangleze. A wholesome wreckage of cable-tied fret constriction, contradiction, their bodies gleefully contorted to a mess of shapes. The best improvised spread I've tasted so far this year.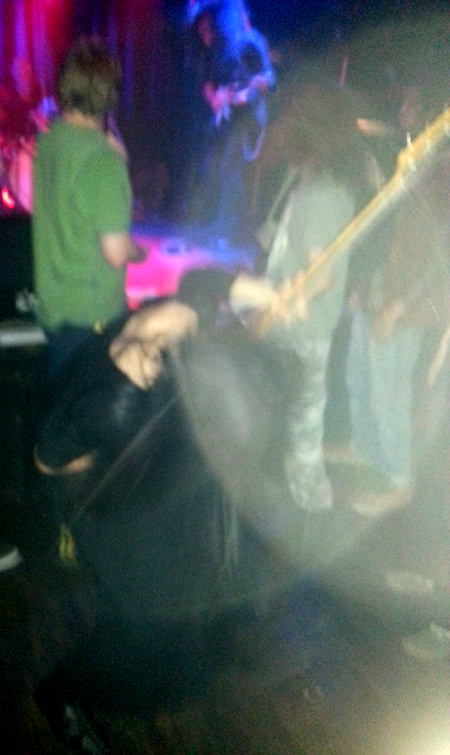 A little re-tuning and then it was headlong into another riffy leviathan,  Kawabe Taigen piling reverbed vocals on top of an already saturated canvas. Like some Ringu photofit with his long black hair, slim ankle length dress, arms and hands mystically writing the air between meaty bass gropings; jabbing towards Kawabata, making Golem-like faces to his ascendant claws of guitar, nailing the dives in blunt knives and bouldering counter punches.
Everything surging forward, getting frenzied as repeat demons wadder zagger the cranium, taking your legs and body, making them vivid mirrors of that relentless driving force and ocean-sucked spectrum. Mister Makoto trancing out to his creations, throwing his spine backward, the neck of that guitar teeming with fingers – there's not one bit of the guitar the man hasn't used – as the other hand yanks the wah like a manic fruit machiner. This was the last track of the evening and they must have been going for it for at least 20 minutes solid, showing no sign of abating. At one point Taigen jumps off stage and wasps around the audience getting some wild contortions from his airborne bass – then everything curves silence, as if in ill-fitting shoes, only to surge into fresh tangents of renewed energy; giving out perhaps another 10 minutes before crash landing into applause.
A veritable feast indeed!
-Michael Rodham-Heaps-