London
11 May 2017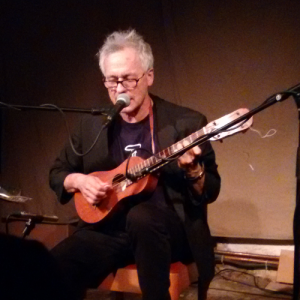 There's a scene towards the end of John Carpenter's turbo-charged 1982 creature feature The Thing when the titular metamorph – just before being blown to shit by Kurt Russell's vengeful sticks of dynamite – writhes and transmutes in all its slimy, gory glory. Eschewing any stable adaptive camouflage, it instead cycles rapidly across examples of many of the species it has previously assimilated: a huge tentacle here, a giant toothed jaw there, a dog's head somewhere in the middle. From some central core, these half recognisable forms burst out all over in sudden protuberances.
I can't help but think of this mental image when watching
Marc Ribot
play the guitar –
passages of wild improvisation suddenly burst into familiar melodies, expansive flights of fretboard fancy resolve into identifiable chord sequences
. His music is at once both alien and familiar. Marc Ribot is thus
The Thing
of jazz free improv guitar playing. And I mean that in a good way.
Tonight is the first of two sold-out residency nights at Café OTO. Having played as sideman with everyone from Tom Waits and Elvis Costello to John Zorn and David Sylvian, together with his own highly distinctive and critically-acclaimed solo material, Ribot has developed a heavyweight reputation as both a master alchemist of styles and an instrumentalist virtuoso par excellence. Not bad for a leftie who erroneously learned to play right-handed, something which he felt on occasion represented "a real limit, one that caused me a lot of grief."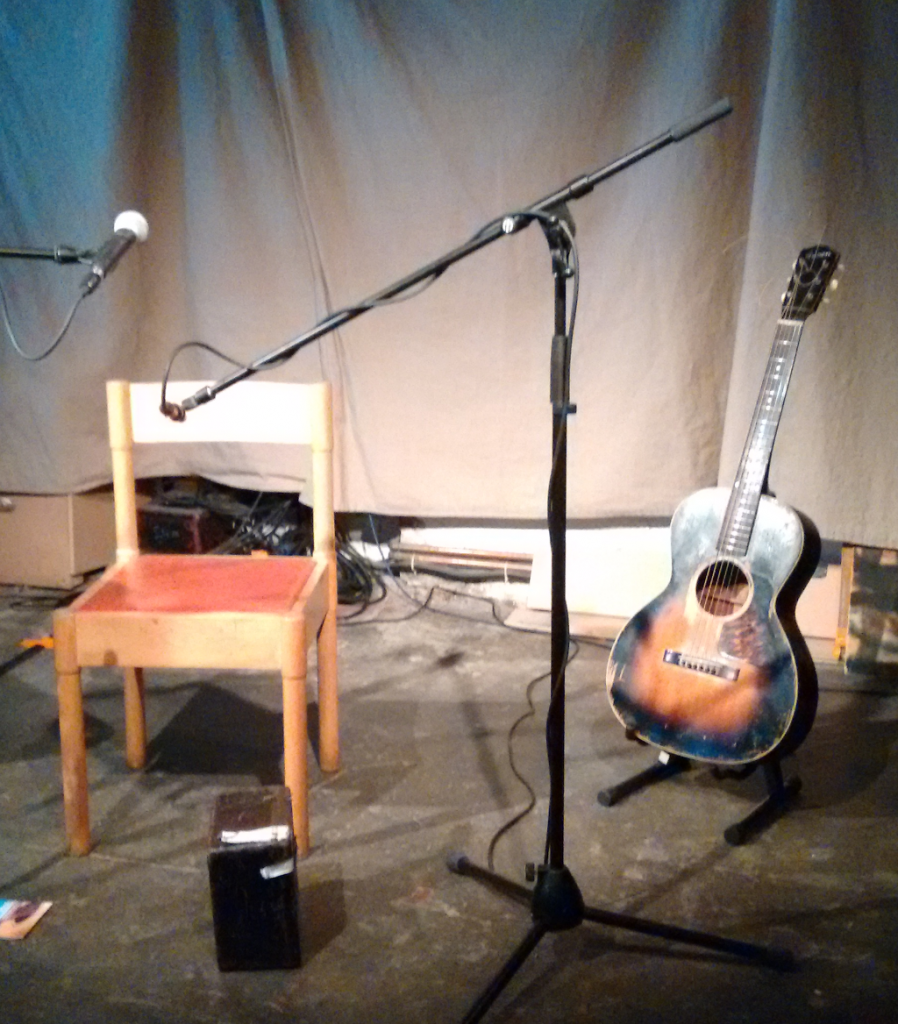 Here under the spotlight this evening stand a solitary wooden chair, a footrest and a few scrawled notes on a music stand. A charmingly battered acoustic guitar sits quietly on its rest nearby, and on the floor, within easy reach of a thirsty maestro, are a bottle of San Pellegrino1 mineral water and a small Scotch.
To warm applause, Ribot makes his way on stage – black jacket and trousers, colourful trainers, black T-shirt featuring a track pump neatly rendered in white line, shock of white hair – sits and readies himself. A man of few words, Ribot takes a small sip of whisky. "I only sing in an emergency", are his first words, "and right now I think we have an emergency". In truth, the vocal is a little shaky, but the first song is like a master gunner taking the range for his battery:
a little higher, a little more to the left, there, got it
. The sights are now zeroed. Ribot then performs a stunning first half set that takes the jazz and popular Broadway standards and leads them gently by the hand into the kind of territory
Thelonious Monk
once made his own, the music hopping madly from one stepping stone to another, teetering perilously at times, yet never quite falling into the water.
"Smoke Gets In Your Eye", "Tenderly", "In The Mood For Love", "April In Paris", "Ghost Of A Chance", "I've Grown Accustomed To Her Face", classics from the Great American Songbook are extruded by Ribot into free-flowing improvisations that snake and coil, touching back to the original before veering off again in tangential new directions. Halfway through one song, the figure from "Rhapsody In Blue" appears suddenly out of nowhere, as The Beatles' "Blackbird" did earlier, before submerging majestically back down into liquid current of the music as it moves on elsewhere. The sheer daring is exhilarating to watch.
Throughout, there are volleys of chords so tortuous that my little finger aches from just looking at them, the kind of patterns that send a cold shiver down the spine any aspirant guitarist when spying them for the first time on a score. Yet despite such an intimidating chordal fusillade, Ribot's playing never feels like dry virtuosity, mere technical brilliance for brilliance's sake. Ribot is
thrillingly cavalier in the casual way he treats the notes, not seeming to care if any muffle, fail to sound or mis-strike in any way
. A decade ago at the
Union Chapel
, I was lucky enough to see the late
Davy Graham
, and his style that night felt similar, as though the urgency of the need to release the music overrode all other concerns; this far out on the edge of performance, some notes are going to snag in their rush to make it out. That's just the way it is. Chasing the train ('
Trane
) this fast means the odd misstep is going to happen, and as long as you make it into the boxcar, who cares?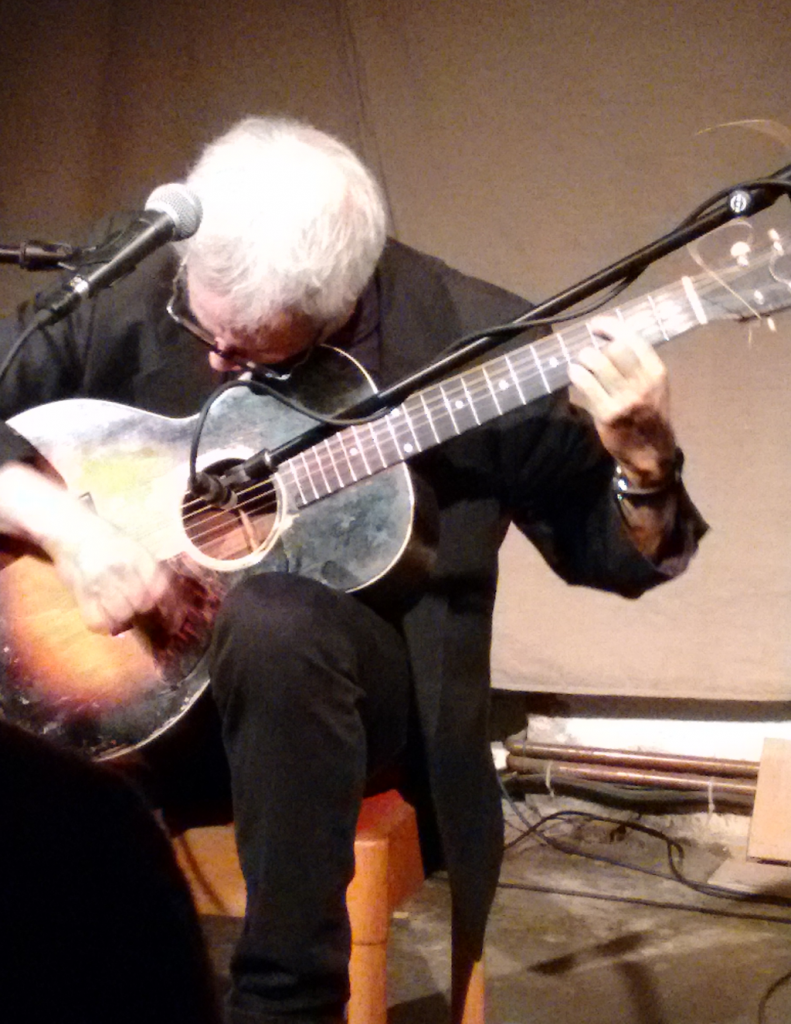 Away on his pursuit, for much of the set Ribot's head is bent forward, hanging down, eyes closed, his hands playing seemingly of their own accord, possessed by a spirit of movement like the red shoes in Hans Christian Andersen's fairy tale. Ribot's pose is reminiscent of the slumped physical trance that used to descend on Garth Hudson in the heyday of The Band, but instead of being hunched across the keyboard of the Lowrey organ, Ribot's hands skitter across the strings like Eddie Lang. As the first half ends, he returns to the here and now with a modest half-smile which seems to say, disarmingly, "Phew. Didn't really know whether I could pull that off, but it was OK, wasn't it?" And how.
After the break, Ribot returns for a second set that mines a very different musical seam. When he sings the hauntingly beautiful Italian partisan song "Bella Ciao", you can hear a pin drop, so quiet is the room. There are pieces by the aforementioned 'Trane,
Albert Ayler
and Ribot's friend and musical mentor, the Haitian-American guitarist and composer
Frantz Casséus
. On breaking out the ukulele, he seems suddenly gripped by the spirit of
Tony Iommi
, and the room is
taken aback by the force of the riffing he manages to wring from it
. Ribot is clearly in the zone now, and if you were to hand him a plastic lunchbox strung with a rubber band, it would surely sound masterful in his hands.
After the encore Ribot bows to the audience, taking his leave from us with a simple "Thank you", yet is visibly warmed2 by the awe in which the audience genuinely and evidently hold his performance. "Come again tomorrow" he advises us. My advice to him: "Don't go changing".
-David Solomons-
1 Other sparking Italian mineral waters are available.
2 Being a balmy May evening, the rising heat inside the temperature-challenged OTO has certainly done it for the rest of us…