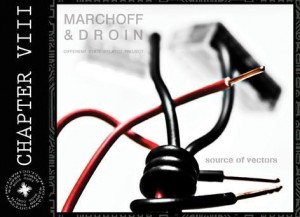 It's always good to come across a record which is packaged differently. In the case of  Source of Vectors, Zoharum have made the effort to do something different, if not outrageously so – there's a pleasingly hand-produced quality to the thick fold-out card sleeve, which also bears no particular relation to the size of the CD contained inside. Released as Chapter VIII of the Into Your Hands Hearts Hallucinations series, the album is dedicated to the late Peter Christopherson of Coil (which is nice), and uses suitable electrical symbols to represent each track title.
So to the recordings themselves, and
Droin
(AKA
Tomasz Kretowski
) and
Marchoff
set off on six excursions into abstract sound arrangements using digital and analogue instruments to build textural landscapes thoroughly rooted in the rumbling and brain-scraping schools of electronic music production, with occasional nods to a somewhat oblique dancefloor. Clattery percussion and immense synthesizer groans are the order of the day – on

and

  in particular, the combination of extremes of bass and treble is especially intense, with
filters working overtime to thoroughly pummel both the listener's internal organs and give their ears a high-pitched scouring
. If it's not overstating the obvious, this record really demands listening to at the maximum volume that speakers and neighbours can endure, because the physical properties of the sound shifting the air and disturbing the quotidian surroundings should really be part of the deal to acheive the maximum effect. All sorts of metaphors can be applied – that this sounds like immense caverns of electronics shambling across a blasted landscape, choirs of electric demons hissing and gibbering in votive congress with the stars, the glimmer of electricity interrupted by negated beats… whatever. In fact, when
Source of Vectors
is at its best is when it comes across as exactly what it is – Marchoff's analogue electronics making sounds that only they are capable of, 
in extremis and in all the various forms of abstract beauty a modular synth can muster
, while Droin provides a digital counterpoint with occasional dubbish rhythms and snippets of vocals, as found on

  and

, with some nods to
Muslimgauze
and the more minimalist end of trance techno being apparent. When this happens, the mood becomes more obviously danceable, and it's the sort of music that it would be fun to play on an extremely good club PA, as the frequency ranges are so hefty that the results could be interesting.
By the time the last track,

, is reached, it feels almost as though time has been frozen in an experiment in advanced quantum engineering. Broad-spectrum sound envelops everything in every colour of noise from white to pink with maybe a few more unknown frequencies in between. It's almost exhausting, but simultaneously cleansing – and the silence which persists afterwards seems almost as profound as the hugeness which has just decayed into nothing.
-Linus Tossio-