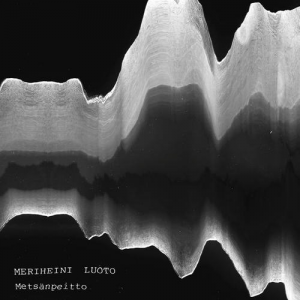 Meriheini Luoto is an improvisational violinist and a recent graduate of the Sibelius Academy. Her love of the forest and how sound can interact with that most glorious and mysterious of environments led her to produce this binaurally recorded, five-part piece which nods to Nordic folk music as well as a looser, more immediate style that dovetail well.
With a gang of like-minded individuals hidden away in the heart of the resonant cavern that is the factory hall of Karkkila, Meriheini has sought to and succeeded in producing a work of great imagination, inspired by the Finnish idea of Metsänpeitto, which  translates literally as "covered by forest".
The violin which is her chosen instrument is possibly that best suited for reproducing the feel and emotion of the open air and a return to nature. Its tones and timbres are so redolent of noises heard whilst out and about exploring byways and secluded countryside. The simple, spectral highland motif that opens the album is
stark and resonant, offset with gentle wordless vocals
, evoking the image of a foreboding mountain landscape, forests sitting in the distance, lambent and beckoning, a haven of peace in a rugged environment.
Pipes call in a welcoming fashion, joined by a mournful violin which gradually becomes a more vibrant, spritely folk jig as the track proceeds. It is reminiscent to anybody who is enamoured of folk music of any country and speaks that kind of woodland language or that pastoral sense of nature that is the currency of all such music.
The album is divided into five sections and all have a different feel, as if the album were describing the journey of this one violin and its relationship with the forest and its surroundings. By section three, we are deep in the heart of the forest, a drone describing the ambience amongst the trees, that whispering of leaves and rustling of things underfoot, unseen and unknown. Meanwhile the violin scatters sparks and fleeting
shrieks across the drone like some excited sprite or high-spirited bird
. The sound is fantastic and is almost as if the violin were being tickled, producing involuntary convulsions and peals of joy. By track four, the feeling changes, becoming slower, a sense of realisation dawning. It is more deliberate and reserved, deeper, almost malevolent in its intent. There is silence here and there and faint, distant sounds of unknown origin. The hesitant stirring of the strings,
the imagined dark, the bursting clatter of drums, the echo of the room
; they all play into the sense of overwhelming foreboding. It is impossible to escape, no matter how fast you run; frantic, hidden images gradually well up to a peak and then peace arrives. Has sanctuary been found? It is hard to say, but the silence that follows allows the listener time to digest the preceding drama.
The final section is a reprise of the opening violin motif, though a little more vibrant, more confident but with a wistful beauty, and as it dwindles to a memory, receding to some delightful mysterious place, we are left back where we started, alive with memory and an extraordinary experience.
With this release, Meriheini takes the violin to the full extent of its power, using it to sketch
a journey that is captivating and emotional
. Her ability and understanding are captured for all to hear, as are her love of the forest and all it has to offer. Who knows where her violin will take her next?
-Mr Olivetti-