Bureau B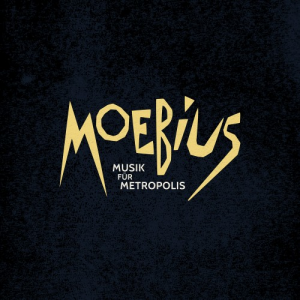 Back in 2012, Dieter Moebius was asked to score Fritz Lang's Metropolis and for that purpose produced some pre-arranged tracks to be played during the film which along with some live improvisation would suit the film as he saw it. One imagines that this would have been a roaring success, and therefore he had intended to prepare a recorded album of the results. Sadly, his death in 2015 saw that plan put in abeyance until now. Dieter's widow Irene along with long-time musical partners Tim Story and Jon Leidecker have now completed this impressive work.
Musik Für Metropolis
is divided into four distinctly separate chapters, each of around ten minutes and each with its own character. It seems to be all electronic and sample based, but whether it suits the film and how the tracks tie into different scenes, I couldn't say. First track "Schicht" is constructed over a gently propulsive yet glitchy beat,
oscillators moan and girders clang, dark electronic shapes dip and sway as they fall in and out of focus
, a backwards radio lullaby broadcast teeters around the edges as the track is swallowed and left to dry. "Moloch" is less structured and texturally abstract. It is like bobbing for apples in a radioactive pool, a beat does kick in, but is eerie and disembodied, peaking and fading like a faulty transmission from some outlying galaxy, the
sounds turning in on themselves, snarling and gurgling like strange algorithms
. Track three, "Tiefenbahnen", is sparse and desolate; a sinister church organ drones as electronic owls look out over a misty, murky landscape, creatures scuffle in hedgerows and ditches. These sounds become insistent and obsessive, tension mounts as a driving beat kicks in and out, leaving the listener disorientated and at a loss as to what to expect next.
Final track "Mittler" simmers in an abstract stew, a queue of gurgling disparate things waiting to book into a hotel, the structure of which is groaning and straining under some unseen force, a feeling of anxiety pervades this track: it can't settle, bobbing, weaving, tension releasing then building, frustration under the surface like some malevolent force until finally it burns itself out.
Not having seen the film, I am unable to comment on how the tracks fit within its structure, but what I do know is that rather like
David Bowie
and
Leonard Cohen
, this is
a fantastic highpoint to a career already filled with true gems
from
Cluster
all the way through to his beloved collaborations of recent time. If you are at all a fan of the man or the film, then this is an essential purchase.
-Mr Olivetti-