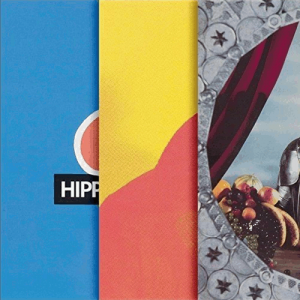 The second deluxe instalment of Momus albums from the Cherry Red archives (umbrella(ed) as Recreate) spans a period of transition for our protagonist that begins by pushing the boundaries before travelling out into previously uncharted radio-friendly territories.
Hippopotamomus
Recorded the same month that Nick Currie's hero Serge Gainsbourg popped his clogs, you could imagine the crooner had slipped casually out in a puff of silky Gauloises smoke to haunt the curvy pulse of Hippopotamomus. Seeding a need for scandal, the early nineties had a politically correct stranglehold that was begging to be corrected after all, and Nick was happy to give those right-on bores something to whinge about. And boy he did himself proud, as the album's questionable content got him into a lot of hot water, with both the music press and the courtroom. Michelin UK even threatened to sue for his lothario lampooning of their rubber-loving mascot, hot-potatoed the song and had the original cover re-drawn out of existence. "He'll slam it up your dress, he's gonna bump you till your bed's just junk", goes Momus, whilst I chuckle, imagining the balloon-red rage of their tiny executive faces.
Elsewhere, the ear-friendly vibe lamps a whole heap of illicit. Cannibalism, a masturbating monkey, the blowjob-loving blue stocking's erotic reading list informing fleshy reality —
Hippopotamomus ruffled many feathers, a promiscuous pout that maybe went a bit too far
with the voyeuristic aspects on "A Dull Documentary". The nursery rhyme fun of the title track — the lightest track of the whole caboodle, "Hip-hip-hip hippopotamomus pop-pop-pop Popocatepetl" — is an acidy jiver for a hippo petrified for posterity, stuck forever to his amorous other after a volcanic eruption, its museum glass case covered in giggling school children's faces. The amazing scenics of "Ventriloquists And Dolls" is a real treat. All
noir-lit keys and bubbling tensives paving you to its tawdry conclusion
with a descriptive build-up as a pervy entertainer retires to his workroom to molest his hand-carved pretty. The line "The doll he crushes under him immediately agrees to everything he asks" sending you a parting shot of unease, the likes of which were abandoned in the intervening years for an altogether softer approach.
Voyager
I like to think Hippopotamomus was pivotal in mojo-switching Momus away from upsetting the applecart and onto the silver sheen that followed. The voyeur become Voyager, searching for something more, cutting himself free of the pervy posturings of the past (for now at least) to pen some of the finest pop you are likely to hear. A connoisseur of the groovesome, his voice back there roosting front and centre, a drifting narration lounging in an old-school club dusting of curving silkiness, scuffling beats and stretchy melody, space-age caricatures full of satelliting hopes and re-entry fears.
We move with hands outstretched
Like the passionate forms we are
Carbon-based lives born in exploding stars
Its sway-ability and soda-streaming house milking a futuristic smooch of snappy sampledelica and sibling rivalries, "Summer Holiday 1999" is a love letter to
Junko
, his first Japanese girlfriend, slinking a gorgeously atmospheric redux from one of the extra tracks. The sumptuous glow of "Conquistador" highlighting the pointlessness of conquest. Somewhere in there he falls in love with a 17-year-old
Shazna
, who he would eventually marry in 1994, but for now his words are
full of floating optimism and spiralling doubt
, his muse a Venn diagram slivering with the technological and spiritual.
Originator man, originator man
Make me a sun in the palm of your hand
An ode to wanting to feel more warmth in the glossy make-believe, lyrically aloof for all that easy listening sheen, Voyager is an album with a unresolved / irksome sense of itself for the next long player to take to higher ground.
Timelord
Timelord
could be described as an emotional striptease if it wasn't so bloody seductive. Its
lyrical sharpness a world of diaristic plenty, floating out on the lightest of melody
, jingling slants attentively sweetening the vinegar of disenchantment. The
Pierre Et Gilles
cover depicting Momus as a shaven-headed renaissance man suited in protective armour slicing up a table of soft fruit is a potent allegory that would get any psychologist salivating, and leaves a healthy parade of questions to tickle your curiosity.
The parallel universe of "Platinum" is an opportunity to cancel all those regrets and failures, to surgically remove the bad decisions, go back in time and see what bridges we can burn. Nick throwing out the philosophical boomerangs, counting the possibilities that shine in people's eyes, asking how many dreams we have to kill to keep our dreams alive. The music is a Mardi Gras glamour of glitter-ball orbits as the words fluidly fly. "Enlightenment" has Currie in a doctor's waiting room, dreading the diagnosis of an AIDS test, wrapping the uncertainty up in comically questioning "Will you be there when…" Toying with the worst of outcomes and the idea of a loving carer to share it all with, insisting "When I'm catatonic, I'll still be your man", and asking "Will they find a cure for hope?"
From hope to the hopelessness of the brilliantly painted "Landrover", an astronaut's fruitless search for a lost love, the landscape full of fleeting glances, the crater scars from a quarrel. Momus's close microphonic patter, all fireside favourite to this wistful jazzy backing that belays the astronaut's dwindling oxygen supply and impending doom. Desolate never sounded so lush and inviting;
this man could have lucrative sideline in advertising
— he really could!
The impossible love of "Suicide Pact" freezing in a snowy embrace. Momus pinching the poetic to the sparseness of decoration, comparing the aurora borealis above as their epitaph, the remembered shapes of disappeared clouds their shrouds. A lonely sigh that salts the vacant space, murmurs through its sweet nothings and pleasing swishes to indelibly stain. The Arto Lindsay-esque festive hit (well, it should have been) of "Christmas On Earth" furthers this sense. A song that has a forlorn astronaut singing from his capsule in deep, deep space, knowing his friends / loves are just transmissions from the long-time dead.
Currie's voice is a smooth conjugate that chocolates your senses, and then the pure love bequest of "Rhetoric" rises like a jewel. A song that would become his future wedding song to Shazna and maybe become an aural contender for his funeral. A delight that has Momus longingly skipping the daisies, professing "I'll love you till…" as the music inch-worms an elastic pulse and chintzing maraca, a dizzy hint of synth licking at the pollen-filled air. The original ending milking a similar uplift,
breathless at the threshold of pleasure, over the moon just for now
.
And there it ended on the the original LP, but this being a deluxe serving, three extra tracks break in after a rather respectful bout of silence. The first is an excellent ditty sung completely in French, a cap doffed to Gainsbourg perhaps, followed by the faux chopsticks of "Song Of The Traffic Crossing" that appropriates Nick's growing love of Japan, all ending on the bitter-sweet fable that is "Empress Of Hawaii", which wouldn't feel out of place on Tender Pervert.
*
A rainy-day delight, Recreate's rounded corners are perfect for nursing a grumpy hangover and the disappointment life sometimes throws your way.
-Michael Rodham-Heaps-