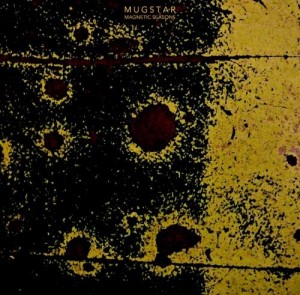 Mugstar have been at the vanguard of the British space rock revival (though perhaps it never really ever went away) for a good decade and more now, and everything about their music can certainly be assessed in terms as broad and well-trodden as spacious, cosmic and psychedelic, and it conjures up all of the tropes — long hair, biker chic, salad lights, heavy wafts of fragrant weed smoke — that accompany that simple act of genre-assignment along the way.
Thankfully, save for the stupendously good live collaboration with Damo Suzuki on Start From Zero in 2015, Mugstar generally eschew vocals, and quite frankly work all the better for their absence. Space rock as a form doesn't often really need or benefit from them (unless they're of the calibre of Robert Calvert's or [sometimes] Dave Brock's, or as addled as the Butthole Surfers, K-X-P or Circle's – though the latter three are special and somewhat lateral instances of the type) and Mugstar have perfected their instrumental drive with all the soaring imagery they need to communicate engendered by the music itself rather than requiring the addition of science fiction or (perhaps worse) heroic fantasy lyrics to put the listener in any particular linguistic mode.
Magnetic Seasons
is an album to plunge head-first into, to luxuriate, even wallow in its
shifting textures with the volume cranked and the mood relaxed
. It  pulsates with an assured knowledge of how to blow minds effectively and sets the psychedelic imperative wandering liberated and thoroughly fried as it meanders from languid, free-flowing passages into the burning heat of the full acid rock experience, (space) warps and all. What non-musical reference points there are on this album come from the artwork, all murky khakis and deep blacks, the track titles ("Ascension Island", "Remember The Breathing") and the suitably lysergic video for "Flemish Weave". Mugstar might have slotted effortlessly into a sterling lineage of broad-spectrum hard-rocking head(s) space that stretches back via
Loop
to (obviously)
Hawkwind
(listen to the choppy riffing on "Unearth" in particular),
Cul De Sac
and (on occasion)
Black Sabbath
at their spaciest, leavened with all the
motorik
a chugging groove can take on board; but there's also
plenty of their own freaked-out personality
to hand here on an album which distils the band's own take on the genre into yet finer vintages.
Such moments come when the blistering guitar on "Time Machine" erupts out of the chugging rhythms and a coruscating thicket of cymbal crash hovering over the gurning bass rumble, and they're not averse to throwing in some jauntily haunted melodies among the wibbling analogue synths either. Assuredly spacious, reliably outré, blissfully groovesome and just as likely to progress onward to points further out in the solar system. Magnetic Seasons can take the listener into places and states of mind they might well have slipped into before, but with the accomplished verve of a band who make their particular trip a hugely effective and (to use an over-deployed — but entirely appropriate to Mugstar — adjective again) immersive ride.
-Antron S Meister-