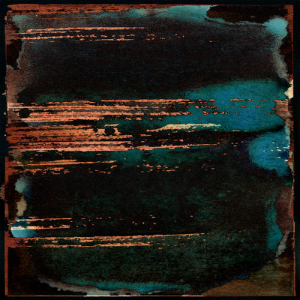 There's a moment on The Stone Is Not Hit By The Sun, Nor Carved With A Knife, not long into "The Stone", where Nadja hit their full metal mark, ramp up the drone-doom riffs hard and it becomes essential to reach for the volume knob in order to bring the levels up yet further.This should, of course, be the default response to a new LP from Berlin's favourite Canadian noisemongers, and it's good to know that some things don't deviate too far from the plan. What Leah Buckareff and Aidan Baker have changed on this LP is something to do with thickness, something concerning arrangement. The words are lower in tone, though not much further into the mix than previous records; but there's definitely something still more hard-rocking, less shoegazing, about this album than has often been the case in the past.
Which is not to say that Nadja have never toyed with
Godflesh
covers nor fitted right into the spectrum somewhere between
SunnO)))
and
Jesu
— they sit perfectly well just there, thanks very much, and there's something in Nadja's sound of all of those bands on display here for sure. But there's also that iridescent shimmer that Nadja have made their own, the all-encompassing fuzz and the slug-weighted machine percussion that defines that sound, that particular weight and acidic-tanged flavour. Then there's that other point around about the midway-mark of both "The Stone" or "The Sun" where they drop right out and scale back, trammelling and channelling the pummel and bash. Baker squeezes his guitar through a narrow strait before the duo
bring the bass and drums back in a resurgent grinding magnificence which is simply staggering
. It's somewhat like lurching from one darkened room to another in a club and finding that the heaviest band on the planet have been playing all along under heavy strobes and a liquid lightshow to boot — and probably all night long. It's this ability to delineate space and time and bend it to their collective will, then set their relationship spinning firmly into the beyond that makes Nadja special among a crowded field of long-form noiseniks and head-down guitar-wielding droners. They simply have the skill and agility to take their parts further and further out, switching in on waves of FX while being equally adept at pedalling back on the pedalboard to allow some less-effected sounds make the motive rounds when needed. The softer opening melodies of "The Sun" presage yet more sonic fireworks with
all the gentle assurance of a soothing balm before the gathering storm
, and Baker and Buckareff are experts at handling those dynamics.
So much crushing, so much time to be crushed; with each track clocking in at a minimum of ten and a maximum of thirty-five minutes, there's always plenty of room for the sprawl — but don't let that term deceive, for Nadja rarely feel out of control or aimless. Rather, they ride on rolling layer after layer and wave after wave of repeats that turn to riffs that sweep into churns and ultimately, gloriously overwhelm. All this and the digital versions (CD, download) of The Stone Is Not Hit By The Sun, Nor Carved With A Knife proffer still more, a further twenty-plus minutes of "Untitled IV", where the mood is glitchy and the ripples replete with freckled feedback and flickering spirals of attenuated sound held and reflected back and forth from a kind of limbo.
-Antron S Meister-