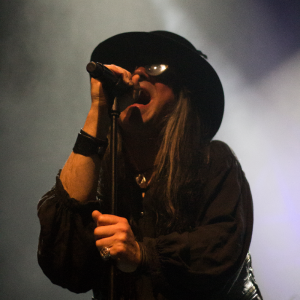 London
20 June 2016
Over a quarter of a century ago, when I was much younger and prettier, I moved to London. The first weekend I was here I went to see Fields Of The Nephilim, who had just released the prog-goth epic Elizium. The support were a band called Creaming Jesus, a wickedly funny goth/metal band fronted by a dude with a world-class glare and a serious grudge against mike stands.
That terrifying man is now fronting the world's finest (and least Imperial, which is important) steampunk band,
The Men That Will Not Be Blamed For Nothing
, and tonight they are opening for, yes, Fields Of The Nephilim, who are, after many years, playing
Elizium
again.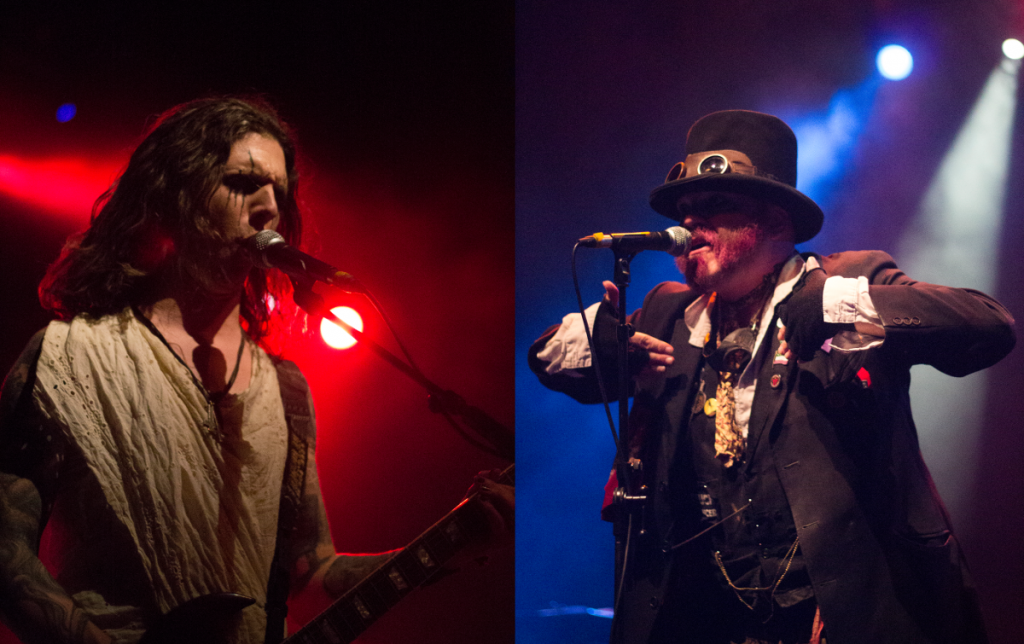 First things first, though. The Men kick it with
a set largely composed of their darker stuff, as would seem appropriate
— a storming rendition of "This House Is Not Haunted" in particular goes down splendidly with the ageing goth crowd and younger flour children alike. Although "Charlie" (weirdly enough also the name of a Creaming Jesus song which they played that night so long ago, but this time set to an entirely different, and altogether funnier song) also gets a warm welcome. Thus proving that goths do, indeed, have a sense of humour.
Fresh from a tour of the States and an apparently awesome set at
Download
, The Men are clearly riding high on their recent success, and are having a whale of a time with an enthusiasm infectious as the pox and addictive as gin, whose glories are extolled in the cleverly-named "
Gin Song
". "Boilerplate Daniel", "Turned Out Nice Again", "Brunel" — stone-cold classics each and every one, which look to have won them a new set of fans. If steampunk is, as the old adage goes, what happens when goths discover brown, then
a whole lot of goths just discovered brown this evening
.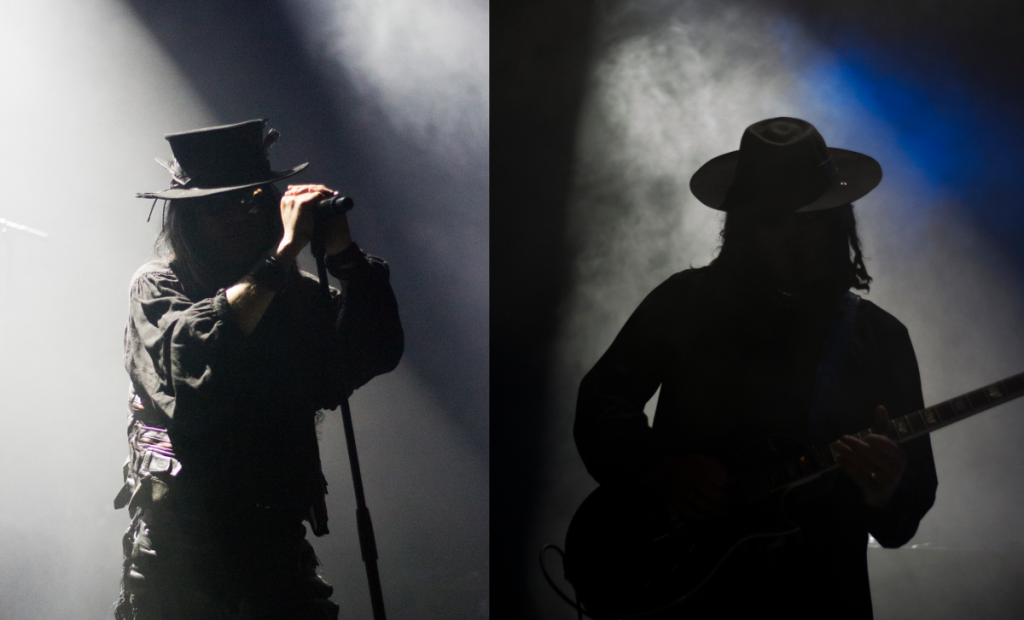 Although this isn't strictly true, of course — the Nephilim added that colour to the goth palette years ago, by
dragging the spaghetti Western kicking and screaming through the dust into the darker corners
of a
Lovecraft
ian nightmare. And never was this more fully realised than on
Elizium
, essentially one long song cycle melding
Floyd
ian excess with the amphetamine psychosis of the black eyeliner crowd. It's hardly surprising they imploded soon after — it seemed there really was nowhere to go after that. After such knowledge, what forgiveness and all that. You know how it goes. The miracle is that they ever came back, and tonight they're as strong as ever as they play
Elizium
in its entirety. Well, almost.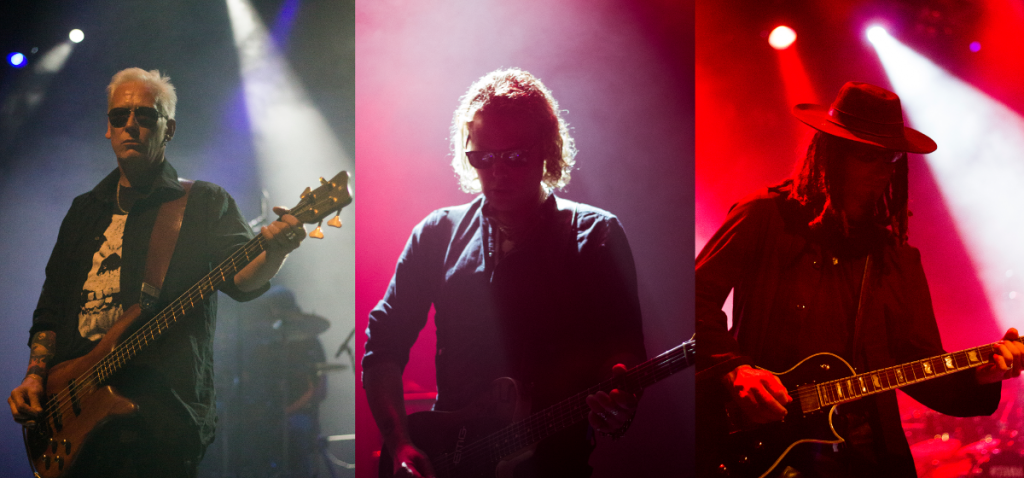 "Submission" is a slightly disappointing omission, though in hindsight that was always something of an outlier on an album the rest of which was such a seamless whole. If The Men took us back to the 1890s, the opening textures of "Dead But Dreaming" take us back to 1990, although this stuff still sounds as timeless and unique as it did back then, as if it had been recorded far, far earlier. Maybe not quite as far back as
SunnO)))
can sometimes feel like, but still a time before civilisation, possibly before humanity. The drop into "For Her Light" still chills the spine, and "Sumerland" remains 
the epic psychedelic voyage it always was
.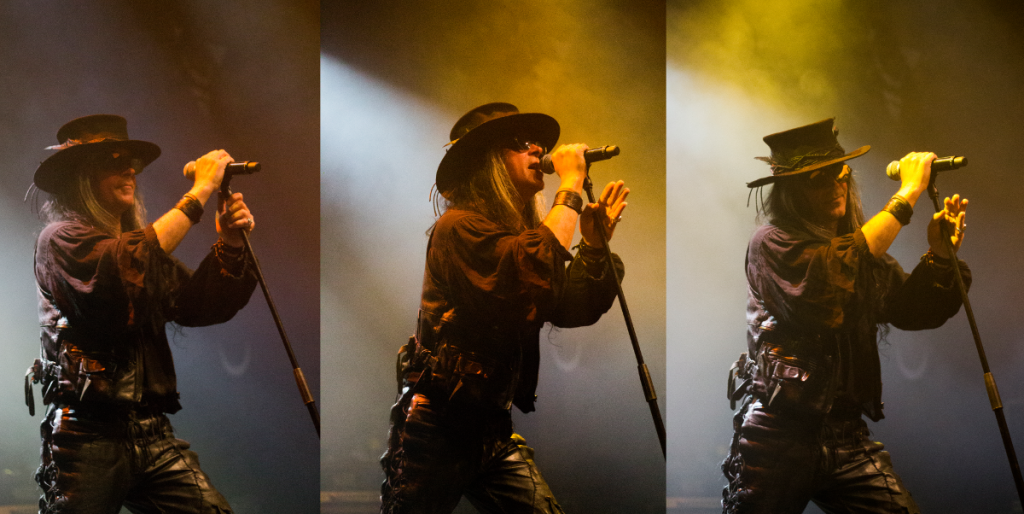 All of this would have made for a wonderful (albeit it somewhat short) show, but there's more. Continuing the epic psychedelia theme we get a storming run through "Psychonaut". It's not all nostalgia, though — "Mourning Sun" comes out (it IS the summer solstice, after all) and new (yes, NEW!) single "Prophecy", before they finish with
the Sergio-Leone-meets-Richard-Stanley majesty
of "Dawnrazor".
Feels like coming home.
-Words: Justin Farrington-
-Pictures: Dave Pettit-