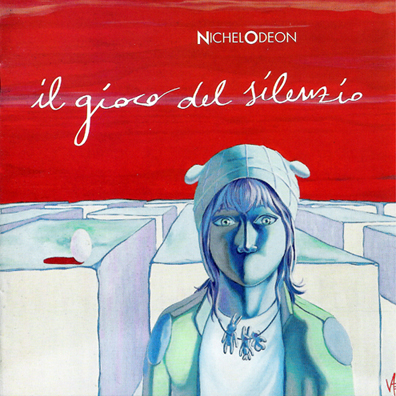 If prog is still heretical, NichelOdeon are some top league profaners. Il Gioco del Silenzio has lots to keep puritanical 'keep it simple' sorts foaming: plenty of sax, classical flourishes, frequent time signature changes, operatic singing in Italian… There's also a generous helping of instrumental sections lingering too long to be realistically be chaperoning the vocals. And by God, it's some of the most dramatic music I've heard since last I listened to Bat out of Hell (which, incidentally, was last week).
NichelOdeon really are some top-flight musicians on this release – it's an 'as-live' record with minimal overdubs, and they easily flit from apparently tempo-less, free improv-esque sections back into massive choruses in the bat of an eyelid. Smart, but never clever-clever, nods n' winks "smart."
And – and! – there's no drummer dogging the pulse – the infrequent percussion is more for accentuation than drilling the tempo into the listener's head
. Drummerless bands, I have to say, make me ear-horny like little else. Swoon.
Like every good operatic prog record, there's references to as many genres as they can lay their hands on – Viennese waltzes, shifting Balkan basslines, early-80s goth, EAI, neo-romantic style pianism… there's even a solo to sate the ocarina fans (you can hardly get a packet of crisps without tripping over a few of those, right?). I always feel uncomfortable commenting on lyrics translated to English, because it's difficult knowing what's scans well and what's a clunker. The chorus on "Fiaba" sounds pretty amazing, but apparently translates to the NIN-tastic "free me from the hate inside of me." Were they singing in English, I'd probably be laying into them – lucky for them, I'm a typical monolinguist who struggles with the concept of bagels, let alone learning other languages. Although, having said that, there's so much vim and theatrical passion in this record, so many choruses which say THIS IS A BIG CHORUS I'll happily forgive them the odd lyrical discrepancy in a language I don't speak or read (very gracious of me, I'm sure you'll agree). I've been elliptically assured by an Italian friend that the lyrics don't read that well in English…
NichelOdeon seem to have gone out of their way to include the more esoteric wings of instrumentation – there's bombarda, didjeridoo, theremin, duduk, non-input mixer (and on, and on…) doing their odd instrument thing on this record. It doesn't feel like a case of whacking a Mellotron on to keep the geeks happy though – there's a really neat sense of matching the timbres of the instruments to the mood of the track. Electronic scree merges seamlessly with what I assume is a mouth organ on "Fame" ("Hunger," in English); guitar
feedback tones will flirt with pure sax tones – the odder instruments never jar, and sit perfectly in the compositions
. It's a well-thought out record, one that never sacrifices drama or gripping melodies for cerebral muso onanism.
The long and the short of the record is that it's not really a record you could describe as sensible – though happily it avoids noodling twaddle of a lot of prog. The songs feel formed less around egoistic musos and more about framing the mostly free-metre lyrics. And given the palpable musical high ambition of the record, they've even managed to make some of the songs quite pop. I've had a few of the melodies rattling around my head for a few weeks now. It's not a record for adversaries of high camp, but if you've ever carried a bit of a torch for the pop wing of prog (say, Queen or Meatloaf) or just enjoy really good musicians making non-standard songs with odd instrumentation – this, my friend, is the record for you.
-Kev Nickells-