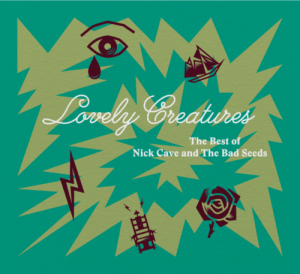 When Nick Cave experienced the tragedy above all tragedies as a parent in 2015, it would be no surprise that all artistic output would be set on hold. This compilation was in the process of being finished, but was yielded maybe because the need of finishing Skeleton Tree that came out last year. Skeleton Tree was "a beautiful tour of a personal Hell", so Lovely Creatures became for me a prequel, or what road has led up to it.
Nick Cave puts it like this himself:
The release of Push the Sky Away in 2013 felt, after so many reinventions, not just another incarnation but the throwing open of the doors to a new way for us as a band to make music. […] The Bad Seeds made Skeleton Tree in Paris towards the end of 2015 – in a strange, raw and different present. Whatever Skeleton Tree became, it was a wholly necessary addition to the band's story. Lovely Creatures lost, for a time, its place in the narrative. Now, it seems the time is right to recognise and celebrate the Bad Seeds and their many achievements. So here, at last, it is: Lovely Creatures.
The first disc starts out with the powerful song "Loverman" from the 1994 album
Let Love In
 and sets the pace for this disc. We are taken on a journey, not chronologically, maybe more logically. I am certainly grabbed and find myself keeping interest, as next up is "Tupelo" from the 1985 album
The
Firstborn Is Dead
, followed by "Deanna" from
Tender Prey
(1988). All these first tracks are quite powerful, and Cave shows much punk energy in his singing. This disc continues with more tracks of up-beat pop-punk, some full of strange sounds, but
still with that same raw energy
. The second disc is even more accessible for most people, I guess. The tracks are slower,
there are more ballads and the rhythmic tempo of it all feels more at ease
. Even the track "Red Right Hand" being more industrial (and I must take this opportunity to say that it fits very well to be the title track for the series
Peaky Blinders
) fits very well as it has the cool drum brushes.
The entire compilation is full of great songs, that also include something extra. "O Children" is one of my favourites of this kind, being a a fantastic example of a lovely ballad with great lyrics (the final track of Abattoir Blues / The Lyre of Orpheus, and marks the moment after Orpheus has lost Eurydice to Hades forever), but it also has something else, like that small industrial sound at the beginning that just loops perfectly into the song.
All together a wonderful compilation, and this double CD version fits very well as an introduction to the band, or the early recordings if missed. It's a very good job done by Cave and the Bad Seeds in picking out the songs for it. Also, I am sure the fans will be thrilled by the expanded versions, with lots more rarities as well.
-Ronny Wærnes-