Palaye Royale – Boom Boom Room (Side A)
by Freq | 2017-11-24T20:24:17+00:000000001730201711 20:24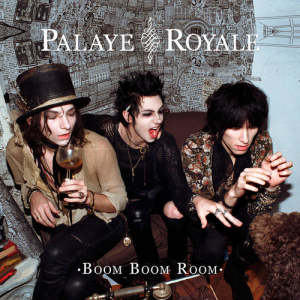 Palaye Royale have been climbing their way into our ears for a few years now, building a fiercely loyal fan base and quite a name for themselves, working with greats like Andy Black and Kellin Quinn of Sleeping With Sirens, all this without releasing an album.
This Las Vegas indie group combines classic rock styles with their own modern artistry in a mix of old and new that they nail every time. For a young band, they seem to embrace their roots and origins, building in them and creating something that really represents our time, wanting to break away from the past — but having to admit that without the past, we are nothing.
Palaye Royale reminds many of staples of the 2000s alternative scene, with obvious influences from
My Chemical Romance
,
Black Veil Brides
and
Panic! At The Disco
. Palaye Royale is a new breath of life into the ever-present, unforgettable emo scene that found the light of day at the turn of the century, bringing the genre into a new era. The band embodies the new wave of fans, being a part of the old scene, stepping up to take the reins in a modern angst charge.
Pounding drums draws in your ears to "Don't Feel Quite Right", the opening track to their début album. A confusing track that embodies that lost feeling of too many substances coursing through your veins. This song becomes an over-drugged body, a heart pounding along to the drums, spinning and dancing into the guitar, topped off by screams and growls that give the feel of a throat, ragged from smoke, posing the questions running through an over-worked brain.
Boom Boom Room
is a record that reflects upon and voices the modern life of a younger generation struggling to fit into a conservative world, bending and playing with society's rules. Each track mixes the different aspects of this rebellion: drugs, depression, queerness, each little thing that makes us feel unwelcome in this world. "How Do You Do?" shows the not-yet lost connection with the past with a
Beatles
reference in the form of the lyric "Lucy in the sky with oh no no no" exposing the struggle with substances that many feel the need of to face each day. It's a nod to musical days gone by, saying that
we still feel its influences, but we are slowly breaking away from the older generation's world
. "Mr Doctor Man" is an anthem for the broken youth that can't quite find solace from supposed professionals who can't quite figure us out, and so turn to self-diagnosis and medication — "clinically fine, he's lost his mind" — lacking the much-needed support system. The lyrics describe the kind of limbo that we end up in, our everyday working for others, trying to cope with the pressures of society and the "romance of the plastic scenes". Refusing to fit in, but not knowing where to fit in, to the point of being pushed into madness. In a world of plastic surgery and standards,
there's us who rally to this song, lost between all categories, not knowing how to cope or merge with the crowd, but not wanting to either
. "Sick Soldier Boy" deals with the transition from childhood into the real world, that moment when you realise you're not normal, not like everyone else. We all come from a "town of normal", or so we think, but then we see that no one is normal and it's all just a hoax. This song speaks of first love, and our first real feelings and disappointments that come in this time of leaving carefree times behind.
Palaye Royale's songs already seem as intimately comforting and familiar as the anthems we've been screaming along to for years — a fact that can only be explained because they were there with us, but have now cracked the code to making it big. There's something endearing and comforting about this record, which is new and fresh, but feels like it's always been around. Remington Leith's memorable voice combined with his bandmates' genius music and those type of unforgettable lyrics that become staples has that chemistry that a new band needs to explode into our lives.
These songs stick with you, being
relatable and catchy, but just real enough to not completely forget how hard stuff is
, matching upbeat music with sad yet truthful lyrics. They express sadness and the hardships faced by our society, but not letting you forget that things can be okay, despite the struggles. I reckon that for these very reasons, Palaye Royale have been called the perfect cure for an MCR broken heart; and well, they're not wrong.
-Frankie Harmonia-
Source URL: http://freq.org.uk/reviews/palaye-royale-boom-boom-room-side-a/
---