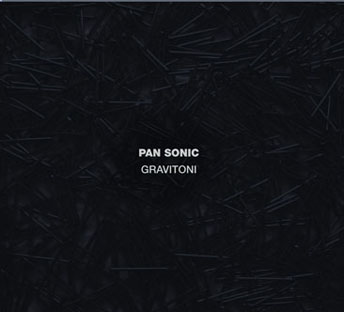 Pan Sonic's extirpated crackle and hiss approaches the low end of dub with a fiercely deracinated edge, not so far removed from the stepping imperative as might perhaps be assumed from its harsh extremity. This is the sound of oscillators and radio noise in decaying mutual orbits, the capture and release of tensed bass thumps and scarred metallic shards of noise describing the heat death of not only Pan Sonic (this has been announced as their swansong album) but perhaps of the universe, as exemplified by the ominous skree and drones of "Väinämöisen uni/Väinämöisen Dreams," with final liquid drips echoing into nothingness. Likewise, the snarling buzz of "Suuntaa-Antava/Indicational" soon shrivels everything in its path, including ultimately, itself, fading in entropic dissolution to hissing, then silence – and as for "Hades," from the slow heartbeat rhythm, suffice to say that particular Hell is sounding well and truly frozen from the Finnish avant-isolationist perspective.
Which is not to say that Gravitoni is without the trademark stamping of impenetrable rhythm and abstract sound across the listener's noise threshold without mercy – far from it. When Mika Vainio and Ilpo Väisänen let the rippling surges of analogue electronics fly, the impact is as physical, as visceral, as ever (and the imperative to play loud is almost a given, here). This is more than amply demonstrated on "Corona," for instance – a dread opening salvo of brightly-shredded noise prefaces the onward thrust of the bass before jackhammer beats smash into fully-mechanized mode, blasted by angle-ground treble and whittling away at the lungs with the unstoppable industrial implacability of a pile-driver. "Trepanointi/Trepanation" is well-named, fizzling with the first-person sounds of the skull-skimming buzz of a bench-press drill slammed relentlessly into the brain-pan again and again, while "Radio Qurghonteppa" bristles with a different sort of downtempo energy, its curling rhythm spluttering with the single-minded determination of a rogue satellite station heading slowly for ultimate long-term inevitable splashdown as muttering voices from the aether chatter into the void.
It remains to be seen if Gravitoni ends up as Pan Sonic's final farewell record, though they certainly put a punctuation mark to both their album and existence under that name with the slow halt of "Pan Finale." What's sadder is that they have said won't play live again either – except perhaps in Africa, according to Ilpo Väisänen – and while speaker cones everywhere might possibly last longer as a result, it's to be regretted that the particular motion of voluminous sound through air and into willing bodies which  Pan Sonic have perfected is now at an end. So turn up Gravitoni, put the bass to maximum, and feel the fixtures and fittings vibrate in a suitably shaky memorial.  
-Linus Tossio-