"One-two, ready-go…"
Where do Pixies fit in your musical history? Were you there for Come on Pilgrim, for Surfer Rosa? Was it "Gigantic" that first got you hooked? Or was it Doolittle? Maybe you arrived late to the Pixies party, with that seminal film moment pairing "Where is My Mind" with the final scene of Fight Club.
Maybe you've only vaguely heard them, despite the five albums, revivals and controversies over lineups. Maybe you've been blissfully unaware, these twenty-five years, that they were a thing. Perhaps they were never your thing: Too studiedly weird to be credible, or just inaccessibly shouty. If the latter is true,
Doolittle 25
might not be for you, because this album might credibly have been subtitled
Pixies in Panoply
— as they first called themselves — as it is both
an impressive and extensive collection; Pixies in their full regalia
.
"If man is five, then the devil is six, and if the devil is six, then god is seven…"
— and if Doolittle is twenty-five, then I am forty.
I will confess that I was concerned that writing about
Doolittle
at 25 might be a bad idea. Pixies were my musical jumping-in point. I have this notion that other people have these too;
a moment when the light bulb came on and something brought it all together
, and you knew what you liked not because someone else said it was cool, but because you felt it in your bones. So if there is an iconic band of my own youth, it is Pixies: I had "Death to The Pixies" emblazoned in white on a black t-shirt that I wore to actual death, and
if there is an iconic album, for me it is Doolittle
.
I was fifteen when I first heard this record, I had loved Pixies since the Gigantic EP and on the day Doolittle was released my best friend and I went along to Rough Trade in Ladbroke Grove and rushed home clutching our very own copies. The opening bars of the album are etched on my memory, that little picture of the monkey with the halo going around on the turntable as Kim Deal opened "Debaser" with a bassline so smooth and dirty and full of promise and we turned up the volume, grinning like cats.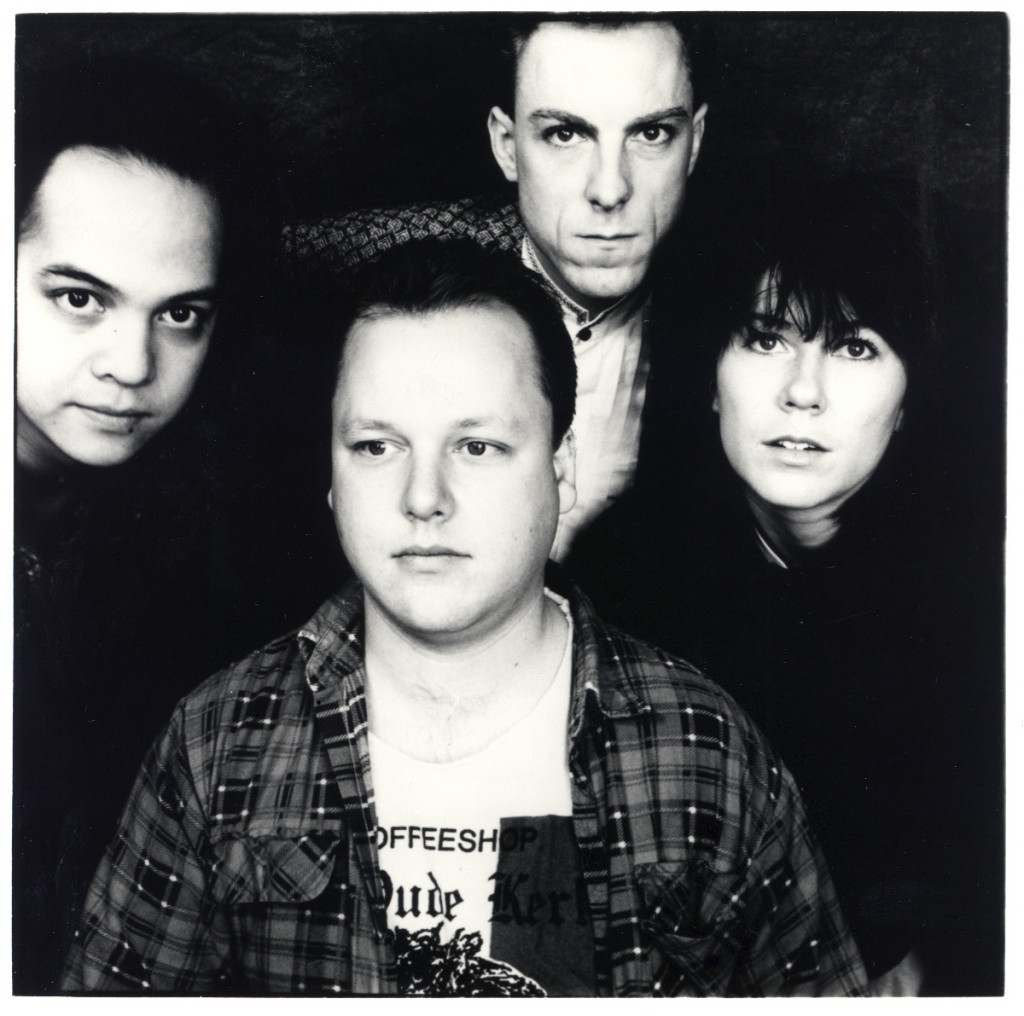 Does it now seem significant that the release of
Doolittle
coincided with the fall of the Berlin Wall, at a time when the world was becoming smaller and more joined up? The "slow burning success story" (
4AD
press release) that was
Doolittle
was to go on to be recognised as one of the best albums of its era by the popular music press and fans alike. Pixies certainly had clout after this album, and the quick succession of the follow up albums
Bossanova
and
Trompe Le Monde
played a big part in
that spirit of creative vibrancy of the the late 1980s and early 1990s independent music scene
.
When albums are hailed as classic, iconic even, it is because their legacy stands the test of time and I think Doolittle still sounds as great as it did 25 years ago. Numerous artists have credited Pixies as inspiration. Kurt Cobain of Nirvana famously said that he wrote "Smells Like Teen Spirit" in an attempt to write the ultimate pop song by trying to rip off the Pixies' loud/quiet dynamic. As for longevity, Pixies' influence still resounds — most recently, for me, on Angel Olsen's Burn Your Fire For No Witness, particularly in the track "Forgiven/Forgotten."
Listening again to
Doolittle
I am struck by how Kim Deal's input was critical to Pixies' success, and for more interesting reasons than just because she was "the girl" in a very boyish kind of a band. More than half the tracks on the album open with the bass, Kim's smooth assurance setting the tone. Where
Joey Santiago
's lilting guitar or
David Lovering
's metronomic drums add attitude and definition, Kim's basslines are the perfect counterpoint to
Frank Black
's ranting lyrics. Even on the Lovering-performed "La La Love You" (my least favourite track on the album),
Kim's bass is the redeeming driving force
that keeps me from flicking on to the next track.
Vaughan Oliver's sleeve and the full-size booklet that came with the original vinyl paired with the weirdness of the music perfectly — grainy images overlaid with unifying colourways — complete with lyrics, highly necessary with Pixies songs because sometimes it took some working out what on earth they were on about. The 4AD press release tells how "Vaughan Oliver returns as designer, stunningly reinterpreting his original artwork and Simon Larbalestier's photographs to create two stunning new sleeves using metallic ink." I have, at the time of writing, only seen digital renderings but they look pretty nice.
So
what makes Doolittle 25 special?
The CD version spans three discs, the first being the original album, as released in 1989; the second a collection of Peel Sessions along with the b-sides from the "Monkey Gone to Heaven" and "Here Comes Your Man" singles; and the third disc is a collection of demo recordings – notably demos of all the tracks that appeared on the original album plus seven bonus tracks, all but one of which are previously unreleased. There is also a gatefold 2 LP version, with the first containing six B-sides and two full Peel Sessions and the second being the album in complete demo form plus three bonus tracks. This comes with a download with access to all LP tracks plus four more bonus tracks.
"Cease to resist giving my goodbye…"
Regular airplay on John Peel's radio show had an enormous influence on Pixies' rise to cult status, and this is recognised in the inclusion of seven tracks from two Peel Sessions that were originally recorded in October 1988 and May 1989 respectively. Of these, two tracks have not previously been released: a raucously breathy rendition of "Tame" and a personal live favourite, "Into The White."
As a fan of the original record, the extra material is what makes this release really special. Yes, the digital rendering of
Doolittle
is nice to have if you didn't already, but mostly this is the recording any die-hard Pixies fan will want to own because it has all this lovely extra stuff. The versions and the b-sides and the Peel Sessions lend authenticity, and ultimately reveal insights about what Pixies were (are?) best at — the live performance.
The Peel Sessions feel like the versions you heard at the live shows
and for me that was always the point: The little discrepancies, the musical motifs and the sheer joy with which these people made music.
The inclusion of b-sides from the singles makes me happy, not just because I had them all already on vinyl and now I also have digital versions I can carry around with me, but because they were essential to the band's appeal and made regular appearances in the live shows. I especially enjoyed re-engaging with a sound that harks back to the days of crackly bootlegged tapes and listening on your Walkman on the bus on the way to school. It is nostalgic in a way that anyone who was there will really appreciate and simultaneously give anyone who fell later a taste of the joy. It is all good. There are a couple of extra extras in here too, notably a Peel session recording of "Down to the Well" — a track off Bossanova — is a highlight, and the inclusion of a bonus demo – "Santo" – which originally appeared on the B side of "Dig for Fire."
"I'll stay all day, if you want to…"

What is most fascinating listening to the third disc in the collection is the way the demo versions show the evolution of Pixies' songs. How "Debaser," for instance, changed dramatically over its various incarnations, especially lyrically, (and in the bonus extras we have the first demo with Frank shouting about how he wants you to "shed Apollonia"), or as with "Wave of Mutilation," the first demo of which sounds like a different song entirely. You also hear tracks that hardly changed at all from demo stage to final release — at the start of the first demo recording of "Hey," Frank can be heard to say "This'll be a keeper I think," and the band commence playing the perfect rendition.
Ultimately it is this that I return to: The demos that show the progress of tracks that I know and love. The beauty and simplicity of the impact those small changes had on the final songs, how some changes enhanced the final versions that appeared on
Doolittle
– particularly "Number 13 Baby,"
the final two minutes of which are possibly some of the most perfect guitar music ever played
. Whilst others perhaps changed in subtler ways, the demo version of "Here Comes Your Man" is so effortlessly pretty and sweet it opened up a song that I had been fairly ambivalent about before.
The rawness of the recordings has always been a big feature of the appeal of Doolittle for me, and yes that is due in part to the production style of Gil Norton, but also to the aesthetic that Pixies promoted and continue to do so. Pixies were born out of post-punk. They seemed to me to embody that desire to make real music without rules and to fuse that joyous expression with the melodic harmonies of skilled musicianship. In this Doolittle 25's appeal is obvious; it is always pleasing to see into the process of dedicated artists. I am pleased to note that there is also a vinyl release of this recording. I love my vinyl as much as I adore the portable flexibility that the digital format allows. I will always love my original copy of this album for its simplicity and because it is still as good a record today as it was 25 years ago.
It would be so easy to be cynical about re-releasing an album 25 years later. But to be honest,
Doolittle 25
is great. It manages to still sound fresh to my jaded ears, its place secured in the heart and mind of a very willing audience. How it will translate to those newer acquaintances I do not know.
Pixies were always very much a Marmite kind of band
. If you already love them, you'll love this and all the bonus material that provides a resonance that is so evocative of its era. This collection has been thoughtfully and lovingly put together; a true retrospective. It has the potential to enhance Pixies' repertoire — a glimpse into process from the demo recordings, and also perhaps a sense of the fleetingness of time, that the original album still holds its own admirably is pleasing.
What struck me most about Dolittle 25 was how moved I was just pressing play on the first track and hearing "Debaser" swarm out of the speakers, proving how much my feelings about this album have not changed in 25 years: It makes me happy. Music should make people happy. Art is there to move us and Pixies always moved me. Isn't that all one can ask?
-Arwen Xaverine-