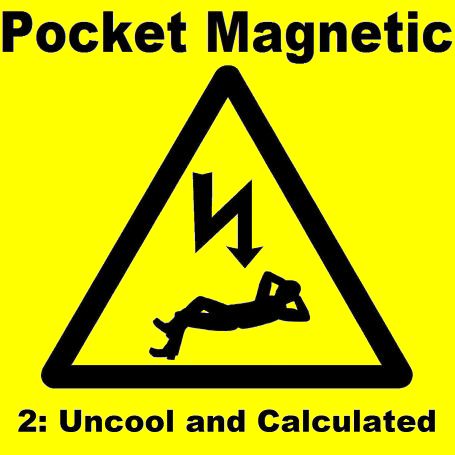 Plymouth's Pocket Magnetic arrive all packaged in dayglo yellow warning signs – kind of Autobahn meets Computer World. The cover certainly holds a clue as to what to find inside, but there's more to Pocket Magnetic than a low budget menschmaschine. More than Kraftwerk themselves, Pocket Magnetic remind me a bit of Karl Bartos' 2003 solo album Communication, with which they seem to share at least a sonic palette and flair for deceptively simple melodies.
"Moving Dots" kicks off the album with sampled movie dialogue weaving around an infectious old-school techno groove. The initial impression is of stripped-down minimalism, but closer listening reveals a wealth of subtle textures and melodies constantly shifting focus throughout the track – a characteristic that ensures the album maintains interest throughout its 55 minutes.
Group mastermind PM's own voice is introduced on "Up Against the Wall," listing potential execution candidates come the inauguration of the Pocket Magnetic government. The likes of Ronald MacDonald, evangelists, badger-baiters, inverted snobs and arms dealers are all given cause for concern as the deadpan voice intones his hit list, Bond villain style, over a slow paced ominous beat. The approach loses some power with over-repetition however, and might have been more effective had the list made a singular appearance.
"You Don't Have to Know" brings the tempo back up with the kind of lush vocoder driven groove that Manchester's Alpinestars perfected on their underrated B.A.S.I.C. album back in 2000. Like Alpinestars, Pocket Magnetic have that rare ability to make accessible electronica that bursts with melody while steering well clear of Jarre/Vangelis type decorative blandness. "Dig My Fur" continues in this vein, leading us to the wonderfully titled "I Can't Believe It's not Analogue!" and the following "Harmonator" – a brace of low-key instrumental vignettes of the kind Cluster might deliver in their more pastoral moments.
The calm shatters abruptly with "Riots in the Motor City," a ferocious electrorocker dedicated to the late Ron Asheton. More Prodigy than Stooges, huge blocks of visceral guitar batter up against urgent beats and bleeps with the delayed and distorted shouted vocals invoking Mark Stewart and the Maffia at times. Closing epic "Rite of Passage" starts off stately and ominous before getting all ethnic with sampled (African?) voices and tribal drumming, bringing to mind some of Cabaret Voltaire's early juxtapositions – a nice and unexpected close to proceedings.
Uncool and Calculated is an enjoyable release; Pocket Magnetic clearly know and love their synth and underground history, and are unafraid to mix and match with a deft but irreverent skill into a contemporary patchwork that sounds both timeless and fun. At times they approach the more lauded LCD Soundsystem in melding together past, present and future into a package that could appeal to Wire and Smash Hits! (is that still going?) readers alike.
-Alan Holmes-