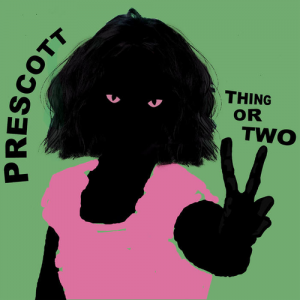 If this was a knitting pattern it would be full of lopsided colour, tangled dimensions and probably more armholes than really necessary.
This second helping from Prescott has been well worth the wait. The musicianship is blinding, each track built up on little stabbing motifs playing footsie with Commodore computer tape loadings, magically interlocking in strange pulls of randomised familiarity, then bursting with a cheery chemistry of confident curves and virtuous vanquish.
A tickle-your-fancy of juggled bass lines, itchy meanders and a heap of syncopated noirs that mess with a certain Sixties movie verve. "Seven Leggings" gives 
The Third Man
soundtrack a crow's foot makeover of light-heartedness, the pith of the wonderful "Rubberised" dreaming that
the seriousness of Funeral In Berlin was a misplaced opportunity to get Harry Palmer's glasses to do an Eric Morecombe jig
, or those iconic Burberry macs to bulge uncontrollably with an infestation of spaghetti(ing) balloons. That strange Scalextric-like scuttering flavour to the vox, (tasty tonals from special guest
Iris Garrelfs
) cackling with draw-string doll oddness between the curb-crawling contradictions and copulating colours tinkering with your tangents. This is
so effortless, light and airy – even funkadelic in places
– the album sounds like easy listening, but is way more risk-taking for just slipping benignly into the beige.
Thing Or Two
is fab – a ransom of feel good shapes and patternations, buoyantly radiating on silky swings of
Marvin
-esque flourishes or locking horns in tasty
Talking Heads
-like focus points, charged hooks that could have had
Mr Byrne
breaking into lyrical flow at the drop of a hat.
This music shifts some serious scenery, hammocks a suave jazz-phonic shuffle wrapped in a paisley jacket of spooky Scooby-Doo tippy-toes. A comedy gait that drunkenly bumps into the percussion as chorusing vo-cords slip the chop-stickery Ebonettes-like (man, I love that Malcolm McLaren song).
Ten tracks that give the term instrumental a serious shot in the arm.
-Michael Rodham-Heaps-