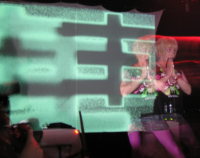 The Forum, London
9 October 2004
Having reincarnated with a new touring band as PTV3, Genesis P-Orridge returned to the London stage five years after his triumphant – if ultimately unsatisfying – Royal Festival Hall cocking of snooks and other no doubt pierced appendages (how does one pierce a cocked snook, exactly?) at the ravenous tabloids which had hounded him into Californian exile. Where that show had failed musically, at least as far as Psychic TV were concerned (check the DVD of the event for further evidence), it had worked on so many other levels: gloriously camp video introductions from the late Quentin Crisp; support sets from the fabulous Master Musicians Of Jajouka and Billy Childish being among other performance highlights; the thoroughly psychedelic atmosphere and lightshow; the strategic planning of the gig to take place both on Mayday and the day of a huge pro-cannabis march in London, which resulted in an already well-spaced out audience ultimately puffing away on substatial cheroots on the decidedly non-smoking aisles of the South Bank Centre itself. In other words, it held a sense of occasion.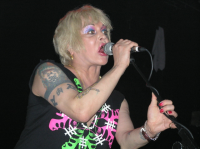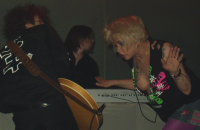 Unfortunately, the same cannot really be said of this gig, and on reflection, that's very much what the night felt like – an only slightly out of the ordinary show in one of London's caverous old cinemas/theatres/music halls, even if it was another typical PTV evening where every second moment was spent bumping into multiple familiar faces. Compare this event with the return of Throbbing Gristle at The Astoria in May, and the whole experience was one which should have engendered excitement and a real rush of joy at witnessing the re-imagining of a legendary group but which instead never wholly satisfied. Psychic TV are more than capable of achieving the heights of memorable moment, but somehow this night's programme didn't really ever send the show into orbit. This is no reflection on either P-Orridge's or his new band's undoubted talents, and there was no sensation of being bored generated by their stagecraft. It was a personal pleasure to hear "Roman P" live for the first time, and renditions of "Godstar", "Unclean", new full-spectrum wibbler "She Is Here" and a show-concluding "Ov Power" (itself introduced in fine old TG-style by GPO's rendition of The Fugs' "Nothing") were highly adequate; but disappointingly never more than that: the substance was there but the special feeling PTV can create was muted or even sometimes absent.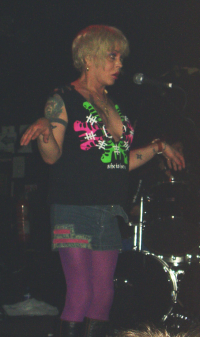 While placing cabaret-like tables in front of the stage helped set up a different kind of mood, and the live psychedelic projections dazzled well enough, something was lacking. With a less than half-full auditorium and sound which lost itself and Gen's vocals somewhere up in the gods, any hope of making the night special dissipated within the first half or so of the two hour set. As the midnight hour marked the already extended curfew, P-Orridge bemoaned the restrictive English habits of closing venues early compared to other countries; but while this may be true enough, if Psychic TV had played in a smaller or less conventional space, things could (and probably should) have been different.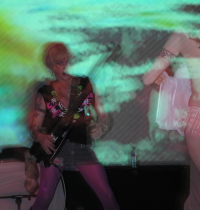 Musically, the PTV3 sound was placed decidedly in the Velvetsy spectrum of Psychic TV live shows, with barely a hint of their Hyperdelic beat-driven side peeking through. At no time was this more evident than the sinuously sinister "Suspicious", a driving hypnotic groove with interruptions for freeform (yet tightly controlled) noise explorations and meanderings which provoked (unjustified or otherwise) memories or hints of Spacemen 3, Skinny Puppy and occasionally Hawkwind at times. There were some solid performaces from the band too, with youthful keyboard player Markus Fabulous Persson and a frazzled Thereminist both contributing excellently to the overall sound. Genesis himself was on good, if not awesome form, with aforementioned level problems reducing the impact of his charismatic performance. Dressed in denim miniskirt and cut-down PTV3 t-shirt, his increasingly bizarre appearance and transgendered body modifications were still emphatically extraordinary, if perhaps tame by the previously tabloid-shocking standards of this wrecker of civilisation; at one point he observed "I was once a man, but now I am everything", and he even went so far as to flash his breasts at the crowd following the decorous Burlesquerie of the fan dancer who joined the band on stage for the middle trip-out section of "She Said".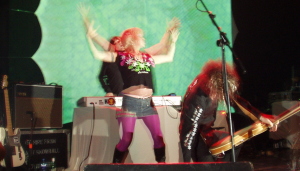 However little there was to elevate the night into the stratospheric realms of dementia he and the various incarnations of Psychic TV have been capable of summoning over the years, by the night's end at least one PTV neophyte was already declaring love for Mr/s Genesis-fucking-P-Orridge (his own self-introducution) in a non-chemically induced fashion; so at least there is supporting evidence that the same magic(k)al charm and ability to hold an audience remains as stong as ever in this strangest of survivors of a thousand psychic tours.
-Linus Tossio-