Spinefarm/Machine Elf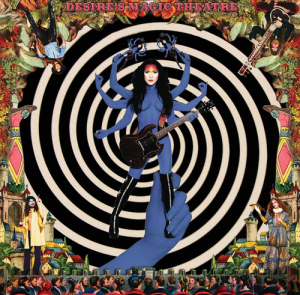 Purson's second album seems to have been a long time coming for their growing army of fans. With the stop gap EP In The Meantime giving us a glimpse into the direction the band would head towards next, it can now be seen as only a prelude to this multi-coloured psychedelic concept piece that will probably have people deciphering its meaning for the next twenty years.
The album opens with the heavy rocker "Desire's Magic Theatre" (or DMT, named after the spirit molecule drug that statistics show that most people who imbibe in it are transported to one particular place). The track is a melting pot of big heavy bass riffs, coming across as a dirty version of something off of
The Cult
's
Love
album mixed with sax that could be from an unreleased
Ziggy Stardust
track. When the track slows into its acoustic middle eight, it jaunts along like an electric folk tune from 1971. It's a balmy piece that drags you into the rabbit's hole of the album. There's even some wonderful harpsichord playing from
Samuel Robinson
(all true British psychedelia should have a bit of harpsichord somewhere). The track ends with applause
a là
the opening of
Sgt Pepper's
and some
jazzy wig-out with fantastic flute
. Here we have the band nailing their many colours to the mast of the ship that will see them reinvent themselves and expand their palette of styles.
OK, as an aside here I thought I would just mention that not only has Rosalie Cunningham's knack for writing a damn good song seemed to have been honed even further, but she has perfected the art of writing some great middle eights. She has a habit of moving sections of her songs together so that they seem seamless, but also take you elsewhere without feeling clunky within the context of the song. Like Paul McCartney or Andy Partridge, she has developed these into an almost uplifting high point of a song — quite wonderful.
"Electric Landlady" was the first single taken from the album and hits a stride that sounds slightly more like Purson of old. A swirling mish-mash of 1968
Beatles
colliding with
Hendrix
, it's
an intoxicating brew that has some wonderful catchy vocals and great wah-wah
lead guitar by
George Hudson
. "Dead Dodo Down" heads in a slightly more walk-along direction; like
Tomorrow
's "Colonel Brown", it has a slightly downbeat lyrical motif that spars elegantly at odds with the big riff battery that swells up throughout the track. The carnivalesque organ makes a slight return during part of the track, which adds a lysergic hue to proceedings.
Justin Smith's bass takes centre stage during the opening of "Pedigree Chums", which seems one of the bands most prog rock affairs to date. Sounding at times a bit like early seventies King Crimson, it sees the band pushing complex ideas further but honing them down into a four-minute track, something that shouldn't work on paper, but does here. "The Sky Parade" seems to take some of the frantic energy of the previous track down somewhat in an opening that curiously manages to capture a slab of Fairport Convention travelling headlong into Meddle-era Pink Floyd. The track returns to an acoustic piece that almost hints at Fleetwood Mac's "Oh Well", before drifting on a light summer breeze through the verse and chorus.
"The Window Cleaner" is a mid pace Beatles-style track with plenty of Mellotron, organ stabs and the kind of rolling bass line that
Macca
or
Colin Moulding
would have been proud of. Some lovely drum fills from
Raphael Mura
have a percussive force that helps give the track forward momentum. "The Way It Is" has the most catchy and foot-stomping tunes that Rosalie has ever written. It
oozes 1967 from your speakers
in a way that only
Syd Barrett
could have managed back in the day. "Mr Howard" has an old-time rocker feel, with some
Doors
-style organ riffing over a pounding rhythm and a verse that almost slips into '73 era
Slade
. But Purson are more than the sum of all these parts and make the melting pot of psychedelic glam their own and stamp the song with their own particular brand.
"I Know" starts with a lilting guitar fugue that leads into some quite magical vocals from Rosalie. The song has that drifting on a boat on the sea feel, with little tweaks of The Moody Blues' Days of Future Passed bobbing up in the ocean of its musical colours. "The Bitter Suite" closes the album, starting with the same vibe as Bowie's "Rock'n'Roll Suicide" in its use of piano patterns and sax motifs, but then morphs into something straight from In The Court of the Crimson King. The mood of the track changes as we hit each different segment; one section reminds me of Pentangle. Rosalie's vocals are quite stunning as she takes us through each movement of one of most accomplished songs the band has played and it shows the range and breadth of their musical ability.
This album is Purson honing their craft, creating
a world of their own imaginings and letting the rest of us have a tiny glimpse inside it
. It is a musical cornucopia that sets their sound apart from most other bands around at the moment.
Desire's Magic Theatre
is a powerful statement of intent that will hopefully see them gain a wider audience. It's an alluring record that calls to you to indulge in some of their DMT to be able to enter into Purson's spirit world.
-Gary Parsons-