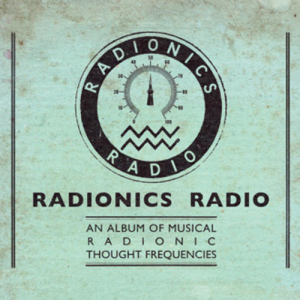 It's becoming a little unpopular, and there seems a tiresome insistence creeping in that music should stand for itself (I completely disagree), but I love electronic music that's about something; I love a history and a context. The words surrounding a release are as important to me as the music within. Almost.
This release dips all its toes into the very murky, pseudo-mystical, almost-science of radionics. There's a delicious whiff of snake-oil about the whole enterprise. It seems vaguely related to faith and dowsing and all that jazz; quackery and well-intended fakery is very much a feature of the world I live in, under the shadow of Glastonbury Tor. This record would sell well here.
It's also something that has interested me for a while. I remember reading in one of the old Rapid Eye books in the '80s about a mysterious frequency generating Black Box that might be the cure to addiction and now, thirty years later, we're right back in the midst because, on this album, Daniel Wilson uses frequencies selected by users of a dedicated radionics website to build brand new radionic-inspired compositions. Each sound is a thought, a healing pattern, a chakra, and he uses these frequencies to meld together simple, occasionally diverting electronic sounds, some of which sound like they've spilled out of a Delia (Derbyshire) and Daphne (Oram) box-set. No bad thing.
With releases like this, words are the key.
Laboratories, transpositions, frequencies.
These are the kind of things
The Halfer Trio
used to play off; especially when they were still pretending that one of the members was
Dr Edward Moolenbeek
. He composed some of these things, at least in the hyperstitional imagination. The sleeve has lots of dials for the knob-fetishists. Everyone I know is a knob-fetishist. They'd like this sleeve, they'd hold its heft and think: yeah, abso-fucking-lutely. So, this is playing to the choir, to a certain extent. Giving people what they want. Is it any good as music? Well, yes; it is. I played this at a kids' party and they all wanted me to turn it up. It has a certain frenetic lift about it; it's jolly, it's pop at the neurochemical level. They were very young kids and these kind of frequencies rattled through their bones.
It made them dance oddly, and that's got to be a good thing
. For kids, sound is music… they don't distinguish and the under tens would be a good target audience for the next one:
Radionics For Children
, done in a beautiful mock-BBC sleeve. On
Ghost Box
.
-Loki-