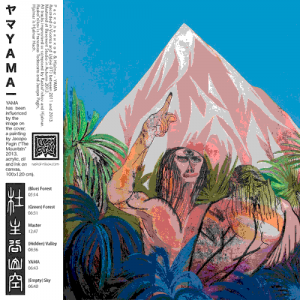 Glitching its way out of the speakers with an eerie sense of space and place, Raskol'nikov and Hjalmar Hach mix environmental sounds and close-mic'd recordings with abstracted electronics, and together they set out on a mission to imaginary parks in the far yonder, into then up above the clouds.
Yama takes the listener on a journey through the album art, painted by Jacopo Pagin and entitled "The Mountain", or Yama in Japanese. The rest of the triple-panel gatefold CD sleeve shows a decided Japanese influence too, brushstrokes, woodcuts and a field of kanji ideograms engendering a sense of elsewhereness, setting the scene for Francesco Todescato, Pagin (Raskol'nikov) and Hjalmar to lead the way into a timeless unknown.
They proceed through the "Forest" (in what are described as blue and green varieties), places where long-form curls of electronic mist rise among the reflective bells and ghostlike ambience. Plodding onwards
through the reverberant, shimmering plateaux and down the upside of some cavernous bass byways
, the path crosses and unfolds one uncertain step at a time. Muffled voices offer something that might be guidance, maybe wisdom, possibly distraction; and there is often a feeling that it could be quite easy to become lost for a long time yet on this mountainside of the mind. If the trio are led astray, they soon navigate themselves up from the dankly throbbing depths via a lifeline of resonant filter warbles and hissing noise generators that haul them into the "(Hidden) Valley", a locale that sounds lush and verdant by comparison. Liltingly discordant strings and effected guitar flickers swarm
with all the tremulous brightness of a spring awakened into wide unfolding pastures
, and it's a truly evocative moment of restfulness. This recuperation allows the trio to pick up their pace, striding purposefully on into the easier terrain that leads to the temple tones of the mist, drone-shrouded mountaintop itself.
It almost seems a shame to reveal in advance what they found there, but safe to say that it may be a pleasantly described expanse of skyward beatitude, a place of near-ecstatic restfulness and a closer connection to the sublime. At first…
-Antron S Meister-