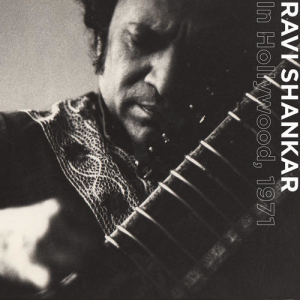 Some guff you'll read everywhere: by a large margin the best-known sitar player and largely responsible for the popularising of Indian classical music. Unfortunately, it's still a world I don't know a great deal about; I know there's a difference between Hindustani and Carnatic Indian classical music, but precisely what the difference is, I'm not sure. There's a load of stuff I about the biography I'd never bothered to investigate before — for instance, Ravi Shankar's from Varanasi, the "spiritual capital" of India, his dad's from modern-day Bangladesh (Shankar was Bengali), his tabla player Alla Rakha was Zakir Hussain's dad — not to be declarative about this, but I have a solo CD of Hussain and it's probably my favourite solo percussion record. Shankar's tanpura player on this and a load of other recordings is Kamala Chakravarty, who's also his wife. Basically, what I'm saying is that there's a load of interesting stuff in that background that probably should get mentioned before any of that shower of twats from Liverpool get brought up.
Obviously, it's great that stuff gets a wider audience, but I've often a caution surrounding Shankar CDs in that I get the feeling
there's at least two sides to Indian classical music
— there's one which roughly corresponds, in my limited knowledge, to the pomp and circumstance of the Last Night of the Proms — light entertainment — and the side which is probably closer to the harder edge of things. I have a mate who's a bit obsessive about
Nusrat Fateh Ali Khan
who tells me there's a point in the '80s where there's a few recordings separated by a week, for different audiences — one of them for a group of French-Pakistanis, which extends to hours of unique, improvised material, and others for commercial concerns, which are lighter and more poppy. What I've never really heard from the few Shankar recordings I have is much of an indication of that separation.
And that frustration usually manifests in relatively short pieces, 10-15 minutes or so, on CDs. So it's a real delight that this two-CD set features only four pieces, one of which is just shy of an hour long. It's 1971, so Shankar is pretty well-known in the west at this point — the show itself takes place in his Hollywood home — but it being a private gig there's a sense that it's less about crowd-pleasers, more about doing a show for the aficionados (should that be aficionadi? My Italian is non-existent). Though that's the impression of someone who knows a gnat's chode short of fuck all about Hindustani music.
Doubling up on the wahey about this is that it's a really lush recording. I could look up the names of ornaments but, y'know, might as well stop pretending — those kind of rattly things, and those bits that sound like angry bees, and those big
beyaaaaawwwwrs
that you get on a sitar sit really nicely. I could do with some more tabla in the mix, but there's a really nice separation of the sitar and tanpur (Charkavarty) so you can really here how the tanpur and tabla (
Rakha
) relate to each other. Particularly on the last track, "Hollywood Raga Sindhi Bhairavi", when Shankar occasionally sits back or all three players are hitting the emphatic notes of the rhythm. On the longest track, "Hollywood Raga Parameshwari", there's a huge amount of "style" — meaning there's a bit of
that kind of laid-back, drifting around stuff and plenty of sewing machine-tight pizzicato(-like) effects
and those bends going over a 5th and those mordants that are two swift to imagine. What this record doesn't feature enough of for my liking is tabla solos, but, y'know, there's a time and a place for that and I guess a morning concert isn't that place.
So yeah — basically, the thing here is that this seems like an odd record. I'm not Shankar completist, but it seems like these kinds of records — recorded in the States and just before the concert for Bangladesh — tend to be closer to the populist stuff; but I'm going to hazard that this is closer to the kind of stuff Shankar cut his teeth on in India. And it being on two CDs means that you're getting the full show (I think? Sleeve notes don't declare) rather than the accursed "abridged" of all the CDs I have. I gather Northern Spy put this out as a double LP for record store day initially (with profits going to The Ravi Shakar Foundation), but it's quite right that it should have a life in the world of people who actually enjoy music, so props to them for giving it a more general release in an extended CD edition. Generally speaking, it's well worth a punt for those of you inclined towards morning ragas / recording detail/ lushness.
-Kev Nickells-