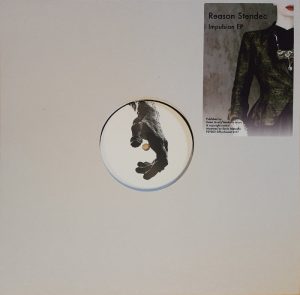 Jono Podmore (AKA Kumo, of Cyclopean and Metamono) provides the music backing up Reason Stendec's sonorous multilingual vocals on the Impulsion EP. Intriguingly, "Stendec" was mysterious final Morse code transmission from a flight that crashed en route to Santiago in Chile in 1947 (the year that Roswell broke unto the world a morass of extra-terrestrial autopsies, abductions and a whole legion of little grey people), an accident that thus happened in just the right era to be sucked into the ever-resurgent mythos of UFOlogy.
The main mix of "Impulsion" is
an effervescent desert storm, cloaked in sharpening steel
, a rolling hump-backed groove and the sort of percussive exoticism that's almost guaranteed to set a dancefloor swaying. Stendec's very earthly voice has a powerful tone, switching languages from one phrase to the next with a deft assurance that speaks volumes for multicultural cross-pollination, just as Podmore's grooves bring in influences from far and wide. Harking back to his
latest collaborative 7″ single
on
Psychomat
, the vocal mix that Podmore conjures of "Impulsion" is an esoteric, vocoder-led drone through the undergrowth, simmering with latent urgency, Stendec's words smeared into novel textures with all the hallucinatory disturbance of a suitably 
Burroughs
ian cut-up fever dream. Given that this is a proper 12″ vinyl single, the double-A side traditionally has to have a pumping beat-heavy mix, so naturally Kumo delivers one in fine, throbbing style. Where the original version was sinuous, so this is techno all the way and no less satisfying for that, as the hi-hat trills, echoed handclaps, stretched and fragmented vox keep reaching for the stars as those knives sweep mysteriously under the main rhythm, all with a slightly malevolent intensity. Podmore ensures that things
ripple and whoop until it's almost possible to taste the smoke machine emissions
and perceive the onrushing strobe lights, the track sweeping all before it on a non-stop ride to the outer limits.
-Linus Tissio-