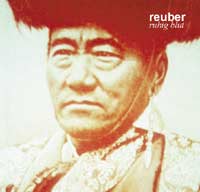 This is one of those albums which goes on forever, but with the pleasant companionship of days passing and the changes of the quality of light and temperature on one side, and the intensity of a nightmare storm battering on the other. The title is German for Keep Cool, and the long slow unwind of electronic tones is certainly chilled out to a specific degree of mellowness – at least at first it is. The circling high pitches of "Ruhig Blut A" take their twenty minutes (one side of the vinyl edition) to swap stereo channels, swooping and diving through the sound picture with tranquil ease as teensy synth pulsations make their entrance and meander in concert with sundry squeaks and gentle sputters. Calmness is achieved. Rhythms are hinted at, pass though almost imperceptible bass phases; calmness never quite fades, just is…
The second side is anything but calm. "Ruhig Blut B" presents the beat of effects units intermeshing on the dubwise electro-autobahn, stepping the mood up through several slow gear stages into the hypnotic plasma generated by phase, flange and delay. The sparse electronic progression soon becomes overwhelming while remaining true to the minimalist ideal, churning and writhing along the route. There's a trebly inevitability to the gradual transformation on the basic rhythm; mid-range incursions make for a deeper sound, and when the distending groans kick in, listeners would be advised to hang onto their lunch as things begin to get turbulent. Still, underneath it all, the structure remains something to cling on to, and it's definitely of benefit under what becomes an endurance test; like a rollercoaster but without the need for all that tedious mucking about actually defying gravity – and one with breath-taking gaps and power surges for extra discomfort just when it all seems to get bearable. The closest piece of repetitive electronic churning this intense is probably to be found courtesy of "Tunnel Of Goats" on Coil's gargantuan gut-wrencher Constant Shallowness Leads To Evil, if that gives any idea quite how monolithic the noisescape becomes.
Fortunately for the CD edition, it has a nicely quiet outro, "Schlaf Gut" ("Sleep Well") to calm things down as a bonus track. Everyone else will just have to pick themselves up from the floor immediately in search of tranquillity, or failing that, keep having a nice long lie down to recover.
-Freq1C-