Trent Reznor and Atticus Ross ‎- The Vietnam War OST
by Freq | 2017-11-17T18:45:42+00:000000004230201711 18:45
The Null Corporation / Universal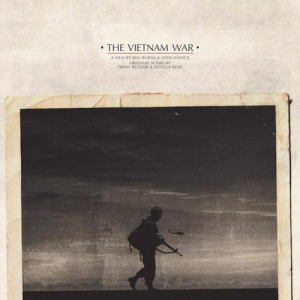 If you have been watching, or have already watched, Ken Burns and Lynn Novick's brilliant and harrowing documentary series The Vietnam War, you can't have failed to notice its masterful use of music. Famously the first war to have its own soundtrack, they've used the music of the time to devastating effect, juxtaposing classic tracks with scenes of brutality and hopelessness.
But you can't rely entirely on "White Rabbit", "Gimme Shelter" and "Ohio". And in its more reflective moments, they've turned to Trent Reznor and Atticus Ross, better known as the two main guys in Nine Inch Nails. Ever since their amazing score for The Social Network, Reznor and Ross now seem to be occupying a place somewhat akin to Nick Cave and Warren Ellis — filling out stadiums with their twisted take on rock music one week, providing beautifully understated soundtrack music the next.
And the result is quite beautiful. Remember, this is, for the most part,
music crafted to provide a more sombre counterpart to some of the greatest rock music ever recorded
. Which is quite a thing to live up to, yet somehow they do.
An obvious antecedent to this album is NIN's Ghosts I-IV, a couple of tracks from which were also used on the show. There's a lot of dark drones and glitchy electronica, though the main focus is usually on the trademark Reznor melancholy piano minimalism, providing an emotional heart to what would once have been filed under Isolationism. Like the very jungles it evokes, the music is full of creeping menace and hidden danger. The whole thing is pretty fucking ominous, to be honest; synths pulse like chopper rotors or a sudden rain, and it's profoundly unsettling.
Occasionally (VERY occasionally), like on "Strangers In Lockstep", the build-up pays off into the welcome brutality of some
Skinny Puppy
-esque EBM, but overall it's a very contemplative set. In fact, it's very much what I imagine war itself to be like —
long periods of dread punctuated by brief bursts of action
. And the whole thing is, of course, very, very sad indeed.
A powerful album to accompany a powerful film. And another fine score from Reznor and Ross.
-Justin Farrington-
Source URL: http://freq.org.uk/reviews/reznor-ross-vietnam-war/
---