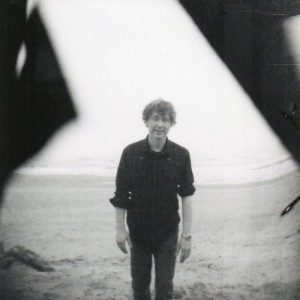 Mr Youngs is an incredible tour de force; a musical maverick, who shares a striking resemblance to Blue Peter presenter John Noakes (or is that just me?), both of whom coincidentally have an amazing capacity to make something out of virtually nothing. I've witnessed Richard Youngs totally captivating an audience for 40 minutes with little more than a penny whistle, and still have vivid memories of the spittle launching itself out of the metallic tube, splatting the concrete between breaths; something he incorporated seamlessly into the show.
You simply have no idea where he's going to take you, and that's the attraction. His mojo seems to be everywhere, anywhere, spinning a multitude of faces, sometimes simultaneously jumbled at other times Plain Janed into disbelief. Delivering both experimental and folk hues with equal passion, his mood swings and obsessive tendencies filling up scores of albums in a derailment of expectation, a non-compromised vision that this year alone has dragged four such beauties into the light, three of which I've collectively netted here.

Summer Through My Mind
(
Ba Da Bing
)is the first, (liking the spooked-out arts on this one) and seems to be his straightest album to date, taking his love of repetition into
a folk soak of guitar-led balladry
. A
Fahey
-esque frettery of warm voice, wrapped in twangy winks and hawthorn berries. A dusty barn full of songs, a stripped down homage to the past looking at the future. Dishing out subtle peculiarities, glowing with an upfront sincerity. Whether it's the dead corn strum and bleak winged harmonica that is "Mountain of Doom" or the 11 minute serenade of "Spin Me Endless in the Universe," that fragility of voice curves an intimate pull behind the scenery.

The experience did leave me wanting more adventure though, and double album Regions of the Old School (MIE Music) jabbed me a much needed experimental fix. Drops you into the deep end with "Insomnia Takeover," a mangle of rattling teacups, guitar wah-scaping and vocal repeats which clasps the sleepless condition convincingly, as if the brain is re-running that endless loop of  "another su lee plus no hates," venting on an exhaustion of withering synth weathers and hole-punch cerebrum.
The next, "Zonal Air," is too ad hoc for me. Loose, fumble-fowled, key tones with no proper binding, always wavering any glimmers of direction, then "Celeste" hits, and those irksome derails completely evaporate in
a frayed Zen cord of gong and drone with rotting acoustics
that would make
Alvin Lucier
smile. Wanders seamlessly into the hemispheric "Thoughtlife," the sound of an elastic raindrop sliding a cobweb, further garnished in sprigs of bamboo flute skating across an itchy underlay of electronic stumble. It's shamanistic dramas warming my ear so well you hardly notice it's over 22 minutes long, leaving the last track "My Love Holds The Galaxy In Her Heart" to steal the show in semi-song and the meaty combo of rhythmic typewriters and triangled janglettes, beefing out later on lovely overdriven guitar countered in chiming champagne glasses. Atmospheres to savour.

The third and final LP, Calmont Breakdown (Fourth Dimension), widens the perspective even more, taking brittle drum presets and squeezing runny treacles from their core. "Distress" starts the ball rolling in a Bendy Wendy of broken drum percussions and random pinned ivories, a trafficked currency of after hours pub piano and octopod bongos; it pulls your mind into surfing the betweens. Something Youngs excels at as he subtly shifts the focus from what's making the sounds to what is leaking out of the corners (unnoticed), or in this case that downward sloping dance of croquet needles. Then, sans piano, letting you bask in the wet and splashy textures, canoeing you deeper in a contradiction of ever blurring but vivid sensation.
"Car Park" brings on the distinctive mind-wandering hobo yodelling I've heard from Youngs on a few releases before, further furnished in a glorious revelling of wrong dynamics. A whole host of mangled filtrations and limping percussion that precariously seems to work as they sickle cell across your hemispheres (on headphones) like some drunkard. "In Containers" is a spiky run of fire cracker fizzle/frizzle and counter-jutting key lines, rebounds in a
Georges Méliès
of disappearance and reappearance on a washy static floor, to  which the short "Theme from Pleasure" remixes in raised tempos, whistling and wonderful gasping cavities.
"Deep inspiration of Nothingness" ends the experience in a 19 minute waltzing malfunction on the back of an ambulance-like siren. Your eyes are thrown all over the place in jumbled rations of fanfare sensibilities and broken topographies, a trippy complexity that is as annoying as it is satisfying. What's not to love?
-Michael Rodham-Heaps-