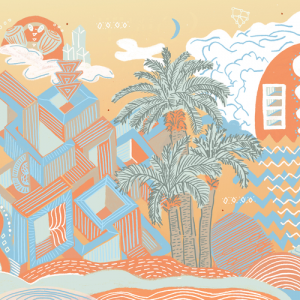 Robert Aiki Aubrey Lowe conjures some extraordinary shapes here, a tangle of strange and mystical hieroglyphics that tingle, zone you elsewhere. Nothing lingers too long, everything remains elusive, dissipated on fractured suggestion, the timbre itch of random voltages painting strange immersive mirages inside your skull.
He's very much the adventurer, just happy to explore the myriad of evolving possibilities the modular world has to offer. Hypnotically pulling you around in honeycombing regals and pointy prismics, the glitter of alien worlds held in the amber of a quantised melody. Two Orb Reel has a short series of sketches (that oddly never feel so) that wet your whistle for the lengthier escapades.
That ghostly bounce of a basket ball (on "The Dead Past")that ensnares, reverb-caresses the ear, cork-screwed by the staircase of shadowy harmony, tether hooks diametrically twisting into harpischord curls. Crystallised mutations that throw choiring illusions stabbed by the voodoo of a typewriter's dry incision. "Tanis Ark" that follows on from this in a sinister centrifuge you sort of fall into. The African plastic duct percussives of "Telassar", the vapour-torn sails of the second part of "Yawneb" all funnelling a serene ambience that
plucks you from reality, places you in an alien world that's strangely familiar
. "Audoghast" is a percussive prescription stepped to this fluttering cobweb of tonal flux, its germinating colours scuttle-crabbing your consciousness like bad apples. There's a lot going on, and
Two Orb Reel
takes numerous sittings to digest, and every track seems to reveal some detail that wasn't there before, some hidden germ wanting to infect. And infect it does, your ear and mind caught in claustrophobic elastica of "Mirrors And Assassins". Feels like Robert's momentarily lost control of the machine's innards and you are at the mercy of buckling automata of unruly distortions, sawtooth fairies and barely audible whispers, until you are
lassoed back into the chorale on rubberised beats wrapped in grainy clusterings
.
It's delicate work pushing into the unexpected, I suppose – bliss and blister – just millimetres apart, but Mr Lowe does a great job of stirring it all away from disaster, teasing a pathway that doesn't feel clichéd or boringly clubby. An ethos that underpins the outro, "Arremuňň" a pilgrimage of tonal driftwood and toffee-hammered increments whose flickering intensity stares right back at you from the corner of the room.
-Michael Rodham-Heaps-