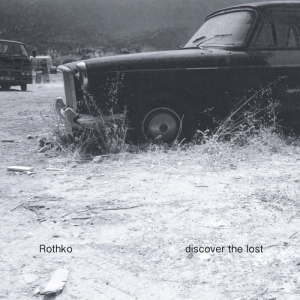 From the opening strum and distinctive twang of Mark Beazley and Michael Donnelly's twin bass strings, Discover The Lost sweeps up the listener in its warmly-curving arms, holds on tight and soothes the cares of the worlds outside away. This it does over the course of the next ten instrumentals with a similar ear for the simplicity found in detail, the subtleties perceived in a deft turn and an interlocking weave of crisp rhythms with overtones and drones.
Discover
The Lost
is a remarkable entry in the
Rothko
catalogue, Beazley and Donnelly reunited on an album-length release for the first time in nearly a decade. Each nuance is perfectly captured, the arc and rumble of the bass cabinets' thrum and the rasp plectrums on coiled steel wire work their evocative magic. Rothko have always been about the spaces around, above and very much below their beguiling gateways to rumination and reminiscence; there are landscapes at play,
textures flickering across the wide-open skies of the imagination
, pulled from the duo's music, to be revealed in the manner of an epiphany. Rothko sound like an essential force, as if their music was always out there waiting in the aether, but hadn't yet become so clear, so apparent.
Moods switch and change, tempos rise and fall, but throughout it's evident that Rothko's purpose is to elevate, to celebrate the marvels they can pull from their intertwined (and largely un-effected) instruments, at times resembling a muscular, enlivened LaBradford. This happens in the spinning close-knit DNA spiral on "Thoughts For Tomorrow", where the plunk and clang reverberates especially fervently, while "Way To Home" steps lively with a joyful determination in its rebounding throb, Donnelly and Beazley playfully enacting catch-as-catch-can. "You" embodies a feeling that arises several times on this album of John Fahey sparring with Ry Cooder using bass guitars; "Truths And Signs" leans further out beyond the precipice, slews of sound falling away in clusters like a cliff-face eroding before the listener's ears, tumbling into a slow-motion sea with the dread magnificence of nature moving the on the face of the waters.
When strings and upswelling chordal detritus swirl around the periphery and
the air tingles with ecstatic tension held and released in the whirl of melodies
entrained, 
Discover The Lost
soars; as the Mellotron-like clouds disperse, Rothko summon the angels; while the low end heaves and subsumes its presence to the sweep of hands across the frets, they truly swoon. Rothko have returned, and something is altogether more right with the way of the world.
-Linus Tossio-