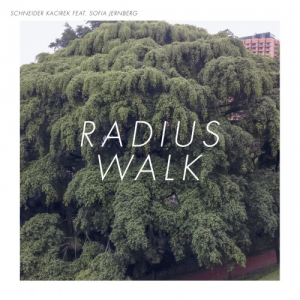 Once again, Bureau B are doing us proud with a couple of releases that showcase a couple of earlier generations of German electronic music, and also go some way to showing just how important and diverse the label has become. The beauty is that these artists are unable to stand still and are forever urging the music forwards, searching out new horizons.
On
Radius Walk
, their second album together,
Stefan Schneider
of
To Rococco Rot
and
Kreidler
 (amongst many others) has teamed up with percussionist Sven Kacirek for further minimalist adventures. I haven't heard 2014's
Shadows Documents
, but if this latest is anything to go by it would have been a compelling listen.
For a few tracks on this album, Schneider and Kacirek have enlisted the help of Swedish voice artist Sofia Jernberg and this combination of desolate live drums, Schneider's nagging, mysterious electronics and Sofia's vocal experiments make for an incredibly compelling combination. Opener "Dust" sets the scene; Sofia's dove-like ululations are laid over a gorgeously sinuous vocal line while an incredible array of percussive textures change the feel at random. Timpani, cymbals, toms are added and are rhythmic, but not how you would expect. They follow a pattern, but are not really there for a rhythmic purpose. Anyway, while you are trying to figure out the purpose of the various percussion, electronic sounds are weaving in and out of the changing patterns, familiar yet out of context. It is immersive listening, because you want to follow each element to its logical conclusion.
Sofia only appears on three of the eight tracks here and when the boys are left to their own devices, rhythms can become more integral. On the
Tortoise
-like "Duett", the cymbal-heavy stepping rhythm allows Stefan to smear all sorts of strange and sticky samples over the percussion, leaving a fruity, danceable treat that is then pushed off balance by the "I Atlanten". Sofia rejoins them here and her pure tones singing in what I imagine is Swedish seem to cause the duo to explore further their abstract side. Sven in particular uses the presence of her voice to interject with
percussive textures that add a random feel to the glowing, drifting electronic figures
that Stefan produces. It's that strangely random use of percussion allied to the soaring, limitless vocal textures that add to the feeling of discovery, hacking through the electronic jungles with just their own sense of what works to guide them. Marimba and glockenspiel are scattered across the bows of "Arbeit 16", that delicate natural sound finally giving way to
a pattern formed from something at which I can't even guess the origins
. The percussion here is snakelike and subtle, the sound of the rattle allied to some steel drums evoking a slew of imagery, but on "Back", I genuinely can't think of having listened to a percussionist who plays in this manner. There is a bare bone of a rhythm allied to one of Stefan's warm, inviting drones, but gradually the fills and cymbal touches for the drumming seem to start running out of sync and this draws you in, waiting on when the next strike will be, and all the time the electronics are hypnotising you with their distant trajectories.
Sofia is on the album closer "Smiling" and her croaking falsetto brings to mind the kind of exploration that the wonderful Danielle Dax would undertake. Her voice is crooning and croaking, seemingly at will, gentle and fragile; then comes an incredible controlled scream while sporadic drum hits become transfixing once again. The whole thing works so well and the three are in such odd harmony. The pieces shouldn't work, but they do and I can only hope that the trio covers more ground in the future.
This is the future of German music and I love it.
-Mr Olivetti-