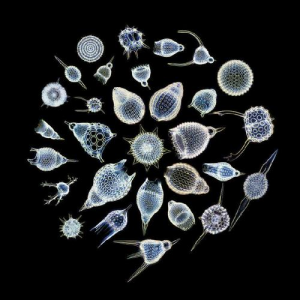 The first taste of this album (as you'd expect) is a salty one, buffered by a sea breeze, Sarah Smith's eerie delivery peeking through spidery fingerings of instrumentation. It's a short atmospheric swell that ignites an introspective shiver, a curiosity that's quickly burnished in light and airy intoxications.A Barrett-esque prism spiked in a school assembly-like shudderation of vocal. A magpied sense of enchantment dwells throughout this fifteen-track offering, toning down the usual Cardiacs bruised enthusiasms into a mischievous magic all of its own.
A slip-slanted verve that waits until the third track to unleash
Tim Smith
's distinctive vocal tilt, an awesomely stripped-back confessional accompanied by a sparse flutters of acoustika and spiny keyboards. A pristine shiver that the strangely festive burn of "Sea Snake Beware" overtakes in duetting off-kilterings. An
Aled Jones
-esque Sarah and
William D Drake
combo that beams you straight into a wonky sixteenth century whirl of powered faces and corseted curtsy. A delight that peppers your mind in a multitude of lullabied lightbulbs,
a rarefied pleasure giving birth to some nifty instrumental numbers
. The squeeze box rub and salty spirals of "Mirmaids Purse"; and the brief slapstick of "Anchors Away" that breathes like a silent movie re-imagining. But it really works best when it's battering you over the head with its bladder on a stick um-pah-pahs, clambering over your expectations in taper-torn tiptoes,
throwing you down its multi-harmonic worm holes
. A certain eccentricity that "The Black Blooded Clam" ups the ante of in a percussive clatter of cutlery drawers, and Morris dancing thigh slap. A magical concoction that holds light for my personal favourite – "The Sea Ritual", a
George Darley
 poem set alight in splashy wellies and slippery saxophonics serenaded by the odd raven call skipping its pointy-hatted piano refrains.
On The Dry Land
is a joy that ends all too soon on the classical whimsy of "Wanky".
-Michael Rodham-Heaps-