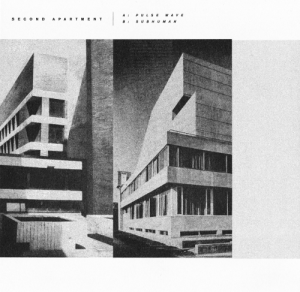 Wrapped up in photo collage-style monochrome images of brutalist architecture and gear-centric band photos, "Pulse Wave"/"Subhuman" grooves in on coast-to-coast drum machine rhythms. Second Apartment's début 7″ single instantly conjure visions of the claustrophobic electronic soundscapes that have populated a thousand dancefloors since Cabaret Voltaire became the preferred choice of the discerning fan of relentless sequencer throbs and dystopian vocals.
On the suitably named "Pulse Wave", vocalist and programmer 
Solist Apartment
's repetitive Japanese phrases are intoned deadpan with the same affectless delivery that characterised a certain spectrum of deracinated (yet somehow still essentially human[ist]) post-punk electronic music from the late '70s onwards. Propulsive and even inquisitive,
Adam Gyenes
's guitar adds floating melody lines that takes the tune
into the vanishing point of the electro event horizon with a subtle energy
. On the b-side, "Subhuman" isn't the
Throbbing Gristle
cover that might reasonably be expected, given the antecedents on the obverse. Instead, it's
a softly menacing, low-riding prowl through buzzing synthesizer and fuzzy, wah'd guitar interactions
, haunted and estranged. The same trick of repeating a phrase takes on a didactic, commanding atmosphere, though with a hint of helpless entrapment in Soloist's delivery that suits the ghostly industrial funk atmospheres rising around the chanted track title.
In all, a promising pair of tunes, neatly packaged, and a single which will doubtless sound yet better at PA-level volumes and in the strobe-lit dark among spasmodically dancing friends and strangers alike.
-Linus Tossio-