(Endgame)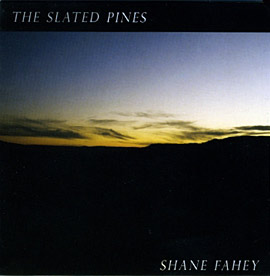 Shane Fahey is an ex-member of the seminal Australian post-punk combo The Makers of the Dead Travel Fast, whose much sought-after late 70s and early 80s output has recently resurfaced on a couple of anthologies focussing on the releases of the M Squared label. If anyone was wondering what the group's synth player has been up to since then, this release at least partly answers the question.
Shane Fahey has worked as an acoustic engineer ever since the eighties, and has collected quite a library of field recordings, as this solo album aptly demonstrates. The Slated Pines consists of seven pieces which all involve the weaving together of various environmental recordings, analogue electronics, tape loops and the use of found instruments such as 'crunched fluoro light tubes' and 'rolling 44-gallon drums'. Fahey is ably assisted on the project by Tom and Jamie Fielding and in one part, by Miss Siu, who contributes "non-consonant vocalisations of Egyptian Book of the Dead!"
The resulting soundscapes are both varied and immaculately captured, as might well be expected given Fahey's background. To me, they work best when foregrounding the grainy atonal pulsations of the vintage synthesizers, particularly the unmistakable throb of the inimitable Korg MS20, where they could well be a lost antipodean kraut-cousin to Zweistein or Kluster. On the (slight) downside, some sections can seem a little too precious about the fidelity of the field recordings, almost verging on a kind of avant stereo demonstration disc at times, although at no times does the CD become anything less than a thoroughly engaging journey through a series of sonic environments and a most rewarding way to spend a spare 53 minutes.
-Alan Holmes-