Siena Root – A Dream of Lasting Peace
by Freq | 2017-08-05T09:40:16+00:000000001631201708 09:40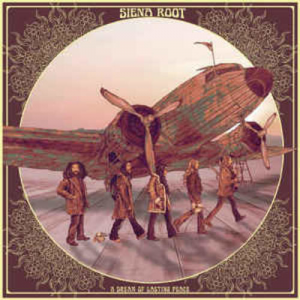 Siena Root are a band I discovered a few years back and was instantly captivated by their sound. There were the big, heavy grooves and the wonderful melodies; but also there were sitars and a taste of the east that gave their hard rock sound a massive psychedelic twist, like it was 1968 all over again. Live, the band always give their all and include jam sessions where they go off on tangents, sometimes these would be worked into proper songs, and some of the tracks on this album are made from previous live jam sessions.
"Secrets" opens with a rolling riff and drum beat over which Erik Petersson hangs stuttering organ. Samuel Bjoro's vocals are pure and soaring as they carry the wonderful melody heavenward. The track reminds me of very early Whitesnake happening on a psychedelic collision course with the Groundhogs, a fine opener. Big power riffing opens "Tales Of Independence", which is so damn catchy that you are humming it within seconds of hearing the song. The chorus is everything Siena Root does best, dragging you back to the daze of Haight Ashbury and reminding that you are a "human b-in".
"Sundown" shows off
Matte Gustavsson
's beautiful slide guitar work with Samuel's lead vocals having a touch of
Jethro Tull
's
Ian Anderson
. This is the track for a long hot summer's day, preferably spent by the ocean side.
Sam Riffer
's bass work is subtle, but kicks in to take the song higher. "The Piper Won't Let You Stay" is a laid-back blues number with
Love Forsberg
's drumming keeping everything grounded and adding a deep blues sway to proceedings. It is here that Siena take on
Led Zeppelin
and
Cream
for their money and certainly don't come out the losers. A powerful vocal performance adds a passionate touch to the whole track and a wonderful organ solo shows you its heart. A slow build up of drums and organ introduce "Outlander", a track that had me thinking of early
Santana
at points. But as the chorus section hits in suddenly, I'm transported to
In Rock
-era
Deep Purple
, and
the sound of the Seventies is so strong here that I can almost smell the patchouli oil
. The track has all the elements of classic rock — the only problem is that it doesn't last long enough, and an extended instrumental at the end would have served it well. "Growing Underground" is a straight-ahead rocker that I would imagine will get heads banging live when its performed, and there's even a bit of prog rock guitar and keyboard riffing at one point.
"Empty Streets" starts off with a melancholic feel that stays with this desert blues track throughout. It has the feeling of meandering through a town at four in the morning where there is no one around carrying the heavy load of love lost. It sings to the stars of the human spirit alone within itself wandering the Earth and not knowing where they will end up next; totally sublime. Flanged guitar heads the power chords in to "No Filters", a track that would get people up and psychedelic dancing in a sweaty club.
"Imaginarium" has touches of
Pink Floyd
and
Yes
's first two albums as the organ takes us on a workout over a walkalong rhythm from the bass and the drums. Even Matte's guitar sound has a touch of the
Peter Banks
about it at points — this is the time just to sit back and let the world pass you by for a few minutes. The final track on the album is "The Echoes Unfold", which is Siena Root doing what they do best. It's a big, beautiful piece of psych with a great tune that takes us to several different places all at once and leaves you emotionally drained at the end. A great vocal performance from Samuel helps lift the song and makes it hit you in the heart.
A Dream of Lasting Peace takes you on a journey through Siena Root's exploration of the deep woodlands of heavy rock music. The musicianship is perfection and the songs have enough melodic clout to keep you replaying the album and having the tunes stuck in your head for days. I do miss some of the eastern influences on their music, but the band are ever-evolving and broadening their palette, so who knows where their next album will take them. This, though, stands high among some of their finest work and if you don't know their back catalogue by now, it's well worth exploring.
-Gary Parsons-
Source URL: http://freq.org.uk/reviews/siena-root-a-dream-of-lasting-peace/
---