Signals & Alibis – Looks Like Rain
by Freq | 2017-03-16T11:17:58+00:000000005831201703 11:17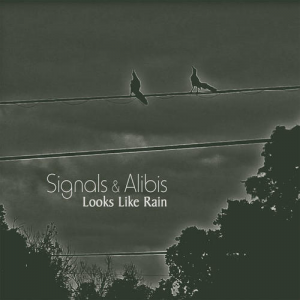 Over the course of the five track on this EP, Signals & Alibis, a boy/girl two-piece from Fort Worth, Texas, have constructed their own brooding hinterland using keyboards, guitar and baritone.
The songs seem to exist in a
dusty twilight inside some sultry, deserted townscape
. The simplicity of the synthetic rhythm tracks allows the songs to become tense and affecting poetic vignettes, even though the ingredients are relatively few. With track titles like "Monstrous Whore", "Whistleblower" and "Black Mold", the mood is if not dark, at least thoughtful and more than a little ambiguous, with
Rebecca Jozwiak
's measured delivery giving the impression of something being withheld.
Opener "Monstrous Whore" has a slow, sultry start, its leaden pace both deliberate and provoking, and its emptiness slightly menacing. As the synth dusts the air, it does not prepare the listener for the burst of noise halfway through, the tension cracking as Rebecca's vocals, infused with desperation, stand their ground.
I am always intrigued as to the reasons for bands using synthetic rhythm tracks and in the case of Signals & Alibis, it feels as though there was no room in the artistic process for anybody else. There is an insularity in their sound and the brooding deliberation of the rhythm on "I'll stay" allows the instrumentation its dusty opportunity to shine and for Rebecca's playful yet sinister vocals and lovely way with alliteration to scuff their way to the fore: "Looking for the answer in the cancerous expanses of your mind".
The adroitness of delivery is delightful
.
Brian Carter
's clean, spare guitar lines are the perfect foil to the vocals and on "The New Again",
they glitter like dry bones in a valley, ghostly and stark
; but at other times they are wasp-like and bullying, circling the more strident beat of "Whistleblower" as the piano and Rebecca's warm vocals try to settle the track down with a hint of humour. The guitar sure sounds like a sitar on final track "Black Mold", counterpointing the creeping tension that the track evokes. Rebecca's distant vocals are buried a layer or two down intoning, "You woke up dreaming, woke up screaming" and entering your head like a subtle threat.
Signals & Alibis' songs are succinct and the EP is all over within twenty minutes, but the intense and gauzey atmosphere that they produce with relatively sparse instrumentation really draws the listener in, and perhaps gives us a taste of that immense Texan landscape that is so alien to European sensibilities. I look forward to seeing what they are capable of on a full-length release.
-Mr Olivetti-
Source URL: http://freq.org.uk/reviews/signals-alibis-looks-like-rain/
---