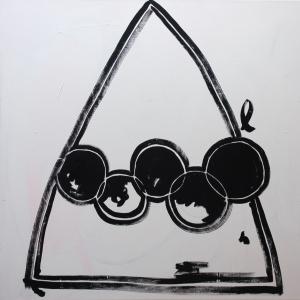 This is music made from orchestral peak experiences and emotional aggregates; it's big, a little brassy and, while perhaps not as overwhelming or pompous or Wagnerian as it might have been, it nevertheless has intent, like Laibach without moustaches and Lenin vests.
Finnish quartet
Siinai
have created 21
st
Century marching music for non-psychick youths. You'll have heard some of the guitar + synth textures before but rarely ones so in thrall to power chord structures and the slow build. They don't once deviate into pop or angst or ethereal wailing; they keep their heads down, like early
Mogwai,
like post-rock in that brief, chugging, period before
Tortoise
jazzed it to death. Siinai's is a simple but
visionary
music. It would work well as the soundtrack to a mass delusion and thus it works
perfectly
as an anthem for the Olympic Games, that grand old Dame of United Nations gathered in symbolic love and war. If you need more bands to get your teeth into, then the instrumental, propulsive sections of
Sigur Rós
,
Arcade Fire
, even
Coldplay
(who, anyway, are Sigur Rós for those with Wernicke's Aphasia) might be referenced here and
you can imagine this playing out at a festival, as the light is dying, as people are making their transitions from day selves to night demons
. Siinai reference some of the Krautrock greats (
Can
,
Neu
!,
La Düsseldorf
– they don't sound like any of these, share maybe a motorik beat affect at best) but aren't afraid to also reference
Vangelis
, which is perhaps a better place to start. It has the grandeur of the man, if not the sheen (this is grittier, earthier, less sun-caked).
I've played this quite a bit since I got hold of it; there's something about the focus and the tone that speaks to me. It might be too simple for some, too relentless and unchanging, not clever enough, but on a long bike ride through Britain's collapsing new buildings, this will serve you pretty well.
-Loki-