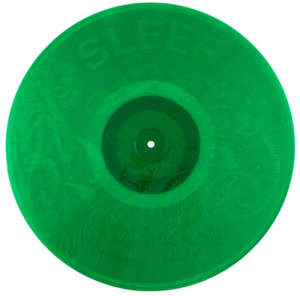 Ten minutes and ten seconds of stoner riffs that some waited some sixteen years to arrive since the last hazy wafts of Sleep's 1998 LP Dopesmoker faded out, "The Clarity" finds Al Cisneros and Matt Pike joined by Jason Roeder of Neurosis on drums. Originally released as a digital single in 2014, it now gets the full Southern Lord vinyl treatment — with glow in the dark sleeve, no less — one side holding the music in its grooves, the other etched with the band's zonked astronaut logo.
Artefactual details aside, "The Clarity" is recorded with just about the level of cleanliness that the title might indicate. So while the guitar is fuzzy and freefalls full of Pike's customary incendiary sweeps and ragged dives, the vocals are gruff and laden with ominous intent and Cisneros's bass holds everything to the earth with a solemn muscularity, the recording itself is crisp and present. Roeder's drumkit sounds like it's right there in the room too, every detail noted and incised precisely.
So much for the technicalities; "The Clarity" showcases the band's heads-down, no sleep 'til hammered attitude, switching back to wibble and wander in the stutter and splutter of feedback as often as it ignites the spark of full-tilt metal riffdom. Amplifier worship at its finest — and maybe even clearest.
-Antron S Meister-