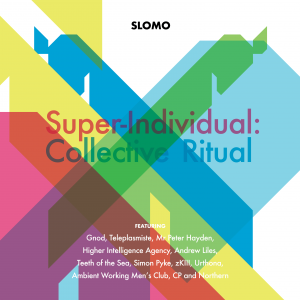 On headphones this Transits remix album rules, even better blaring through the speakers. Really needles the betweens, plucks aspects from its tidal original, spectrum-snakes its brooding intent, kicks out a dance of contemplative delectables. Over two and a half hours of music derived from the same twenty-three minute source material seems a ludicrous prospect, but each artist here has managed to take that droning behemoth Slomo penned back in 2017 and predatory pawed it, stripping away, suggestively juggling with its DNA, and (I'd champion) magnified its potential.
Slow and dark like its parent, zKill's epic opener ominously seeps into your psyche, a monolithic architecture the type of which has you cranking your neck to fail to see the top of. Crystal shards tumbling its steep sides, the sun's glare chiselling their slowed descent into an elasticised sea of curling contour. An elegant elongation, the stretchy recurs and rolling scaffolds of Gnod's lengthy contribution carefully deconstructs a rubberised cocoon of bulging shapes and dopamine droplets barbered in this threatening buzz. A manicured bleed that vibrantly splashes your head, feeds the surrounding space in noisy bouquets.
The balance is pulled in a multitude of directions with lots of lesser-known artists mingling with the more well known.
Andrew Liles
definitely falls into the latter group, and provides a percussive stampede that confidently tears into the original with gnarly guitar and exploding kicks. A brazen re-interpretation that forest-fires into a glowing oasis — a woman ruminating on the sexualised use of medical staples, a brief shot of curious ecstasy before plunging back into a prog-like porkiness. The lesser-known
Northern
opts for a more muted approach with a chimed
Angus
MacLise
deseeded on oceanic rotor. A radiation of bassy pulses licking at this azure-chewed geometry is blushed out to a hushed techno. An injection of intrigue that holds to the Finnish doomgazer
Mr Peter Hayden
's ritualised dance of cybernetics and punchy metallics in a malleted heartbeat that rides a worming wonder of grainy exhales and tittering twilights. The incestral feeds of
Simon Pyke
 (AKA
Freeform
) is an aggressive redux of rachetting pinion and flanged lullabies, slipping its skin to
trembling fallout of piano-kissed recoils and shape-shearing aquatics
. Even when it kicks out a club couture curveball, as with
Chris Price
's track, scented with merest whiff of the original's cologne, it still claws hungrily at that prism. The punchy coldwave rewrites of the
Teeth Of The Sea
 mix also etching towards the more danceable side of the equation, contrasting nicely with the more strung-out erosion of say,
Urthona
, with its timber-sawing glimpses of the divine. The album's aspects flicker and dart, and
just when it seems to be piously pinched, it administers another shot in the arm, excites in a coruscating ache
bespeckled in champagning ascents or pendulum(ed) propylene. The
Jacques
Cousteau
-esque texturing of
Téléplasmiste
's sunken wreck pooled in shoaling colour and stressed bulkhead, a submerged sensitively that the aqua-lunged character of
Ambient Working Men's Club
's contribution intelligently pulls off the sea ridge and into the bitumen gloom.
-Michael Rodham-Heaps-