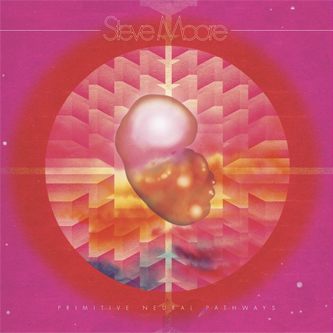 In 1977 I got hold of a copy of Jean Michel Jarre's Oxygene – and if you would like to get the 21st century version of this album you could a lot worse than buy the new Steve Moore album…
Well, there's one thing you have to say about
Zombi
man Steve Moore, he must have a very healthy bank account judging by the amount of classic equipment listed on the back of the album.
I almost began to sweat as I read it. ARP Solus, Korg Polysix, Sequential Circuits Pro One and Prophet 600
; I could go on and fill up this review very nicely with a list of fine synths that I haven't seen as large since the
Encore
-era
Tangerine Dream
. After all this though what is the music like? And the answer is, very good indeed.
If you are a fan of Moore/Zombi's work then there are probably few surprises here but that's what makes it so wonderful in away. "Orogenous Zones" drifts in beautifully, the synth sounds moving between warmth and coldness as only analogue keyboards can do. The main melody would not have been out of place on the soundtrack to the 70's TV film version of The Martian Chronicles. Its here that the key element of the album is: over its five tracks it actually has some damn good tunes and is less spacey than Jarre's work.
"Zones" seeps into "Feel The Difference," and it's with some of these links where the album touches more on
Oxygene
as a large number seem to have wave-style synth sounds that segue the tracks together. "Difference" drifts into arpeggiated  notes and single bass drum pound keeping the rhythm, while lush chords build up underneath. A basic sequencer and drum pattern start "Beams," a track that would not have seemed out of place on an early 80's
John Foxx
or
Gary Numan
album – it certainly feels it owes a greater debt to this period of electronic music. "Primitive Neural Pathways" leans heavily on the
Oxygene
sound as its basis, and this is mainly to do with the synth chords and especially the drum. The main melody is reminiscent of something from
Space
's
Magic Fly
album and carries through to its more cosmic middle eight when the Mellotron creeps in and builds up the track to its finale. "248 Years" is a slower number that has touches of
Exit
-era Tangerine Dream within the sounds of the synths as they lull you away to the end of the album.
Overall the album is beautiful and sounds as if it's locked into the period between '77  and '82 when synthesizers crossed over from hippie/krautrock kosmiche elongated freak outs to being the staple instruments of mainstream pop. The album feels held in time, which is really quite appealing. The fact that it only appears to be available on vinyl certainly adds to this too.
-Gary Parsons-