Faust Pages, paperback 208pp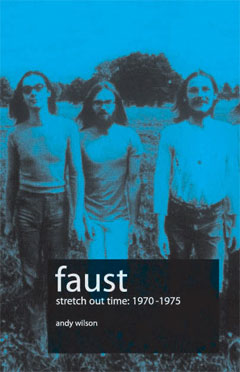 A labour of love from start to finish, this book is both a personal and theoretical analysis of Faust's music in their classic era. Andy Wilson's detailed track-by-track commentary for each album and assorted other releases are insightful and rarely dry. Instead, he riffs on the music as much in an emotional and political context while clearly outlining the group's sometimes larger than life history, peppering the text with anecdotes from surviving members and rare photos.
With a couple of chapters which compare Faust's contribution to both the avantgarde and rock music alongside that of Sun Ra and Frank Zappa (from the appreciation of whom Faust's man-mountain drummer Werner "Zappi" Diermaier got his nickname), as well as a brief section covering developments in the band's long strange trip after their disappearance in 1975, Stretch Out Time is an essential read for fans of this most legendary of bands, as well as readers with an interest in the farthest reaches of underground music.
-Richard Fontenoy-